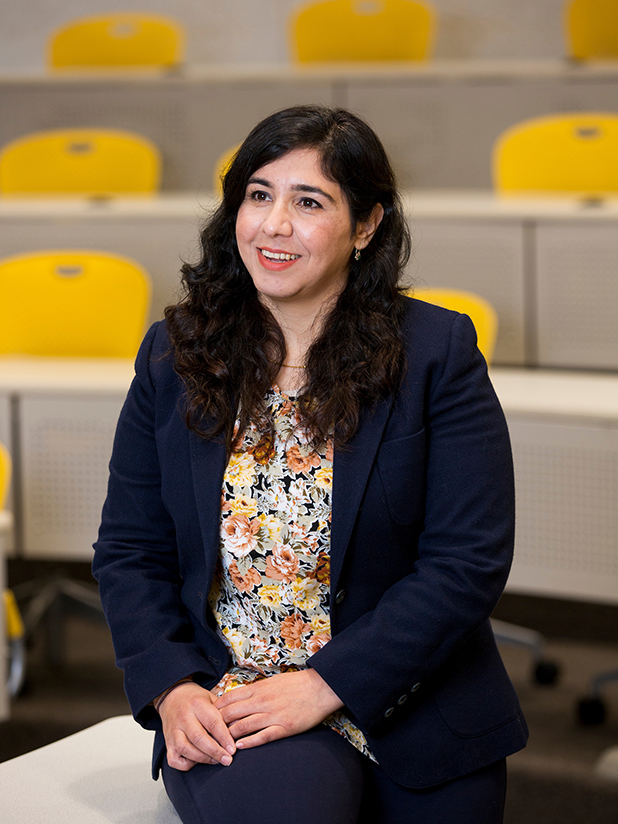 Mursal Manati is a visiting scholar from Afghanistan, where she headed the public nutrition directorate at the Ministry of Public Health in Afghanistan until the government fell to the Taliban in August 2021. Earlier in her career, she led the specialists' directorate at Afghan Atomic Energy High Commission for five years, coordinating all nutrition programs and activities with national and international partners. Manati was an essential author of the development, revision, and strategy of numerous policies concerning health and nutrition, and nuclear and radiological materials waste-management guidelines in Afghanistan. In the spring of 2022, Manati left her home country and joined the Heller School's Institute for Global Health and Development, where she has been doing research on treatment of malnutrition, nutrition related problems, and nutrition education.
In this interview, which has been edited for length and clarity, Manati discusses nutrition justice and her experience as an academic in Afghanistan.
Tell me about the connection between nutrition and social justice.
In my last year of undergrad, I did a practicum at a children's hospital in Kabul, Afghanistan to study how they are measuring malnutrition. It was my first time seeing malnourished children, and it was very terrible. I was thinking, "What happened? Why? How are these children so malnourished, when there are so many healthy children who waste food? What is happening in this society?"
At that time, I was not much familiar with the term "social justice." When I got home, I read one of my brother's books, The Social Contract by Jean Jacques Rousseau, which is about how we integrate with the community and our responsibility as humans to apply social justice for everyone and commitment of leaders and governors to their citizens. When I read that book, I understood how social justice and ethics could be used to improve how resources are distributed fairly in the community.
Around that time, I decided to pursue my master's degree in the nutrition field and work in this area to reduce the nutrition problems. More than five years after graduation, I was able to serve as the director of public nutrition, and at that time I was focused on how to improve the nutrition status of children – it was my dream one day to have no malnourished children in Afghanistan. My colleagues and I were trying to expand the nutrition programs, while also planning and implementing other new programs, but unfortunately due to COVID-19 and after the fall of the government [to the Taliban in 2021], it did not happen. 
How do you define nutrition justice?
What is food? Food is a vital element, to be alive. The first is oxygen, and the second one is water, and the third is food – elements necessary for survival. Without food, we are not alive.
Food is the right of all humans; as you have social justice, we have nutrition justice. Because we are human, we are a part of society and part of a community. Therefore the resources should be distributed fairly and equitable. Nutrition injustice impacts more vulnerable groups, such as pregnant and lactating mothers and children. Most of all, children are the victims of poverty, war, and conflict, and they need access to food and their other rights. 
Nutrition justice and social justice are very close – they have a strong relationship, and resources should be distributed equitably throughout the world. Nutrition justice affects the lives of women and girls so much in Afghanistan. It's not just about children in general; there is gender discrimination. For example, it is common for men to eat first at meals, and after that, if there is something left, wives or daughters or sisters get to eat. And we have the same in other countries as well.
Tell me about your experience as an academic in Afghanistan.
The reality of the country and education is awful now. Education is fundamental for development. As I am in an academic area now in the U.S., it's hurting me that millions of girls are not allowed to go school and university, and they are instead kept at home in Afghanistan. Women are a huge part of my country, and now they are cut off from that part of society. If we want to bring changes in a community, educating women is the first step. It has been said that, "If you educate a man, you educate man; if you educate a woman, you educate a generation." When I was teaching in higher education institutions, I realized how much people want to learn more, especially girls.
But now we're in the same place we were 21 years ago [with the Taliban in control of the government in Afghanistan]. Back when I was a child, the Taliban came and closed the schools for girls. The girls would go to secret home-based schools instead to get educated. One day, on my way home, the Taliban began shouting at me and then started beating me. I managed to get away and run home, but I was in shock. My mother told me I shouldn't go to the school anymore for my safety. I did not stop going, but for some years, I was very afraid.

It is the same now in Afghanistan – the big enemy for this government, for the Taliban, is just women. Every day there is a new restriction for women, whether it's closing schools for girls, not being allowed to travel without men, or not being able to gather in public places with other women. They think allowing women outside the home is not good, that women can't make decisions about their lives, that they need to be controlled.

It is very challenging to educate in Afghanistan, to work outside the house – especially if you become someone in the policy world, someone who makes decisions at a high level, and they don't agree. War and conflicts are due to the lack of a proper education systems, and it causes several decades of a lot of suffering, all because of uneducated people.
What are your current research interests?
One paper I'm working on is on treatment for malnutrition that focuses on the impact of education. If a mother is educated or uneducated, what is the impact of her education on the health status and nutrition of the child? If they train mothers on nutrition, does that help improve the health of the child?
I'm also working on other research projects to engage in other subjects, not just nutrition. I like the social sciences, especially political science, and I want to solve problems of inequality. I hope to use my experience in Afghanistan to improve systems in resource-strapped countries at large.
What do you like most about working at Heller so far?
I find that Heller is really inspiring me. It's an academic place producing global policy makers, but beyond that, there is a sense of community. Heller is like a family – the people are very warm and kind. You never feel like you're alone because everyone cares about you and is working to help you achieve your goals.