The Heller Alumni Association consists of 4,800 alumni and our Alumni Association Board helps us foster lifelong connections with the Heller School. All Heller graduates are automatically members of the association and have access to a range of benefits and resources. The Heller Alumni Association Board's primary goals are to aid in recruiting prospective students, to help fundraise in accordance with the Heller School's development goals, to network through events and other means with our fellow Heller alumni and to protect and promote the School's mission. The Board will connect and engage with all Heller alumni and students in order to ensure a lifelong commitment to promote the Heller School.
Read about our current board members.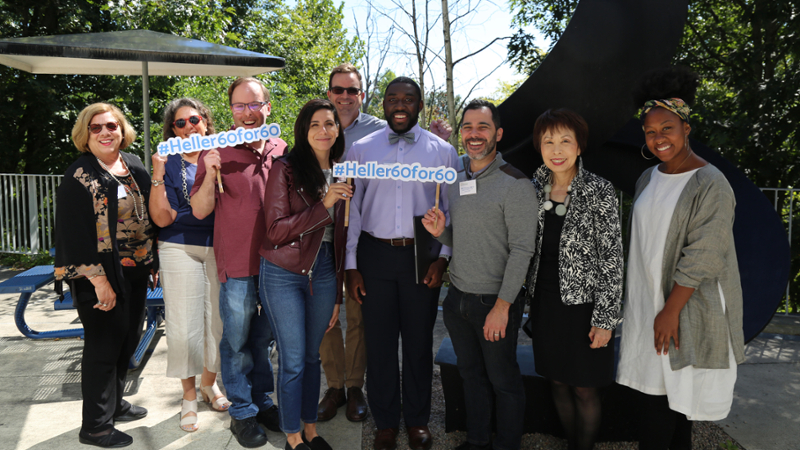 The board supports many activities throughout the year including event planning (including anniversary year planning), fundraising, and helps advance the interest of alumni by volunteering with the Heller School. The board consists of a President, Vice President and up to 30 members. Each board term is 3 years, with the option to renew for a second term of 3 more years. The board is not a fiduciary board and supports the engagement of the Heller alumni population.
Board Nomination
Each spring, we assess the demographics of the current board, in combination with those who are cycling off the board, to continue to diversify and recruit a range of alumni to represent their Heller colleagues.
The application period for the Heller Alumni Association Board is now closed.
Eligibility Requirements
Ideal candidates are Heller alumni who wish to give back to the Heller School in support of our mission and priorities. We are committed to representing the diversity of the alumni population and the board welcomes members of all backgrounds, genders, races, and ethnicities.
Job Description and Responsibilities
Be an advocate for the Heller Alumni Association and the Heller School representing the voice of Heller alumni, which could include but not limited to promoting major events, sharing the latest Heller updates and achievements, and representing experiences between and among programs and cohorts.
Attend and participate in board meetings twice a year.
Engage in board activities, events on campus and in one's own community which promote the board's four objectives; recruitment, fundraising, networking and supporting the School's mission.
Respond in a timely way to correspondence from Heller in regard to board activities, including, but not limited to, board meetings and committee meetings.
Serve as a responsible non-fiduciary board in the management of the affairs of the Heller School.
Support the Heller School with an in-kind or financial contribution to the best of one's financial ability. The goal of the Alumni Board is 100% participation of an in-kind or financial contribution by all members each year and that each member count Heller in the top of their individual philanthropic priorities.
Identify and recruit alumni for service on the Board, and encourage all alumni to maintain a connection to and support of Heller.