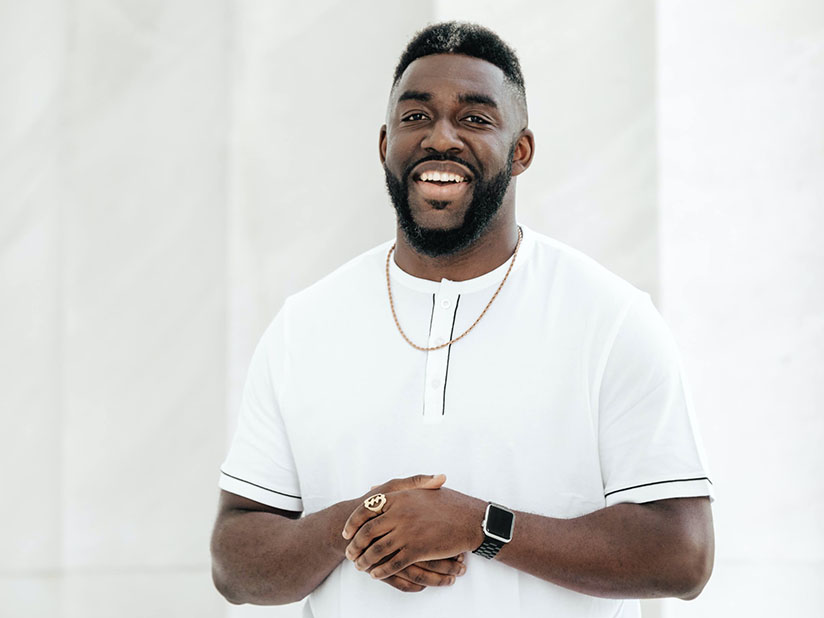 The Heller School would like to extend a warm welcome to Isaac Cudjoe, MA COEX'18,  who will be serving as the next Heller Alumni Association Board president. Isaac brings extensive experience in working with and advocating for community organizations and building social movements. He's approached the role with enthusiasm and is eager to work with the current board and meet new alumni.
Here, Isaac talks about his professional experience and what he hopes to achieve as president.  
Tell me a little bit about the work you've done since you left Heller.
The Heller experience gave me a lot of skills surrounding conflict resolution, peacebuilding, and international development, which has been extremely valuable to me over the years. But I still saw a gap in my knowledge on how to fundraise and help smaller initiatives intentionally scale up. I believed that by gaining some business acumen, I'd learn how to obtain funding for projects I was passionate about and decode the hurdles of funding that so many nonprofits struggle with. 

I wanted to do this in a setting where I felt like I was making a positive impact, so when I left Heller, I served as Chief of Staff and Director of the Center for Social Change at Walden University. Working there allowed me to make an impact globally, while learning how to manage, support, and scale projects.
In 2019, I launched a community action group called Brothers with Books that is fighting for equity, helping improve access, and cultivating literacy in Montgomery County, MD. It gave me an opportunity to learn and become immersed in my community, while listening to their needs. 
Heller made me hungrier for knowledge, so I decided to pursue a master's degree, and eventually a doctorate in public policy. I made a conscious effort to learn more about the policies that hold harmful systems in place and study their impact on people.
More recently, I became co-CEO of Peace First, an organization that empowers young people in 164+ countries with changemaking grants and peacebuilding tools.
How has your Heller experience shaped the trajectory of your career?
The Master of Arts in Conflict Resolution and Coexistence (COEX) program at Heller did something unique for me. A significant percentage of the student body is from conflict regions of the world, which really slapped me into reality. I'm from Ghana, which is regarded as a relatively peaceful country, but my peers from other countries helped expand my knowledge of how violence takes many forms and the urgency is recognizing we have a responsibility to each other.
It wakes you up when you talk to peers who have experienced these things firsthand. COEX being present at Heller creates this environment where students don't just have to theorize about global situations, they can ask their peers and friends about their personal experiences. Heller welcomes people from everywhere to create an authentic learning experience, and it's a unique place.
Heller has always been ahead of the curve when it comes to diversity, equity, inclusion and belonging in that regard, so when you leave an environment like that and get back into the world, it's motivating and empowering. Heller shaped my worldview on how to influence change in my community, what my workplace should be like, how I can help people feel like they belong.
What do you hope to bring to the table as the new Heller Alumni Association Board president?
Firstly, I want to bring collaboration. I'm excited to work with Bria Price, MPP'19, and Parisa Kharazi, MS'13, in this work. Their leadership is going to be transformative for the alumni association. Ultimately, we want to help people recognize that when you get a graduate degree from Heller, it's not just about what you learn in the classroom, it's about who you learn with and the community you create. Heller ought to feel like a family, and we want people to feel like they belong here.
We want to welcome intellectual thought and new ideas. Working with the Heller community, we want a place where people can seek refuge and shelter. It's important for our community to feel both big and small, global and local – glocal.
I'm hoping to create an invitation for people to re-engage and see it as an intellectual and creative refuge, where they can find opportunities and ways to give back. I want to help people get to a point in their lives where they see giving as more than just a one time thing. It's a constant flow, and there are many ways to give. It isn't just about giving money, you can give time, mentor students, or take in interns. 
I want to reach people who have left Heller and are still struggling with where they fit in. To those people, I'd say, what better place to recalibrate and connect with new ideas? Come to an alumni happy hour, create an alumni group, because you aren't alone. You never know what connections you can make and what doors those connections will open. Let's work together.
Alumni and students can connect with Isaac using the private message feature on B Connect.