The Heller School was founded in 1959 to answer a pioneering question: how can we use policy to work towards the well-being of all members of society? Through graduate education, the pursuit of applied interdisciplinary research and active public engagement, we have a long history of responding to the changing needs of vulnerable populations.
When the Heller School was founded, it offered a small, pioneering doctoral program whose graduates would break a barrier by using social science disciplines and the most advanced research methods toward building a more equitable nation. Heller's academic scope has since expanded to include numerous master's degrees in both domestic and international policy, with a common focus on assessing and managing relevant social issues. Today, Heller is consistently ranked among the top schools of social policy and is recognized as a leading research institution shaped by the social justice roots it shares with Brandeis University.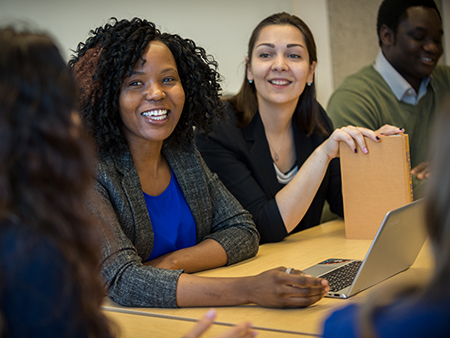 Our faculty, staff, students and alumni are making a difference on critical social issues, ranging from: health; mental health; substance use disorders; children, youth, and families; aging; international and community development; developmental disabilities; philanthropy; and economic and racial equity.
We are dedicated researchers, applying social, economic and political science to solve pressing domestic and global problems. We are also steadfast idealists, working toward a better world through the knowledge we generate, the leaders we educate and the communities we engage with globally. Our motto, "Knowledge Advancing Social Justice," is more than words: we believe it's imperative to move our evidence-based ideas into action.
Mission
The Heller School drives positive social change through research, education and public engagement that inform policies and programs designed to address disparities in well-being and social inclusion in a sustainable way.