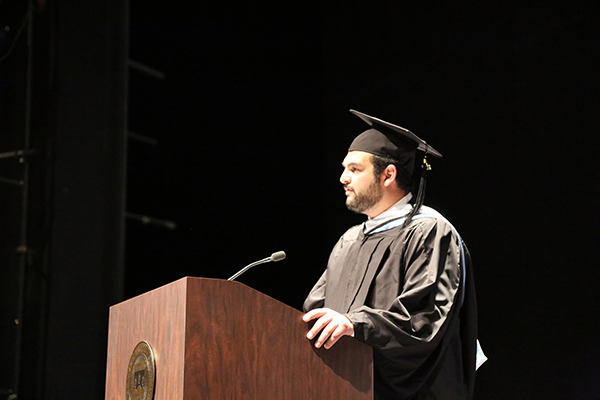 Members of the Heller administration, distinguished faculty, families, and fellow graduates, good morning.
My name is Mahmoud Nabulsi and I represent one of the many voices of this 2017 graduating class of the Sustainable International Development program. Congratulations! We have made it!
When I was asked to deliver the commencement speech, I had too many ideas as to what remarks needed to be included or not! At some point, I felt that I could no longer track my train of thought, so I browsed the Internet and talked to friends about it, and to tell you the truth, writing a speech turned out to be a painful process!
When I started applying for schools in 2014 and 2015, I was working in youth development in Amman, Jordan. My experience in working with governments, organizations, youth workers, activists, and individuals has accumulated over the past decade. At a certain point I felt that I'm occupied with a static mindset that needed to be decolonized. Knowing for a fact that education is the most powerful weapon to uncover my inner strengths and weaknesses, I decided to pursue my higher education in an enabling academic institution, and Heller was the choice.
I clearly remember when my sponsor asked me to provide my top five universities. Heller was my only choice and I insisted that I would not consider other options. It might sound crazy, but to me the only reason I would leave my home country of Jordan was to come to Heller.
My decision to pursue a higher education in a school that advocates for social justice is multilayered. In the most part, it can be attributed to my lovely mother. She was raised in Palestine, before being displaced in 1948. She became a refugee, and fled to Jordan with my father. Just when she thought she had lost everything, he passed away when I was four. My mother had to play both parenting roles not only for me, but also for all my five brothers and one sister. Somehow, she raised us based on human values of respect, love, and appreciation. Before coming to Heller, I was afraid I would find myself in a completely different environment that may not stand for such values. However, in a couple of weeks I realized I was wrong! The SID family helped me maintain and build on those values and made me a more accepting person.
Coming from Palestinian roots, I thought that my identity would be threatened and that my experience was totally unique. But the turning point in my life was last year when I got involved in Black Lives Matter and Ford Hall. That was when I understood what true solidarity means and that oppression comes in various shapes and forms. Thanks to everyone in this great school, I am now a Palestinian who stands for social justice causes all around the world including indigenous people, LGBTQ, refugees, and others.
This family has taught me a lot! It showed me that theory and practice are not two separate things. It showed me that when you write endless papers on gender roles, ethics, and justice, then you are bound to ensuring these principles are effectively implemented in real life, too. My classmate Zainab often brought her nine-month-old daughter Nour to class. She's now our youngest graduate, and has attended enough classes that when she grows up, she will be able to teach the politicians in D.C. that climate change is real! I do not think that bringing a baby to school would have been possible in other academic institutions. But because we at Heller genuinely believe in human rights, taking care of Nour was a moral duty that each one of us had the pleasure to share.
For a moment, I felt that Heller is like Amazon where we get nice gifts with some orders. For example, if you "order" skills, knowledge, power, and a diploma, then your gift will be hundreds of friends for life and a baby! Three weeks ago, my wife Maha and I found out that we're expecting a baby. When we told our family and friends, they were extremely happy, but when we told you guys, our families' reactions seemed really modest in comparison. We are a "family by choice" and today we are celebrating our powerful sense of collectiveness, inclusiveness, cohesiveness, unconditional support, acceptance, and compassion.
If there is one piece of advice to give to the next generation, it would be this: follow your heart and intuition, and utilize everything you have to prove it right. As William Arthur Ward said, "If you can imagine it, you can achieve it. If you can dream it, you can become it."
On behalf of the SID family of 2017—and by the way that's the name of our Facebook group—our heartfelt gratitude goes to all faculty, staff, and students. Thank you all for making this journey an unforgettable one!  And one last thank you to Rose, for always greeting us with a smile!
Kudos.