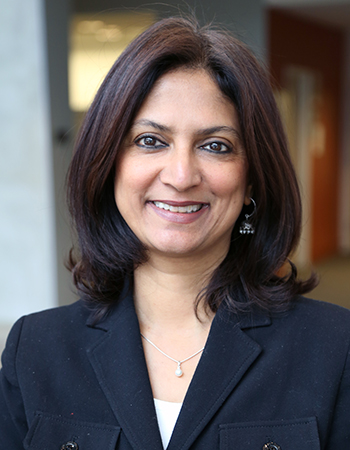 The Heller School for Social Policy and Management at Brandeis University has announced that Monika Mitra will become interim director of its Lurie Institute for Disability Policy. Mitra will take over from Susan Parish, who is leaving Heller to become dean of the Bouvé College of Health Sciences at Northeastern University, on March 15.
"I am honored to lead the Lurie Institute as interim director and to build upon its longstanding goal of conducting research to improve the lives of people with disabilities," says Mitra. "I look forward to exploring new partnerships both on and off campus that will further the institute's mission and work."
Mitra is currently an associate professor with the Lurie Institute and an adjunct associate professor with the University of Massachusetts Medical School. Her research examines the health care experiences and health outcomes of working-age adults with disabilities, with a particular focus on the perinatal health of women with disabilities, violence victimization against people with disabilities and disability-related disparities in health and access to care. Her work has been supported by a range of federal and state funding sources, including the Eunice Kennedy Shriver National Institute of Child Health and Human Development, the National Institute on Disability, Independent Living, and Rehabilitation Research, the Centers for Disease Control and Prevention, Substance Abuse and Mental Health Services Administration and the Agency for Healthcare Research and Quality.
"Dr. Mitra conducts pioneering research on reproductive issues facing people with disabilities, a topic that is a major public health and civil rights concern," says Heller's interim dean Marty Krauss. "She has a broad portfolio of research studies that provide excellent training opportunities for our students and she has the energy and vision to position the Lurie Institute at the cutting edge of public policy work for the future."
As interim director, Mitra will lead a research team at Lurie that is currently focused on several key initiatives including National Institutes of Health-funded projects on understanding the perinatal health and healthcare experiences of women with physical and intellectual and developmental disabilities, a Health Resources and Services Administration-funded project to examine the reproductive health of women with disabilities and a recently-funded $2.5 million national research center for parents with disabilities.
"This leadership role offers me the opportunity to expand the Lurie Institute research base globally to address disparities in the health and well-being of people with disabilities in low and middle income countries," Mitra says.
The Lurie Institute for Disability Policy is dedicated to improving the lives of people with autism and other disabilities across the lifespan through innovative social policies that foster inclusion into the mainstream of society. The institute was created with a generous gift from the Nancy Lurie Marks Family Foundation. For more information, visit the Lurie Institute's website.