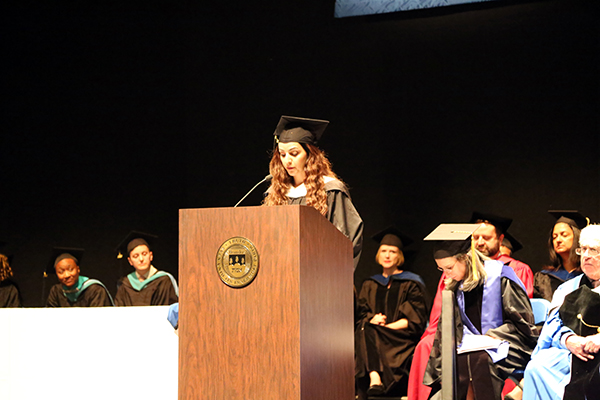 My name is Shadi, which means "happiness" in Persian. I'm from Iran, a country that is the home of one of the oldest civilizations.
I came to the United States to study in the conflict resolution and coexistence and sustainable international development programs at the Heller School.
I am honored and grateful to be the first recipient of the prestigious Public Policy and Coexistence Fellowship, which allowed me to continue my education in this country.
My choice to study conflict resolution and development is rooted in my life story. I was born a year before the Islamic revolution in Iran, and I grew up during a war imposed upon us by Iraq.
I am a child of war—a war that lasted for 8 years. During that period, when many countries supported Saddam Hussein, he used ballistic missiles and chemical weapons against Iran. I witnessed the bombing of innocent civilians, and the destruction of schools, houses and hospitals. Warning alarm, airstrike within minutes, looking for a shelter—all fearful moments I can never forget. My family was forced to flee and we became internally displaced.
I am a survivor of war! A war that stole the childhood of my generation.
Yes, living in a country tied up in revolution, war, economic crises and decades of sanctions motivated me to devote my life to the betterment of people's lives, humanitarian assistance, conflict prevention and post-conflict healing.
My education at Heller has given me skills to understand the relationship between conflict and development, and deepened my capacity to work effectively with communities in crisis. Here at Heller, I've studied with students from all over the world who have opened many new windows for understanding new cultures and engaging in dialogue. They allowed me to break my biases, and I hope I did the same for them.
My friends: It is very unfortunate that the story of conflict and violence seems to have no limit. When I see images of devastated people—from Yemen, Syria, Sudan, Somalia, and many other countries—which suffer from insecurity, I feel a connection with them. I have seen people in my country who are still suffering from Saddam Hussein's chemical attack; and now chemical attacks are happening in Syria. When I see people fleeing their homeland for their lives and escaping from conflict, I empathize with them. It's not an easy decision to leave everything behind, and escape thousands of miles in a risk-filled journey with only a glimmer of hope in the darkness to reach a new place where no one is waiting for you, not knowing whether a country will let you enter.
Today, the threat of violence exists everywhere and the refugee crisis is growing so fast. We are living in a world where 65 million people are forcibly displaced—more than 20 percent of the population of the U.S.
My friends, we have finished our studies at Heller but our work is just beginning.
Today, we hold degrees in our hands that put more obligations on us, whether starting to work in our country or abroad. Today we are graduating from a university, which brought all of us from different parts of the world together and reminded us we all can be friends and love each other regardless of where we are from, how we look and what we believe. As we celebrate this milestone in our lives, all of us who are sitting here, our parents, teachers and friends, we need to ask ourselves: What is our responsibility in making peace? How can we—as future peace practitioners, development practitioners, policy makers, negotiators, fathers and mothers—contribute to a world that is safe for everyone, especially children? No child in the world deserves to grow up in poverty, or like me, with grey memories of war.
We can't talk about peace by dropping bombs, or promote democracy by dividing nations against each other, or create safety by banning citizens of certain nations. These acts create conflict, not curtail it.
It's very difficult to think about peace in this period of time! But we learned that peace doesn't mean a world with no conflict; it means handling a conflict by peaceful means.
Let's advocate for peace, starting with more inclusive hearts and minds. Peace does not just happen by magic; it is a process. Every day we should practice making it, building it and keeping it. We need to foster humanity inside ourselves and spread it. We should be open to the stories of people who are different from us. Regardless of nationality, race, sex, religion and color we all have more common values than differences. Let's find "connectors" rather than "dividers." Let's bring smiles to each other's faces, let's stand for each other's rights, let's extend our kindness to other people and let's work for peace for everyone.
My name is Shadi, 
It means happiness
I was born in a revolution
I am still haunted by memories of war….
And my hope is for everyone to live lives of happiness and peace.
Let us go and make happiness happen.
Congratulations class of 2017!