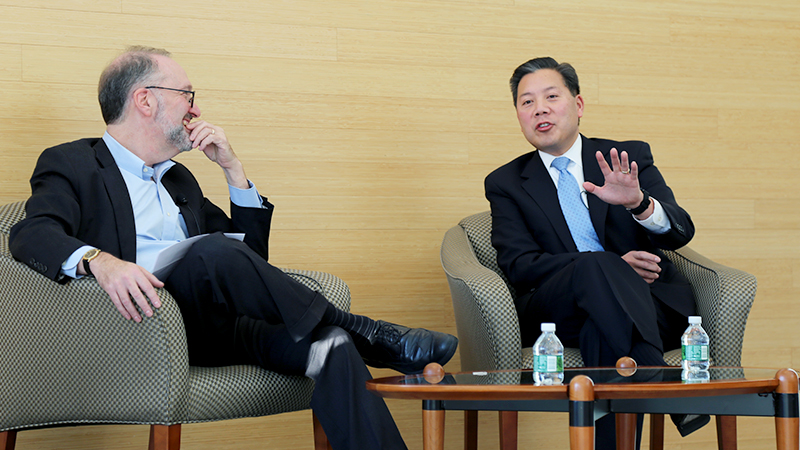 By Daniella Ayesha Fernandes, MA SID'19
The second installment of Heller's popular "Conversations with the Dean" speaker series, on Wednesday, November 29, 2017, welcomed Former Deputy Secretary of Labor and Cabinet Secretary Chris Lu. Conversations with the Dean is a series featuring public figures, policymakers and advocates in social justice fields hosted by David Weil, dean of the Heller School for Social Policy and Management.
Now a senior fellow at The Miller Center (University of Virginia) and advisor to FiscalNote (a data visualization, enterprise software company), Lu opened the discussion with Dean Weil saying he was very happy to speak with young people at a platform like Heller as he believes, "public service still matters at an interesting time like that in which we're living in right now."
Weil and Lu opened their conversation by talking about Lu's path to public service. Here, Lu shared that he began his career as a lawyer. However, as opportunities arose to work in politics, he jumped at them, which led to an "amazing 20-year-run," taking him through "the U.S. House of Representatives, the Senate, the White House and then the Department of Labor." Candidly, Lu shared that his career trajectory to work with Obama was largely due to having been "lucky" enough to attend law school with him.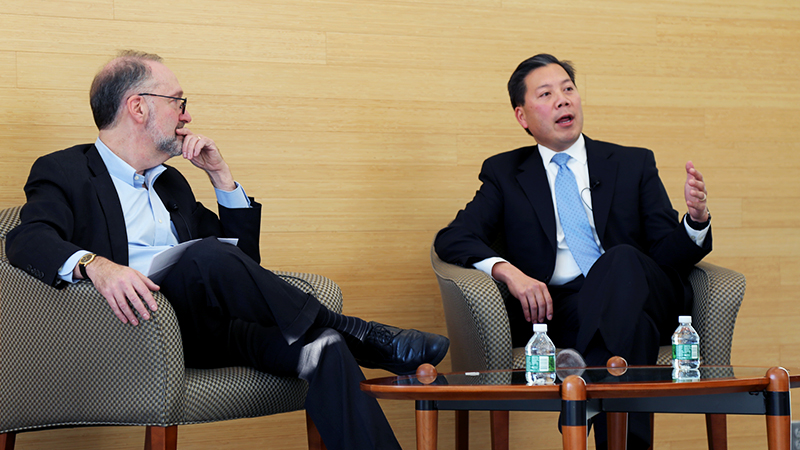 As classmate and then a key member of President Obama's team right from his campaign for the Senate through the second term of his presidency, Lu provided interesting insights and backstories into the former president's life. He praised Obama by referring to him as a "remarkably gifted, ground-breaking figure," who "believed in the value of early planning."
Comparing and contrasting his experience with the current presidency, Lu expressed concern, saying that the Trump administration lacks "the four Ps: preparation, people, policies and process." Lu credited this with leading to a challenging White House transition.
Disturbed by the abnormalities in the current presidency yet believing that, "government is an amazing tool to enact social change," Lu encouraged the Heller community to "engage with people whom we disagree with."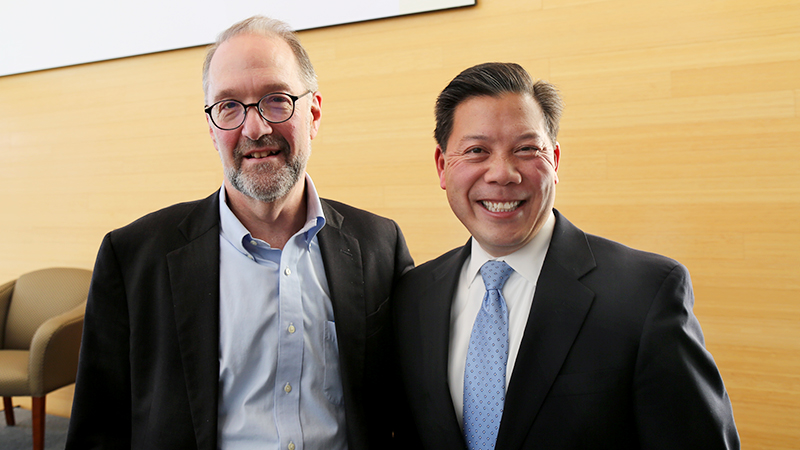 Weil and Lu, who worked together at the Department of Labor during the final three years of the Obama administration, ended with a discussion of the value of public service. Lu closed saying, "public service isn't where you work or what you wear to work. It's a mindset about trying to solve the problems of today and trying to help people you don't even know. As long as you adopt that mindset, you can do good, no matter where you work."
A recording of the full conversation between Dean Weil and Chris Lu is available below.