There are many questions—and just as many opinions— about the Better Care Reconciliation Act (BCRA), the U.S. Senate's proposed replacement to the Affordable Care Act, or Obamacare. Am I Still Covered? is a new, online resource developed by a group of Heller students and others to inform the public about the BCRA in plain language. Users can use the website to learn how the BCRA could affect their health care coverage and costs. Am I Still Covered? Co-Founder Stephanie Murano talked with Heller communications about the innovative project.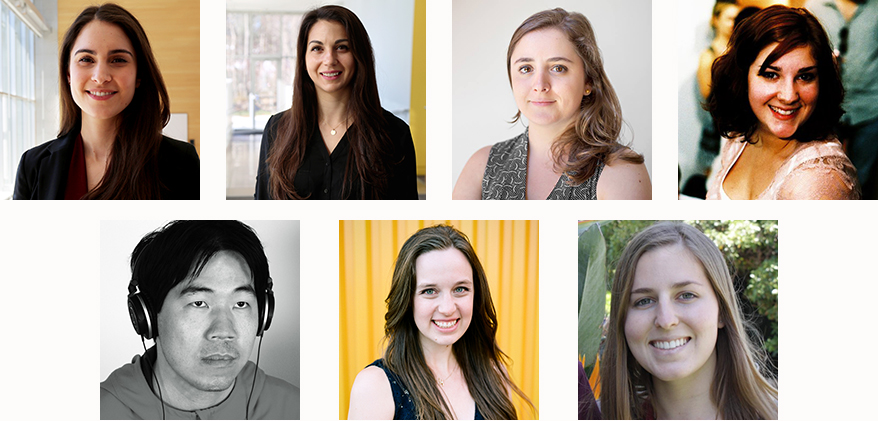 Members of the Am I Still Covered? team: (clockwise from top left) Rebecca Huber, Kayla Scire, Adrielle Slaugh, Stephanie Murano, Sarah King, Annie Hirshman and Shu Chen.
How did you come up with this idea?
Am I Still Covered? came about through a group text message thread shared by our co-founders. Adrielle Slaugh expressed frustration that she did not think many people understood how BCRA would impact so many Americans, and thus, the general concept of Am I Still Covered? was born. We utilized our individual set of skills to express this through a straightforward platform: Rebecca Huber (MPP/WGS '18) directed policy research, I developed a marketing plan, Annie Hirshman headed UX and web design and Adrielle Slaugh acted as project manager. We recruited a few other individuals to round out our team, including Shu Chen for web development. Rebecca reached out to a few fellow members of her cohort, bringing in Sarah King (MPP '18) and Kayla Scire (MPP/MBA '18) for policy support. 
What problem does Am I Still Covered? seek to solve, and for whom?
Health care policy can be dense, which is unfortunate, since it impacts so many individuals in a direct way—we all will need health care at some point in our lives! BCRA is particularly confusing, because it requires a basic understanding of its predecessor, the Affordable Care Act. When talking with friends and family members about the Senate bill, we realized that many were unaware of how BCRA would impact so many people, not just those on Medicaid or those who gained coverage under ACA. Am I Still Covered? makes it so you don't need policy expertise to have an opinion about BCRA, and we hope that it empowers users to reach out to their Senators.
Given the time-sensitive nature of this project, what are the long-term goals and next steps for Am I Still Covered?
The goal of Am I Still Covered? is to spread this tool as much as possible prior to the Senate vote. When you finish the brief quiz, you are connected to your local representatives. We want people to make their opinions known, whether it is in support or opposition of BCRA! Further, as the bill changes, we plan to adapt our platform accordingly.
Want to learn more about Am I Still Covered?