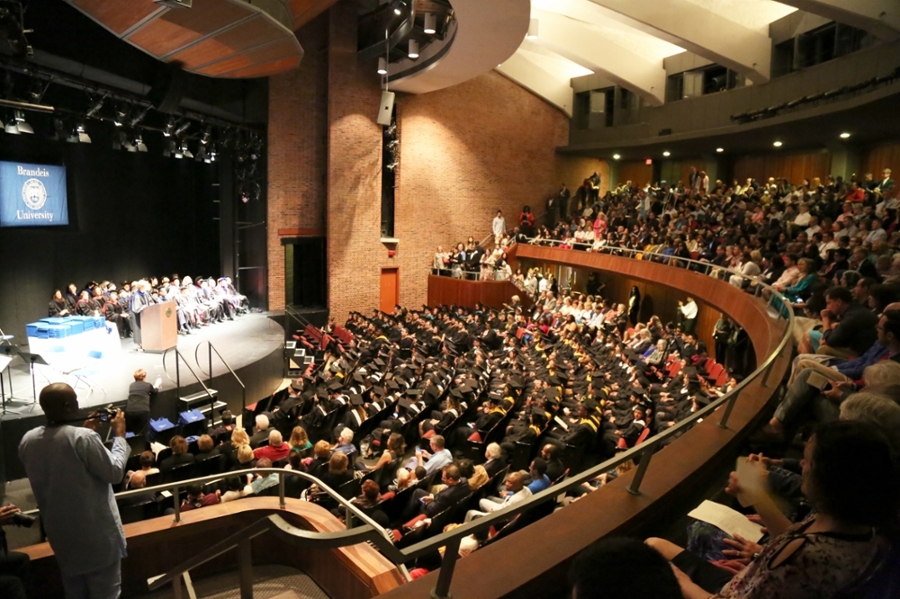 See more commencement photos on Heller's Facebook page.
Ghinwa Alsalman Hneide remembers being angry on the day of her Heller admissions interview. Hneide was calling from her home in Syria, which was (and remains) at war. On some days, Hneide says, there were explosions, like the one that came very close to her workplace. On the day of her admissions phone call, there was no electricity, which meant she couldn't recharge her cell phone, and she was concerned it would lose power in the middle of the interview.
"Everything seemed so random and up to chance," said Hneide, who was one of 153 Heller students to graduate on Sunday. She was also one of the six graduates representing each degree program who addressed the crowd in Spingold Theater.
"The funny thing for me about studying COEX (Conflict Resolution and Coexistence) at Heller, is that I thought it would make me want to fight more: fight to end violence and injustice; fight to end war, fight to counter terrorism," Hneida continued.
"Studying at Heller made me realize that everything you wage a war against just gets bigger, whether it's terrorism, drugs, or even war itself. I came to realize that while continuing to pursue my ambition in making people understand one another, or at least accept each other more, I can start right here, right now, with me. I can love deeper, forgive faster, and cherish every carefree laugh I share, and every connection I make with others. Heller made me realize that growing an energy of love is also peacebuilding."
Read Ghinwa Alsalman Hneide, MA COEX'16's commencement speech
PhD graduate speaker Michelle Shain talked about building peace on the presidential campaign trail through sound research. "As scholars, we have the ability to help elevate the tone of public discourse in this country—to move beyond base partisan rancor and petty name-calling toward a more reasoned, evidence-based discussion about our national future," Shain said. "We have the ability to forge a more respectful and constructive debate. If we can introduce the results of our research into conversations that would otherwise be circumscribed by impression and emotion, then maybe we can also lead people toward shared understanding."
Read Michelle Shain, PhD'16's commencement speech
MBA speaker Emilia Dunham scattered humor throughout her speech, but turned serious when it came to her classmates' entrepreneurial drive for social change. "What this program taught me most is that we actually are going to make a difference—because from what we've gained at Heller, we don't just hope for change, as empowered leaders we can trust in what will change," Dunham said. 
"Because we will be tomorrow's great leaders—Andrea Hayes will create a business creating care products for women of color, Mary Casady may start a consulting business empowering women to advocate for equal pay, Kalee Whitehouse a corporate responsibility leader for environmental sustainability, and as sarcastic as I so clearly am, there's nothing I believe in more."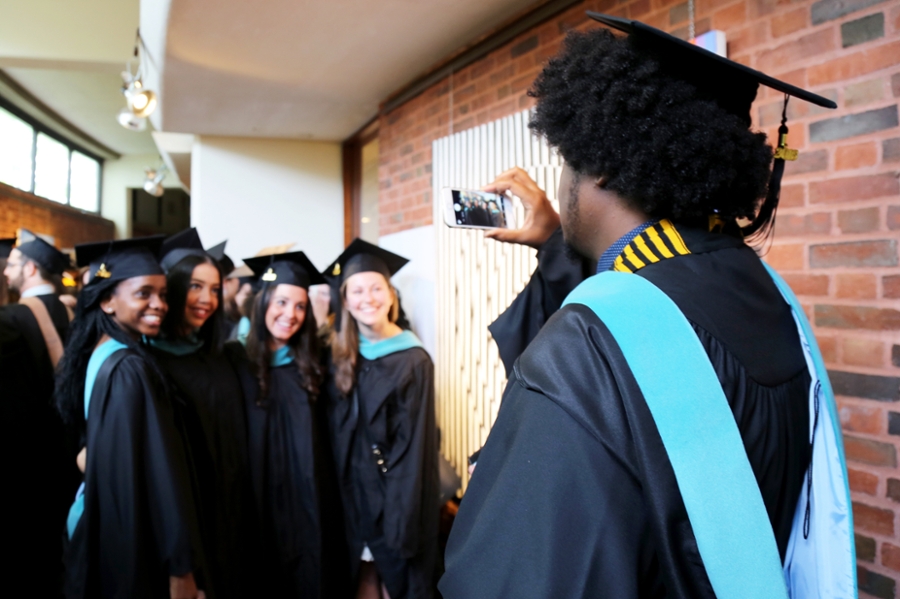 Read Emilia Dunham, MBA/MPP'16's commencement speech
Rodrigo Moran of the Sustainable International Development program also spoke of change—for the better. "After this long but amazing journey, I've concluded that change is not so bad," Moran said. "Change for the development practitioner, for the peacebuilder, the policy maker, for the nonprofit manager of the 21st century means to be able to reinvent oneself, to explore and take risks, to innovate in our fields, which desperately need new solutions to old problems.
"But we know that innovation comes with the risk of failure. For, as Amy Wilkinson writes, 'Innovators share one trait: failure. Some fail early, most fail often. Almost all of them will fail again. But something deeper occurs as a result: Failure provokes learning.'"
Read Rodrigo Moran, MA SID'16's commencement speech
MS in Global Health Policy and Management speaker Pamela Titi talked about her daughter, Gabby, who was born with severe brain damage. She came to Heller to learn the skills she needs to manage a health center she created in her native Uganda to support children, like Gabby, who have special needs. "Now I am ready to return to Uganda and bloom where I was planted. And bloom for the tens of thousands of Gabbys in Uganda who are hidden, abused, maltreated, or untreated, because of ignorance," Titi said. "Gabby is my most precious blossom, and with the skills I have acquired at the Heller School, others will blossom. Today the center attracts interns and professionals from USA, Canada and Europe. I am already using, to great benefit, what I've learned at Heller."
Read Pamela Titi, MS'16's commencement speech
Brian Kennedy, from the Master of Public Policy program, referenced the graduates' common commitment to advancing social justice. "There are hundreds of stories in this room today. Hundreds of struggles, hundreds of defeats, and also, hundreds of victories. And despite the differences of our stories, at their core, is a belief that in the face of the most disparaging odds, justice must prevail," Kennedy said. 
"The pursuit of justice is not a choice. Justice is not convenient. Justice is not optional. Justice is a mandate and it is a promise," he continued. "When you leave this place, and your work gets hard, because it does, and your faith wavers, because it will, you must stand tall, look the world in the eye, and declare that justice must prevail."
Read Brian Kennedy, MPP'16's commencement speech
Naveed Noormal, MA COEX'16, was chosen to deliver the graduate student address at the main Brandeis University Commencement. Read his speech