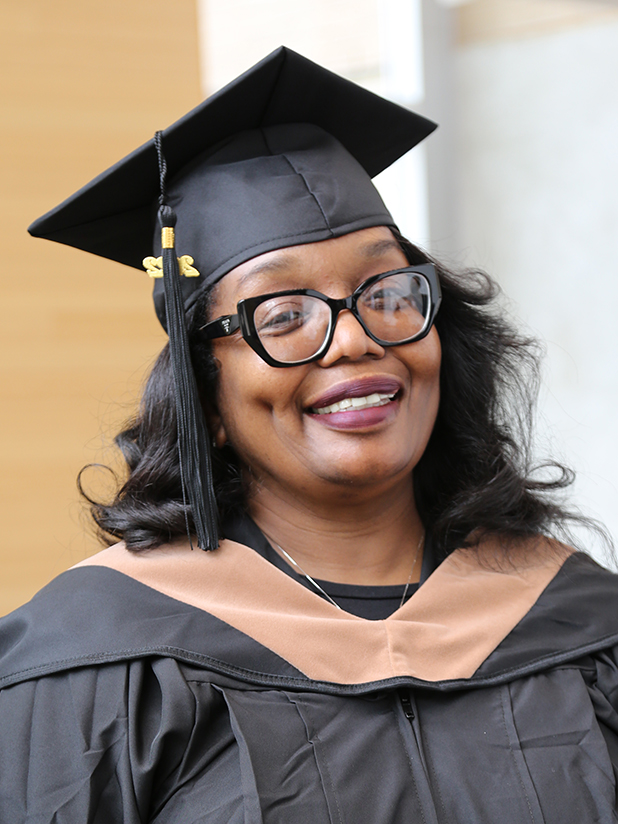 Good morning, graduates, esteemed faculty, honored guests, and the families that have traveled near and far to celebrate this joyous occasion.
 A special thank you to my mother, mother-in-law, eldest niece, and my husband, who is my rock; and for their efforts to physically attend and share in this momentous occasion.  Any achievements that I have obtained would not manifest without their unconditional support, and love, and for that I am forever grateful. I would be remiss not to acknowledge God who makes the impossible-possible.
 As a latch-key kid and child of a teenage mother, I learned responsibility at an early age. I know all too well about being marginalized and the inequities associated with being poor.  In my search for an MBA program, it was important for me to attend an institution that actively promotes involvement in social impact activities. An institution where the culture fully embraces and supports - through multiple programs and platforms – diversity, inclusion-and equity.
I am deeply honored and humbled to be the student speaker for Heller's Executive MBA for Physicians class of 2022. Sixteen months ago, amid the pandemic, 32 physicians assembled from around the country and globe to begin a course of study. We embarked upon a journey that would forever transform our lives and our way of thinking. We were all successful in our own right; however, collectively what brought us to Brandeis is that we all were missing something. That something is what I refer to as a technical competitive edge.
The program director Dr. Jon Chilingerian required our participation in individual 360-degree behavioral analysis prior to assimilating us into six dynamic and diverse teams. What I did not realize is that we were put into our teams for group competitive performance. Our teams became our "safe-space" where we could strategize, complain, and even laugh.
 As we navigated through and reviewed endless business cases, we participated in simulations, wrote reflection papers; and posted regarding Leadership and Organizational Behavior. That taught us about leadership styles, how to diagnose the myriad situations leaders face, how to implement change without authority, and the importance of having early crucial conversations. The financial and managerial accounting course taught by Dr. Brenda Anderson, and Corporate Accounting taught by Dr. Debarshi Nandy, gave us tools to interpret financial statements; and the analytical ability to sit at the C-suite table and accept or reject projects based on the story the numbers told.  Dr. Brad Morrison's Systems Thinking class gave us insight to draw causal loops and to address and anticipate situations involving policy interventions and unanticipated reactions.  Professor Carole Carlson's framework lectures and models taught us how to evaluate corporations. We got a glimpse of national health care policy through Stuart Altman's dissection and analysis of the most significant health care legislation passed in our lifetime, the Affordable Care Act.  Dr. Jody Gittell's Relational Coordination course gave us insight into the importance of looking at programs and having open, honest conversations through shared meetings, goals; and accountability to achieve desired outcomes. In Dr. Jon Chilingerian's Healthcare Management course we looked at key managerial processes, and practices, and integrated all of what we had learned. That enabled us to diagnose, frame, and analyze health care management problems, so that we could effectively manage any health care organization small, medium or large.  So, you see this toolset is our technical competitive edge.
Today, I salute my fellow graduates. Just like Judge Ketanji Brown Jackson, we too have persevered. As we return to our comfortable and familiar professions, I challenge you to think globally and use your newly acquired technical tools to impact those who can most benefit from our knowledge and technical competitive edge:-those who are marginalized, the disenfranchised, those who do not have access to basic health care, clean water, or adequate food supply, and those who are severely suffering such as our Ukrainian neighbors.
Thank you and congratulations.