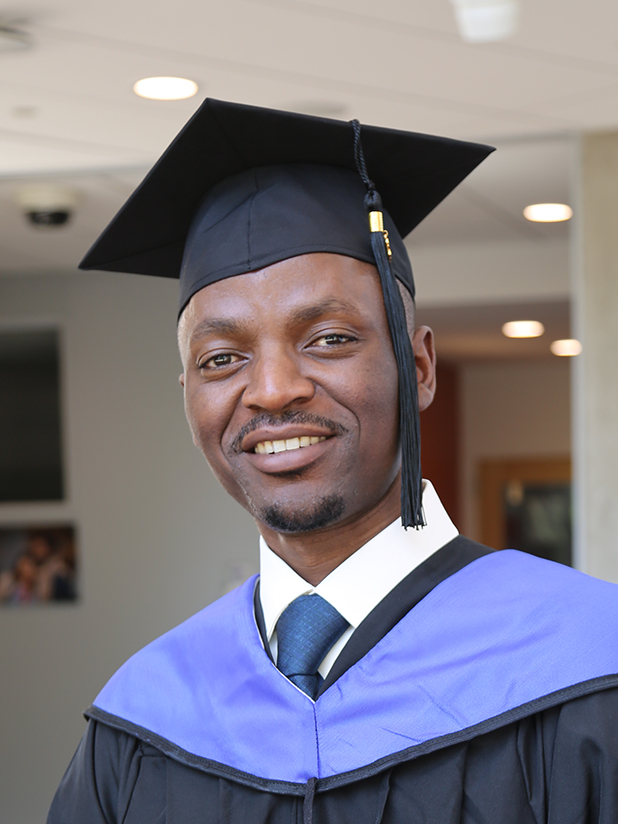 Dean David Weil, esteemed Heller community, graduating class, proud parents, distinguished guests, good morning! Bonjour! 
I'm Olivier Ishimwe, from Rwanda. I am delighted to be nominated a commencement speaker representing an amazing cohort graduating from the MA in Sustainable International Development program at Heller School for Social Policy and Management at Brandeis University.
Our education in the SID program has been a tremendous learning experience and a life-changing opportunity. Studying under world-class professors in and outside the classroom through lectures, seminars, workshops, webinars, associated with quizzes, papers, exams, theses, and practicum, has been transformative. Our diverse backgrounds and experiences have become our strength. Daily encouraging each other gave us a genuine purpose to celebrate this achievement together.
I owe a special gratitude to my parents who nurtured me into a man of value. I also thank my siblings including my beloved sister Olive who came to support me with her family from Maine.
I cannot forget the effort of my former teachers and folks watching from different countries and across the states. Some of them traveled to support me like Denis Niwemugisha from Rwanda, Vital Karangwa from the Rwandan embassy, and Marybeth Wilcox from Harvard University. Your support is impossible to ignore.
I came to understand that with God nothing is impossible. I, therefore, give thanks to God whose grace, strength, and favor sustain me every day. I'm also grateful to Apostle Dr Paul Gitwaza and Bishop Prof Léonard Uwiringiyimana, their authentic teachings and mentorship helped me live a Christ-centered life.
Working as a quality assurance analyst and youth organizer in Rwanda and neighboring countries, I observed a common struggle among the youth. Children abandon school to work on the farm, and many young graduates are astonishingly unemployed. This sparked my journey to Heller School and later became the focus area of my research.
I subsequently connected with a Heller alumnus, who was doing amazing work in education in Africa. Later, I attended a stimulating virtual workshop hosted by the Heller Center for Global Development and Sustainability delivered by Prof Alfred Zack-Williams, which influenced me to apply to the SID program. My gratitude to Prof Joseph Assan for chairing and coordinating that series.
Thanks to the dean and the admissions committee, for selecting me with this special cohort. I would like to appeal to the school to continue supporting prospective students like myself from developing countries in the Global South.
Reaching Heller, a diverse and inclusive community committed to knowledge advancing social justice. Professors, we are grateful for your open-door policy, your knowledge, skills, and experience you bestowed on us. I'm for example constantly struck by the kind-heartedness of Professor Joseph Assan, my faculty advisor Professor Rajesh Sampath, Professor Sandra Jones, and Mary Poor whose moral support has been exceptional.
Like Moses in the Bible, my Heller education has been a mountaintop experience for me. My personal goal, therefore, is to set up a social impact organization that partners with other agencies to address the devastating development challenges associated with lack of access to education and youth unemployment in East Africa.
I believe the evidence of problems in our communities reflects the evidence of sustainable solutions possible in our generation. It's my conviction, henceforth, that we can employ our program planning and implementation skills, along with our monitoring and evaluation capabilities from the SID program, to implement sustainable projects that will end institutional mismanagement, poverty, gender and racial inequality, illiteracy, youth unemployment, and other forms of social injustice in our communities. I believe we can change the status-quo and create equitable societies where citizens have a chance to develop to their full potential.
In conclusion, we have seen Heller School as an incubator supplying the world with specialists equipped to create sustainable solutions. As graduates, we commit to becoming exceptional development professionals through diligence and responsible leadership. Together, empowered, we can make this world a better place safe for the next generations.
In this generation, beloved, we must be phenomenal, or be forgotten. May God bless us with success in our future endeavors. Congratulations Class of 2022!
Thanks!