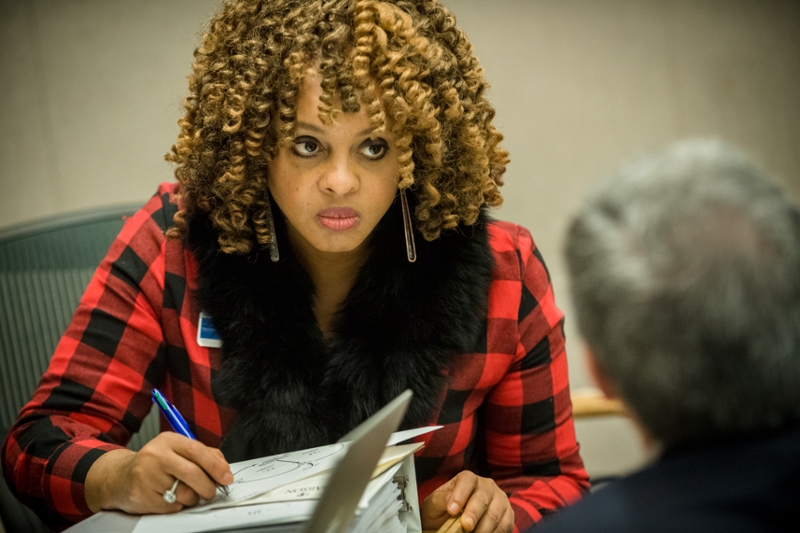 By Anthony Moore
These days health care management is about much more than health care. In addition to getting up-to-speed on new threats like the Zika virus, the latest cancer treatments, and new medical imaging technologies, hospital executives must grapple with the complicated and ever-changing challenges of managing health care organizations. How do you maintain a financially viable practice with falling reimbursements and rising overhead costs? What's the most efficient way to implement new protocols for electronic health records? How should you prepare for the potential repeal of the Affordable Care Act?
Addressing a shifting landscape of questions like these while keeping abreast of the actual practice of medicine might seem utterly impossible, but for professor Jon Chilingerian, the executive director of the Heller School's new Executive MBA (EMBA) for Physicians program, it's something else entirely—it's absolutely necessary.
"Every physician needs training in the blossoming new field of biomedical and management science," he says. "The current environment demands that physician leaders develop a balance of health policy and management skills in order to be effective."
To help doctors strike that balance, Chilingerian launched the EMBA program in January 2016, building on a lengthy career at the forefront of health services management. The former assistant health commissioner for the city of Boston, Chilingerian has published award-winning research on health care management; launched Maine's Advanced Health Policy and Leadership Academy, which will train roughly 10 percent of the state's doctors in the next five years; and founded The Heller School's and Tufts Medical School's joint MD-MBA program in health management, the country's largest such program.
"Jon brings a wealth of experience and wisdom to the program," says Dr. Mark Talamini, the chair of Stony Brook Medicine's Department of Surgery, who is one of the first doctors to graduate from the EMBA program this spring. "He is heavily invested and has developed a personal relationship with each student."
Designed for doctors working in, or preparing to work in, management and leadership posts, the EMBA physician program distinguishes itself from traditional MBA programs because its curriculum is aimed directly at doctors. To help strengthen health care management and leadership skills, the curriculum integrates medical and managerial issues and hypotheses with courses on national and state health policy, clinical and managerial uncertainty, health law and ethics, health care technology, performance measurement, and health care entrepreneurship.
"The Heller EMBA is different from pure vanilla MBA programs because we bring together medicine and management, a new field of science, in an integrated learning sequence," says Chilingerian "We're offering an executive MBA exclusively for physicians."
But if physicians already have so many other responsibilities, some might ask, why not simply train professionals with management backgrounds for leadership positions in health care? For Chilingerian, the answer is clear.
"If we ask who ought to take the lead for any industry, the answer would be the professionals trained in the basic underlying science," he explains. "Who should manage companies like Google? People trained in software engineering. So who should lead health care organizations? The answer is physicians."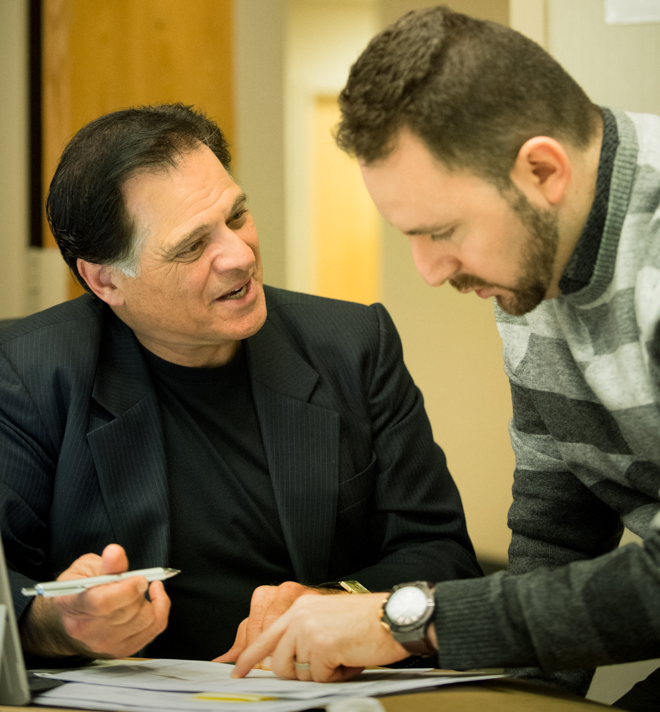 Jon Chilingerian (on left), director of the Executive MBA for Physicians program, working with a student.
Currently, less than five percent of hospital leaders are doctors. However, research shows that hospitals and medical centers helmed by physicians perform better, achieving higher patient safety results, lower infection rates, lower re-admission rates, increased efficiency, and improved financial margins.
"Health organizations managed by clinicians with advanced leadership training can outperform health organizations led by lay-managers alone," Chilingerian says. "Yet health systems are falling behind when it comes to developing physician leaders who innovate and create value. At the Heller School, we saw this as an opportunity."
According to the program's students, by teaching medical management science exclusively to those practicing medicine, the program is making the most of that opportunity.
"I wanted a program that catered to physicians, as this is the field I am choosing to stay in," says Dr. Tanaz Ferzandi, director of the Tufts Medical Center's division of urogynecology and pelvic reconstructive surgery, who also graduates this spring. "I'm not interested in how to make factory widgets."
Dr. Talamini agrees. "The fact that it is all physicians—and focused on physician leadership—is powerful."
The accelerated 16-month program is specifically tailored to working health care professionals. To enable students to enhance their management skills while working full-time, the program combines online coursework with four intensive 10-day sessions at Babson College's executive education center.
"Attending the program while maintaining a busy practice and administrative schedule is a major commitment," says Dr. Evan Lipsitz, associate professor of surgery and chief of the Division of Vascular and Endovascular Surgery at the Montefiore Medical Center and the Albert Einstein College of Medicine. "The balance of on-site and remote classes works incredibly well. The technology and conduct of the remote sessions keeps you in close contact with classmates, which is an essential component of the program." 
By bringing a diverse group of working doctors together to discuss health care policy, medical accounting, human resource challenges, and other issues they're actually dealing with at work, the program creates a powerful community. Its first cohort of 36 doctors come from 20 different U.S. states and work in a wide range of fields, including gastroenterology, urology, obstetrics and gynecology, general surgery, cardiothoracic surgery, pediatric surgery, emergency medicine, primary-care medicine and psychiatry. The program harnesses the strength of this community by pairing each student with a peer student-physician. Together, peers coach and mentor one another while sharing best practices.
"I now have the additional benefit of being in class with 35 other physicians who are diverse and so accomplished that I learn from them daily," Dr. Ferzandi explains. "The collective intelligence in the room can't be surpassed. Just recently, I went through a challenging time at work, and if it had not been for my ability to vet the situation—in a safe environment—with classmates and some of my professors, I might have made premature decisions and not fallen back on all that I've learned to date."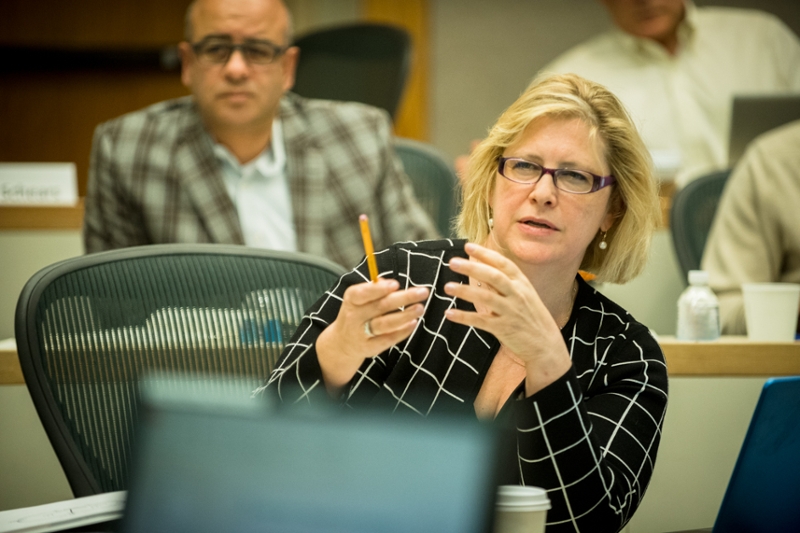 But the heart of the program, the students agree, is Chilingerian. In addition to his experience crafting and leading the largest MD-MBA program in the U.S., Chilingerian directs the Brandeis Health Leadership Program at Heller, a weeklong residential program sponsored by the American College of Surgeons and the Thoracic Surgery Foundation for Research and Education. From 1997 to 2011, he also led the two-week European Health Leader's Program, which now has nearly 800 alumni, and his extensive research into data envelopment analysis has earned him recognition as an international expert on the subject, which focuses on measuring the productivity and effectiveness of organizational decision-making.
Ferzandi says, "Jon brings so much background to the discussions that we are like sponges, soaking it all up. He teaches us a lot about leadership and management, leading by example, but he also serves as a wonderful sounding board and mentor to many of us."
"The knowledge I've gained from the program will allow me to function as a more effective administrator and a more fiscally responsible clinician," says Dr. Lipsitz. Dr. Ferzandi agrees, noting that the program will help her to "continue to advance, both personally and professionally."
While Chilingerian says he saw a need to train physicians in medicine and management, he says, "It takes a village, and Heller has a deep bench of health policy and management academic experts. We are positioned to be a leader on this front, given our specialized expertise in delivering executive leadership programs to physicians."
Dr. Ferzandi, her classmates, and Chilingerian all know that the EMBA program's mission goes far beyond aiding physicians' professional development. For Chilingerian, the program offers a new way to attack what he sees as the key challenge to the future of health care—"the triple performance problem."
Increasingly, health care organizations must juggle the three sometimes-competing needs of technical outcomes, patient satisfaction, and efficiency. That kind of high-stakes juggling act, Chilingerian argues, demands a new kind of health care leadership.
"Unfortunately, there is growing evidence that there are very few places in the U.S. and around the world that are able to solve this triple-performance problem," he explains. "I've heard from countless physicians who are struggling." This, he notes, is a problem not just for them but for the practice of medicine as well. Part of the solution is to give doctors the concepts, tools and confidence they need to help their organizations take on these three challenges in a coordinated effort.
"Preparing physicians to have advanced expertise in both clinical care and management," he says, "should become a significant ingredient in every country's health care reform."
If Chilingerian's students are any indication, that "significant ingredient" is exactly what the EMBA program is providing. "This program is already a huge success with his inaugural class," says Dr. Ferzandi. "Jon's vision—to make future health care leaders of his students—is now playing out." 
--
This story originally appeared in the Summer 2017 issue of Heller Magazine. Read the full magazine online or download it here.