By Bethany Romano 
This article appears in the Winter 2016 issue of Heller Magazine.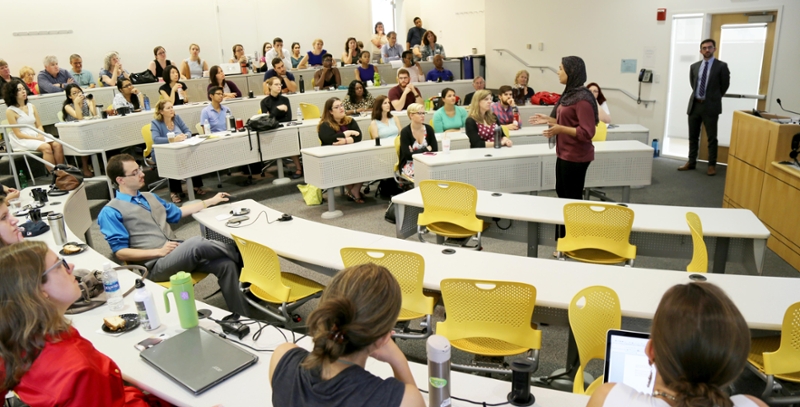 Mariam Hassan, MBA'16, presents her team's findings at the August 2016 Team Consulting Project (TCP) presentations.
Every August, Heller MBA students fill the tiered seating in the Altman Amphitheater to present the final results of their Team Consulting Projects (TCP), in which they consult for mission-driven organizations to tackle an ongoing management challenge. Of the nine TCP groups in the 2016 cohort, three worked with clients who are Heller MBA alumni. One of them is Samantha Eisenstein Watson '01, MBA'06, founder of The Samfund, an organization that provides financial assistance and support to young-adult cancer survivors.
In the same boat, facing the wrong direction
Back in 1999, Watson had just finished the first semester of her senior year at Brandeis when she was diagnosed with bone cancer. She took time off from college to receive eight months of treatment at Memorial Sloan Kettering Cancer Center in New York, eventually returning to Brandeis the following year. Then, with just a month left before graduation, she was diagnosed again — this time with early-stage leukemia.
Watson received a bone marrow transplant and recovered, graduating in 2001. Her three-year bout with cancer treatment behind her, the next hurdle she faced was finding an apartment and a job to start her professional adult life. "I had graduated from school, but I hadn't started working yet and I had no real job experience," she says. Watson realized that what made her experience at that time so difficult wasn't her diagnosis or treatment, but her age. "Friends of mine, even those who graduated with student loans, still had forward momentum. Young-adult cancer survivors' momentum has been totally cut off, and many are facing huge medical bills. You're in the same boat as your peers, but facing the wrong direction."
Watson knew her experience was not unique. More than 70,000 young adults are diagnosed with cancer every year in the U.S., and 60 percent incur medical debt. "After I finished treatment, I decided to put together a fundraiser with some friends and donate the proceeds to a group that was helping young adults after cancer treatment, but we didn't find any organizations that did that." Watson decided to start a nonprofit designed to raise money and then distribute it. "I was 25 at the time, and I was professionally equipped to do nothing. That's when I decided to apply to Heller."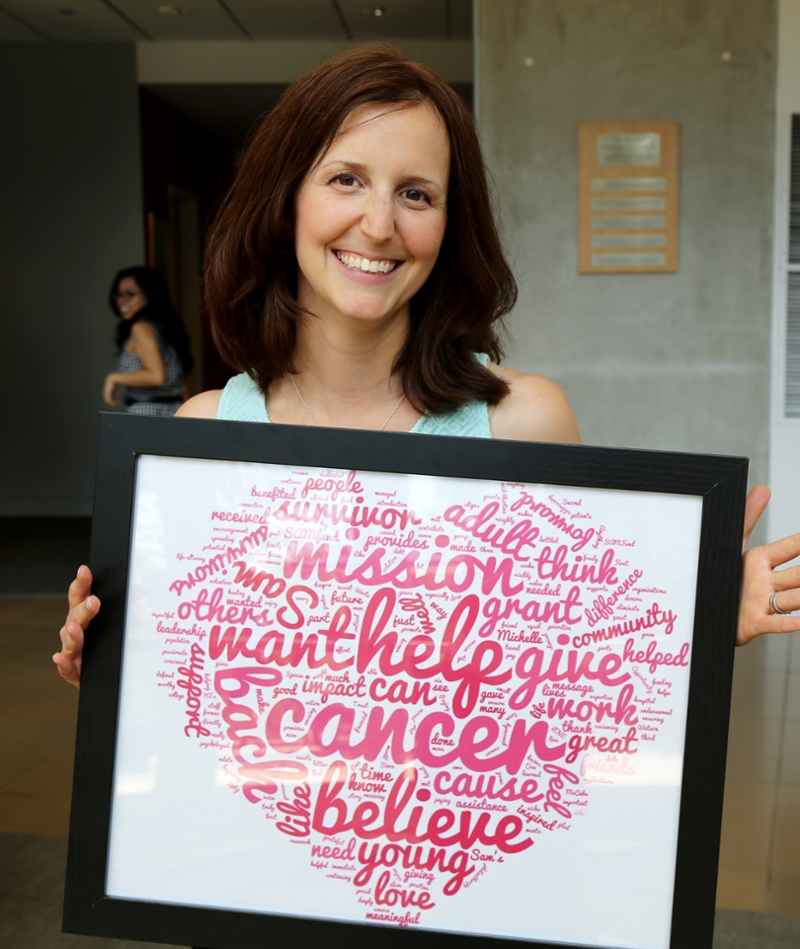 Samantha Eisenstein Watson '01, MBA'06, holding a framed word cloud generated from the interviews that the Samfund's Heller TCP conducted during their project.
Turning the boat around
Watson enrolled in the Heller School MBA in Nonprofit Management program in 2004. "That program was very real for me," she says. "I would take a fundraising class and then go home and write a fundraising appeal. I would take a human resources class and then go back and work on an employee handbook." Nurtured by Watson's real-time acquisition of MBA skills, her nonprofit slowly grew and took on structure.
Like all MBA students, Watson also completed a Team Consulting Project (TCP) in the summer prior to her graduation. Her team consulted for a large government agency, produced a 90-page report and gave a formal presentation of their findings. With the support of a faculty adviser and workshop series, TCP teams come to emulate a small consulting firm: owning and executing the practical, academic work as well as managing both the client relationship and timeline, and delegating roles and responsibilities within the team.
In 2006 Watson graduated from Heller and her tiny nonprofit had grown large enough to become her full-time job. The Samfund, whose tagline is "Cancer isn't free," is now 13 years old and has granted over $1.6 million to young-adult cancer survivors facing financial hardship. In addition to monetary assistance, The Samfund provides free online support and financial education to help young people recover from the financial impact of cancer treatment. Many grantees later go on to volunteer for The Samfund or give back as "Sambassadors," a close-knit group of volunteers The Samfund relies on to raise funds.
The team of Sambassadors, like The Samfund, is growing rapidly — more rapidly than the organization can handle. "We've done things ad hoc for a while now and we were starting to unravel a little bit," says Watson, "but we didn't have the bandwidth or the expertise to step back and find a new system to organize our growing volunteer base and utilize their skills to their full potential." What The Samfund needed was for someone to tackle their volunteer management problem and offer a well-researched solution.
It was the perfect time for Watson to work with the Heller School to secure a TCP group that could help her.
The Samfund TCP team (left to right): Caitlyn Burke, MBA'16; Emily Blecker, MBA'16; Christian Chamars, MS/MBA'16; Mariam Hassan, MBA'16; and Andy Smith, MBA'16.
Running a management marathon
"The first time I met with our TCP team, I could safely make a lot of assumptions about them," Watson says. "I could assume that they were committed to social justice, that they were really hard workers and that they had chosen our project for a reason."
Five MBA students made up The Samfund TCP team. A few were attracted to the project by a relevant professional background; others had a more personal connection to cancer or were drawn to the idea of working with a Heller alumna. Together, they committed to hundreds of hours together to unravel The Samfund's volunteer problem.
"TCP is a marathon," says Andy Smith, MBA'16. "I remember someone from the older cohort telling us, 'this is a lot of work, you'll be exhausted,' and not quite believing them. I thought we would be done with everything a month early; we set a lot of ambitious goals. It's just a lot of work."
Despite the notorious workload, the TCP team was motivated by the real-world impact their project would have on The Samfund. "They've been really open to us making sweeping recommendations about how to redesign their systems," says Christian Chamars, MS/MBA'16. The TCP team members are hopeful that their recommendations, when implemented by The Samfund, will have a positive impact on their grant recipients.
The task of a TCP team is Herculean: In three months they must learn more about an organization and its field than the client knows itself, and solve a problem the client has been unable to solve. For Team Samfund, that meant surveying and interviewing dozens of Sambassadors, taking a self-taught crash course in volunteer management, and reaching out to experts in human resources and operations. Along the way they had to present their preliminary findings to Watson and her team, their faculty adviser, the TCP workshop professors and the MBA cohort.
Throughout this past June, July and August, the group often camped out in unused Heller classrooms and conference rooms for hours at a time. Discussions of management frameworks and presentation storyboards were punctuated with takeout food and breaks to attend class or join five-hour-long TCP workshops. By August, the team presented Watson and her staff with a plan for a completely redesigned volunteer management system.
The TCP process forces teams to pull extensively from coursework and from the expertise of the full MBA cohort. "Our operations and strategic management classes were particularly helpful for our project. We pulled in a lot of different frameworks from those classes," says Emily Blecker, MBA'16. In several instances the team received advice and suggestions from other classmates in the MBA cohort — calling on the Heller "hive mind" for ideas and opinions.
For many, working on their TCP also evokes personal reflection. "TCP is a long process, and it's bigger than any class project we've had. So for me, it was a personal test that helped me see if my own view of myself as a manager is true or not," says Mariam Hassan, MBA'16. "At this point I think I know what my strengths and weaknesses are when it comes to teamwork, but TCP tested my assumptions. It helped me discover myself a bit more."
The Heller tradition of TCP
As a faculty member and professional consultant, The Samfund team's adviser, Melissa Nemon, considers TCP invaluable. "I would have rushed at an opportunity like TCP when I was a student. I don't know of many other schools that do an experience like this, that literally say, 'You're going to take an entire summer and act as a consulting firm, you're going to set deliverables, work on those deliverables, work on client relationships and communication, et cetera.' A lot of people who go into consulting have to just learn that on the fly."
Prior to joining Heller more than 10 years ago, MBA program director Carole Carlson worked at a major strategic consulting firm where her responsibilities included training the company's new consultants. As co-facilitator of the TCP program and workshop series, Carlson says, "TCP is about problem-solving and actually doing something practical and implementable for an organization. And we have amazing problem-solvers. Our students are really, really good at going into a situation, understanding it in a sensitive way, using data-driven analysis to develop objective solutions and figuring out how an organization can implement it. That is a suite of very valuable skills."
Over the last decade the word has spread about what Heller TCP groups can do, and the demand for TCP teams has increased. This year, over 20 organizations pitched project proposals to the MBA cohort, and only nine were chosen. Roughly half of the clients in any given year come back, hoping for another team next year. "They want us to solve bigger problems, and have more inherent trust in our teams," says Carlson.
"I think TCP is one of the best things about Heller," says Lawrence Bailis, associate professor and co-facilitator of the TCP course. "We often talk about the community service role of universities, and I can't think of a better example than TCP." Watson agrees with him, telling her TCP team at their final presentation, "because of your work so many more people will be positively impacted by The Samfund. The end result is that young adults who need us, who are going bankrupt, who can't feed their kids, will be positively impacted by this."
Ten years after her own TCP presentation, Watson is thrilled to be on the client and mentor side of the TCP equation — and not just because of the workload. She says, "Being back at Heller in a professional capacity is so meaningful. Having the opportunity to be a mentor and to offer some perspective is just a great feeling. It feels like things have come full circle."