By Bethany Romano, MBA'17
With schools closed and social isolation driving many young people to despair, the COVID-19 pandemic accelerated already-rising rates of pediatric mental health problems across the nation. Frustrated by red tape and long wait times for children in need of care, Dr. Ilan Schwartz, EMBA'21, found a solution.
Inspired by his executive MBA program at the Heller School, in 2020 Schwartz established a one-of-a-kind crisis stabilization program at Newton-Wellesley Hospital, where he is chief of pediatric emergency medicine. His award-winning Child Psychiatry Short Stay Service (ChiPSSS) alleviates emergency department crowding, provides timely mental health treatment to patients in need, and allows the hospital to bill insurers for services they previously could not invoice.
Now he's trying to promote this program and help other Boston-area hospitals to do the same, which could further ease the pressure on Massachusetts' strained child psychiatric-care system.
A rising tide of pediatric mental health issues
In the spring of 2020, as the first wave of COVID-19 crested throughout the Northeast, Schwartz saw another crisis on the horizon: child psychiatric care.
The number of kids in his emergency department facing mental health crises had risen steadily for several years. By 2019, he says, about 5% of pediatric visits were related to mental health, and most of these patients were transferred to a hospital with a pediatric psych bed within 24 to 48 hours.
During the pandemic, he says, "Pediatric emergency department visits plummeted by 60%, but psychiatric patients increased by 35%. And on average, they were sicker — more likely to have attempted suicide or inflicted serious self-harm. On top of all that, the number of child psychiatric beds in Massachusetts dropped from about 60 beds to about 40, as double rooms were converted to single rooms and less staff were available to cover pediatric psych inpatient beds."
Much like ICU beds, pediatric psych beds are a specific, highly regulated form of hospital care. Kids in need of a psychiatric bed couldn't be admitted to Newton-Wellesley's pediatric inpatient unit, even though the unit had space available and a child psychiatrist on staff. As a result, children in crisis were often stuck waiting in emergency departments for transfer to an open bed at another hospital, sometimes for weeks at a time.
Schwartz's pediatric emergency department began filling with psych patients who were too sick to be discharged but had nowhere else to go. The increased crowding was a problem, but even more concerning was the impact he saw on patients.
"Boarding in the emergency department is not pleasant," he says. "These are small hospital rooms with no windows, no private bathroom, no access to a shower. And emergency departments are 24/7 operations: The lights are always on, the phones ring all night. It's not a good place for a kid in severe psychiatric distress."
Schwartz recalls watching a 7-year-old who had been boarding in the emergency department for 10 days gently kicking a soccer ball with a hospital guard in a tiny hallway. "That was his only exercise for the day. It's absolutely terrible," he says.
A crisis of bureaucracy
The obvious solution to providing proper care for these children is to increase the number of pediatric psych beds. But, Schwartz explains, that's easier said than done. "The biggest obstacle is a state mandate requiring any pediatric psych bed to remain a pediatric psych bed, permanently. You can't create a new bed when it's needed, then convert it later."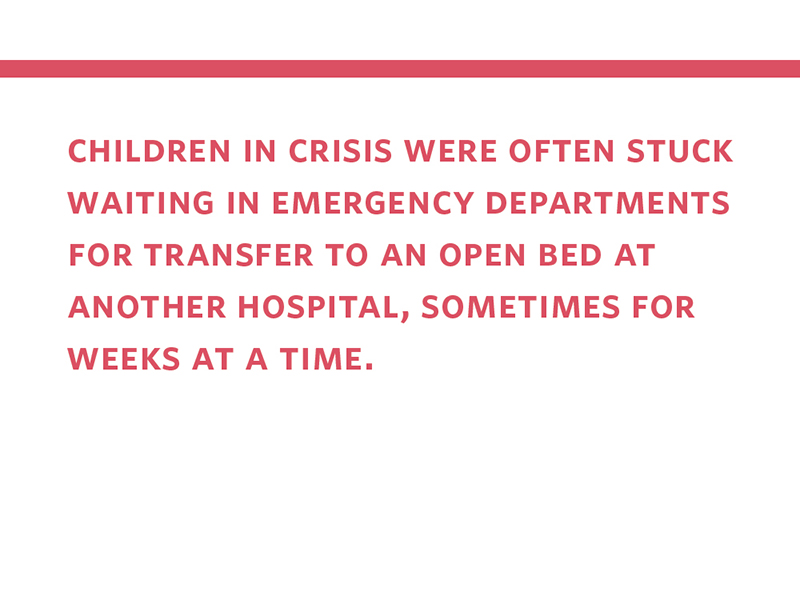 As hospital beds go, pediatric psych brings in relatively little revenue, and even less for complex patients who need weeks or months of treatment. That financial reality discourages hospitals from adding pediatric psych beds, particularly if they're prohibited from converting them back.
Ironically, Newton-Wellesley Hospital seemed to have everything it needed to treat many of these patients, especially less-complex cases. "We had inpatient beds available, we had general psychiatrists and child psychiatrists, pediatricians, social workers, plenty of residents and fellows to provide round-the-clock care," says Schwartz. "But without the right kind of beds, we could not admit and treat these patients. It was maddening."
Schwartz mulled over this convoluted series of regulations and incentives for months until he had the idea to establish a child psychiatric short-stay service at Newton-Wellesley. "But I'm not a psychiatrist, and I don't work in the inpatient department," he says. "So I went to speak to our chief of child psychiatry, Dr. Elizabeth Booma. I asked if she wanted to work with me on my idea. Her eyes got wide, and she said yes.
"And she actually corrected me," adds Schwartz, recalling their conversation. "She was providing care to those patients boarding in our emergency department. She rounded on them every day, prescribed them medications, spent time calling around looking for beds, but she couldn't bill for any of that time because she doesn't work in the emergency department. So the hospital was actually losing money on services it was providing to patients it simply couldn't admit."
"Ilan and I used to talk about his dream for a short-stay observation unit, and we'd joke about how the hospital would never let us do it," says Booma. "When he was doing his MBA, he decided to give it a real shot."
EMBA lessons in change management
Schwartz, then a student in Heller's Executive MBA for Physicians program, decided to use this challenge as the basis for his Team Consulting Project, a capstone in which students undertake a change management initiative in their own health care organization.
"We have seen so many of these projects have a direct and significant impact on patients, families, communities and organizations after they have been imagined and put in place," says professor and EMBA program director Jon Chilingerian.
He adds, "We teach our EMBA physicians that to create a service vision in health care organizations, they must develop care programs that create value for their patients, all of the caregivers and the organization; there can be no trade-off between cost, outcomes and patient experience."
Heller faculty guided Schwartz through the steps of positive organizational change, from recruiting an effective team to identifying supporters and converting any blockers. Schwartz recruited Booma, as well as nurses and social workers, seeking the support of those who work directly with patients before approaching hospital administration. Everyone was intrigued by his idea, which he'd dubbed ChiPSSS: Child Psychiatry Short Stay Service.
EMBA faculty member Carole Carlson, who teaches the Team Consulting Project course, admired the depth of his approach. "What really impressed me," she says, "is how he drew from courses throughout the program — in strategy, negotiations, leadership and entrepreneurship — to develop an important project that benefits stakeholders throughout the hospital, most importantly, his patients and their families."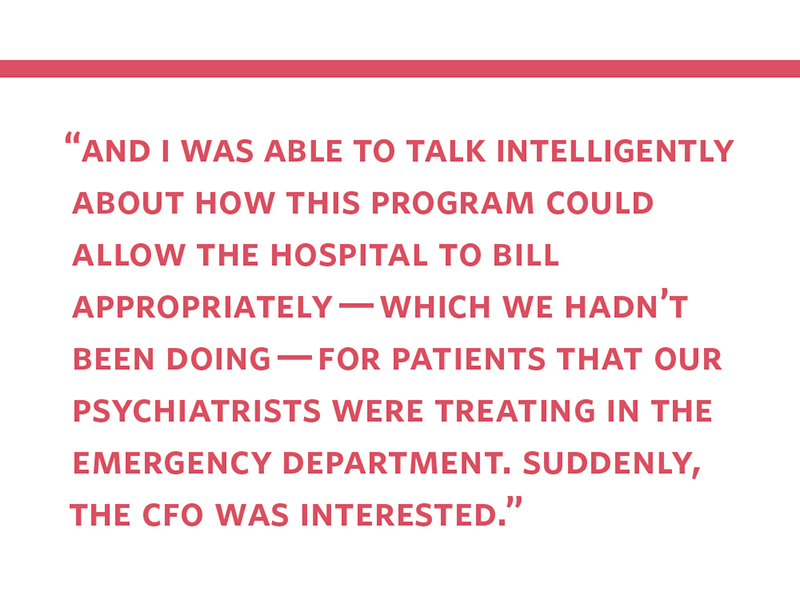 In July 2020, Schwartz called the hospital's risk-management office and asked a colleague to vet his concept. "A week later, she called me back and said from a risk management perspective, it was doable. We just had to be careful not to call ourselves a psychiatric unit, and to only admit patients under observation. That was my first big yes," says Schwartz.
From there, he approached the finance office, using lessons from his accounting courses to propose a budget-neutral model. "Everybody comes to them asking for money, but my proposal utilized existing resources, so they heard me out," Schwartz remarks. "And I was able to talk intelligently about how this program could allow the hospital to bill appropriately — which we hadn't been doing — for patients that our psychiatrists were treating in the emergency department. Suddenly, the CFO was interested."
Schwartz also employed some guerrilla marketing tactics, encouraging his partners in nursing, as well as frustrated patients and parents, to contact hospital leadership directly and ask for a short-stay psychiatric service like the one he hoped to implement.
"By the time I called the CMO [chief medical officer], he had heard about this program idea from so many other people that he canceled a meeting to hear my pitch — and then he said yes," adds Schwartz.
Introducing the ChiPSSS program
Schwartz and his team had the green light, but they had to be careful not to violate any regulations. They could only treat patients under observation for 72 hours, so complex patients in need of longer-term treatment were not eligible; instead, they would be prioritized for transfer to a pediatric psych bed. ChiPSSS would focus on patients who could be reliably stabilized and discharged within a few days.
The program began admitting patients in January 2021. Schwartz remembers their very first patient: a 17-year-old survivor of sexual assault. Every year on the anniversary of her trauma, she experienced severe symptoms of PTSD and anxiety, requiring a two- or three-day hospital stay.
"This is a patient where we know exactly what's going on. She needed to be treated, but she didn't need a psychiatric hospital. We could help her. And we did," he says, remembering the case proudly.
Within three months, ChiPSSS admitted 16 patients, none of whom were readmitted to the hospital, suggesting that the model worked well for the patients they're targeting. And they could already see positive impacts in the emergency department: Boarders had an average stay of 58 hours before being admitted, while ChiPSSS patients were admitted under observation in just five hours.
Moreover, the program was a financial success. The hospital could bill insurers for providing care to ChiPSSS patients. In March 2022, Schwartz and his team received a Pillars of Excellence Award from the Mass General Brigham hospital system for their work on ChiPSSS.
Chilingerian calls the program "a great demonstration of Dr. Schwartz's leadership and learning agility in applying what he learned in class with us," adding that the ChiPSSS pilot "improved patient and caregiver satisfaction, and reduced pediatric length of stay while increasing revenues for the hospital and freeing up needed acute hospital beds.
"We want our EMBA physicians to be better equipped to deal with complex and ambiguous problems and opportunities," says Chilingerian. "That means they will be able to move away from ideas that do not work and take the lead to discover and implement changes that really do work."
Eyes on the prize
Despite these early successes, ChiPSSS has hit its fair share of bumps along the way, largely in the form of staffing issues that have affected so many health care organizations throughout the pandemic. At times, staff shortages grew so severe that the program had to be temporarily suspended. Booma notes that they hired several new staff in late spring 2022, which will allow them to get the program fully up and running again.
Even with a fully functioning short-stay unit at Newton-Wellesley Hospital, Schwartz stresses that he considers the overall problem far from fixed. ChiPSSS is a pressure valve — it takes advantage of inefficiencies in an existing system to help a small number of patients — but the system remains fundamentally flawed.
"We have not been able to fix the crux of the problem, which is the shortage of psychiatric beds available to pediatric patients. Truly sick kids are still waiting far longer than they should for those beds, and they're waiting in emergency departments like ours," notes Schwartz.
He's started to connect with colleagues at other hospitals, and says his goal is to expand this model to every local hospital that has a pediatric psychiatrist in-house. "The more hospitals that do this, the fewer pediatric psych patients we have boarding in emergency departments and the less of a backlog there is for those 40 coveted beds," Schwartz says.
"That's the real goal."