The following conversation is a transcribed and edited interview between Maria Madison, associate dean for diversity, equity and inclusion, and Bethany Romano, acting director of communications.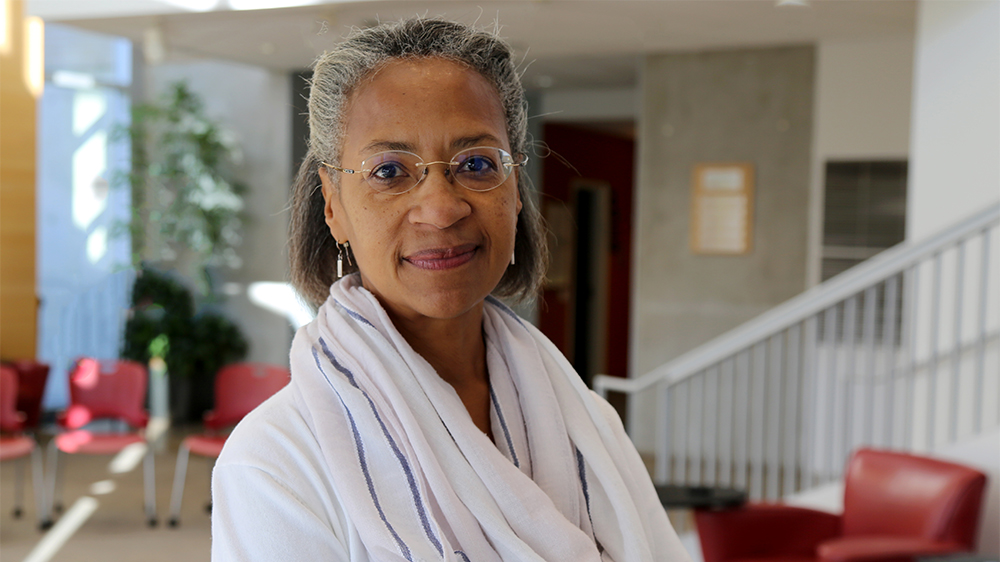 Bethany Romano, Heller Communications: I'd like to start our conversation with the larger context of positions like yours—chief diversity officers and deans or associate deans of diversity, equity, inclusion, and/or belongingness. It seems that these kinds of leadership positions are becoming more and more relevant—and prevalent—in higher education. What are your thoughts on that?
Maria Madison: Absolutely. We're seeing a shift in our educational system, towards a more conscious effort to meet the demands of educating an incredibly diverse population.  There's greater awareness that the previous approaches have often left marginalized populations behind. Elite institutions that are trying to make a difference, such as many Ivy League schools, as well as Heller and Brandeis. These institutions have made it a priority, based on student demands, to become increasingly diverse. But as they try to recruit enrollment for diversity, they are not necessarily nurturing these students or recognizing the challenges they may have experienced.
Elite institutions were built off of the ability to teach every topic and every discipline in one voice—one historical, perhaps white dominant perspective that has existed for centuries in this country. There's now a mismatch between trying to increase diversity while not changing pedagogy, without recognizing the root cause of this huge, growing schism in the American population.
Heller has tried to adapt and listen to the changes that need to happen, based on student demands. How to do that and when to do that has always been a struggle. Institutions sometimes say the resources aren't there to make the change, but as you invite more and more people of color into your institution, you need to make those changes much faster. For Heller, the change has come rapidly and radically because of the demands of students.
BR: Do you see your position as fundamentally disruptive to the way that higher education is currently structured, and do you think that that's the way that this job is structured?
MM: The students are the reason why the position was created, so I think the word "disruptive" is appropriate. They had to report, in a relatively radical way, to the university establishment that this needed to happen, so I would certainly say that the position comes into the environment in a disruptive, innovative way.
Because of that, it's exceptionally important for me to listen to all stakeholders, because the students aren't a monolith. Not all students perhaps felt the need for disruption, or felt the need for this position. The same goes for faculty and staff, who are equal stakeholders. So this role needs to find a very open, inclusive way to collect information and listen to the various voices that are here. The challenge is to turn that disruption into opportunities for shared progress.
BR: It feels like the general public has a binary view of higher education as both incredibly innovative as well as incredibly arcane. The DEI field seeks to bring universities and schools like Heller into a space that's more relevant by "walking the walk," and by battling against some of those institutional norms and standards that are exclusionary. What are your thoughts on that?
MM: I think that's exactly it. How do we bring institutions that have been built on a standardized approach of age-old, exclusionary models to teaching, recruiting and retaining, into this new framework? How do universities wake up to recognize that in order for America to be a strong leader in the global economy, it needs to train all people, speak the voices of all people, and represent their views? 
I'd like to go back to a word that you referenced, which I think is exceptionally important: binary. I think one of the problems in America is this binary view. When I think binary, I think race. When I think binary, I think the problem with America is this entrenched view of black-white, and what that means. I think the role of universities, especially at this important juncture and hopefully through my work, is to help everyone grow out of a binary where race means black-white. We know, given who the Heller community is, given the majority-minority that's going to happen in this country in 2024, that it's not this binary. It's multiculturalism.
When you think about the culture and the brilliance and the innovation and the science and the technology of what is exported as American around the world, it's come from that multicultural brew. There are various organizations that recognize that. Even Forbes has stated that it's true that diversity and multiculturalism results in better outcomes. You get more creativity, you have more rich dialogues in a classroom, and a more creative, inventive society.
BR: Another binary we could talk about is approaching this work as structural work versus moral work, and how those two ideas can represent a false dichotomy. Budgets are moral documents, and the way we structure our workplaces and our policies reflects our values. How do you think about this balance? I always struggle with talking about social justice topics in terms of quantifying its value. If there's a business imperative to diversity, how do you talk about that without discussing the moral imperative, or at the expense of discussing the moral imperative?
MM: Absolutely, and that's kind of the generational divide in this discussion. My generation is more about quantifying the value of diversity, but we need to evolve into looking at the moral imperative of this work. I honestly believe that the next generation and future generations are more focused on looking at the moral imperative of doing this work.
Maybe I shouldn't, but I do see that as a generational divide, and I have two teenagers who kind of keep me in check. I look at them and their peers, the undergraduate and graduate population, for them it's the moral imperative that needs to take the lead on this discussion.
I also have to think about who my audience is, and do sometimes tailor what I'm saying to make my case, depending on the generation or the discipline of the individual I'm speaking with. In this work, there are people who are already convinced it's important for the moral imperative, and those who also believe it's an economic win for everybody. The bigger question is, who are the folks who don't feel either of those? How do you get those people to the table?
I have to triangulate how to get this job done, and one way to get this job done is through structural means, and making sure that there are policies that help enforce these changes, but there's also a more personal and private approach. That approach requires me to go door to door and find individuals who aren't coming to the table, who aren't coming to trainings, who don't feel the moral or structural imperative. I need to go to them, find out what their topic is, and reach them in a personal way.
BR: How do you want people at Heller to approach you?
MM: I have an open door policy for students, faculty, and staff.  Simultaneously, I may find you where you are.  I will visit the classroom (often invited), I will hang out in the cafeteria.  I will drop into your office or favorite hallway couch.  I want to go across the pathway to Brandeis and meet and bridge our larger community.  I want to meet as many people as possible. These issues are complex. I want to reach everyone where they're at and draw them into a unified discourse.
Every time I pick up a newspaper, I see an article that demonstrates "facts," and I would like to draw people into conversations about evidence.  I would like to promote discourse on the impact of perspective in the creation of research questions, hypotheses, data analysis and the creation of policies derived from perspective. We have "facts" that have been captured in people's cell phone photos, "facts" that yearn for interpretation. I like having this discussion as much as possible using evidence, using evidence-based discourse. I think that helps move the conversation forward. Bring on the facts. Let's debate and translate what we see into research, activism, and ultimately civil societies.