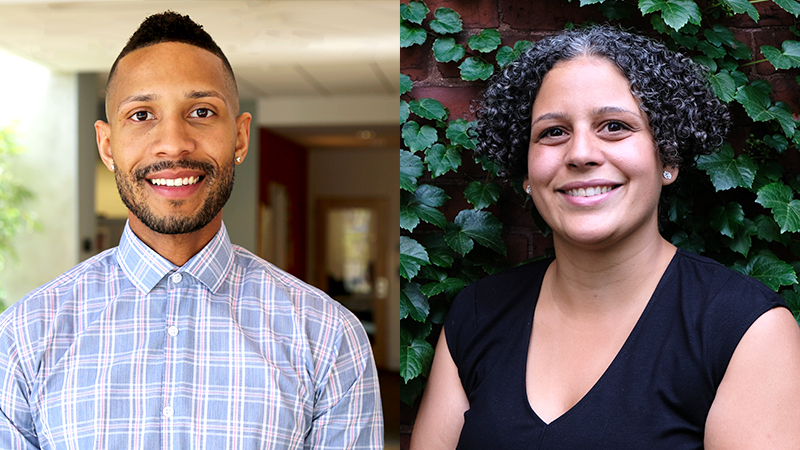 Boston, Mass.—With the intention of diversifying the next generations of leaders and ensuring equity in policies, Health Policy Research Scholars, a program of the Robert Wood Johnson Foundation (RWJF), has selected a group of PhD students from across the country to form its second cohort.
As two of 40 selected applicants, Yaminette Diaz-Linhart (above, right) and Aaron Coleman (above, left) will join a diverse group of scholars from across the country to collaboratively tackle persistent health challenges by creating innovative solutions through their research. The Health Policy Research Scholars program is led by the George Washington University with support from RWJF.
As part of the program Diaz-Linhart, a doctoral student in the health concentration, will explore how the management of community health workers in health care systems impacts patient outcomes. She believes that addressing the current gap in how community health workers are managed is crucial for the integration of health care systems through increased coordination and quality care for patients.
Coleman, a doctoral student in the assets and inequalities concentration, will conduct research that analyzes the associations of racial inequality, health inequities, religiosity, hyper-masculinity, self-schema, peer supports and cultural themes as they relate to HIV infections. Coleman's assumption asserts that within the framework of health and health knowledge, these variables complicate proposed reduction methods, and further exacerbate barriers to Pre-Exposure Prophylaxis (PrEP) for underrepresented communities, specifically, Black men who have sex with men. At its core, Coleman's research will explore elements of social capital and investigate additional ways in which care, health access and individual well-being can be positively established by utilizing our social networks and cultural organizations as support systems.
"This new cohort of scholars is committed to research that challenges long-held notions about the health of our communities," says Harolyn M.E. Belcher, program director of the Health Policy Research Scholars. "I am thrilled to work alongside them as they continue to develop into the kind of leaders that can enact real change and ultimately build a Culture of Health."
Along the way Diaz-Linhart and Coleman will develop high-level leadership skills through professional coaching, mentoring, networking, and an advanced leadership curriculum. While participating in the program they will continue studying full-time and applying new knowledge and leadership within their home institution, to advance a "Culture of Health"—one that places well-being at the center of every aspect of life.
Additional partners providing training and coaching to scholars include: AcademyHealth, Mayo Clinic, University of California—Los Angeles, and University of Michigan.
Health Policy Research Scholars
Health Policy Research Scholars is one of a number of leadership development programs supported by the Robert Wood Johnson Foundation (RWJF). These programs continue RWJF's legacy of supporting the development and diversity of leaders. Initially focused on health and health care, the programs have been expanded, because the Foundation knows that building a Culture of Health requires all of us in every sector, profession, and discipline to work together. The next application period for many of these programs will open in early 2018. Additional information is available at healthpolicyresearch-scholars.org.