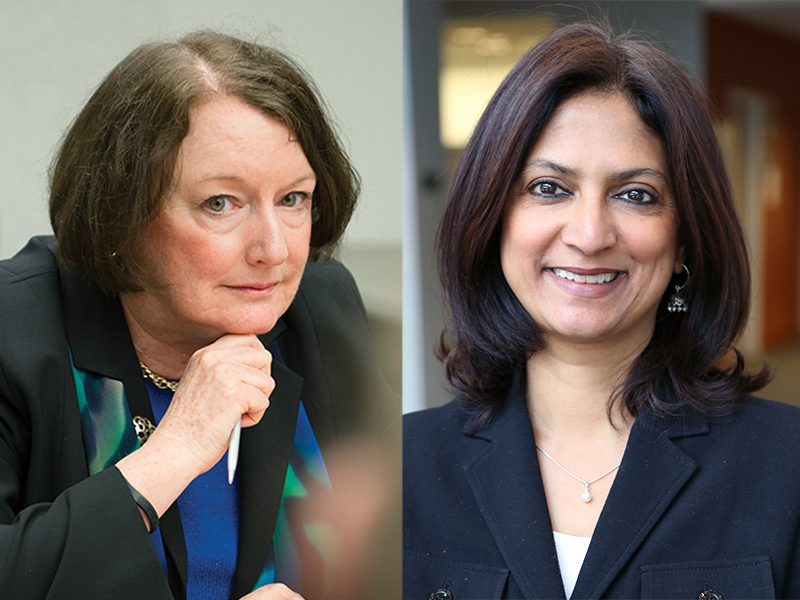 By Karen Shih
Two faculty members from the Heller School for Social Policy and Management were recognized for their research, policy and service contributions at the American Public Health Association's (APHA) 2017 annual meeting in early November. 
Constance Horgan, director of the Institute for Behavioral Health (IBH), earned a Lifetime Achievement Award from the Alcohol, Tobacco and Other Drugs Section, while Monika Mitra, interim director of the Lurie Institute for Disability Policy, received the Allan Meyers Award from the Disability Section.
"These outstanding achievements reflect the many significant contributions that our faculty and researchers make, to not only to advance knowledge, but to positively impact the broader community," says Cindy Thomas, PhD'00, association dean for research at Heller.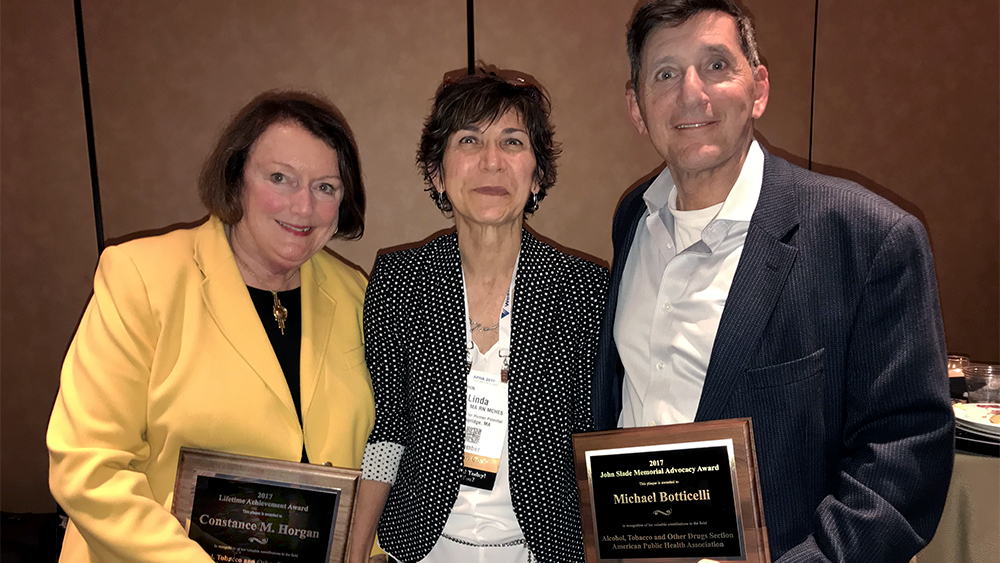 Horgan has four decades of expertise in behavioral health policy analysis and addiction treatment services research. She directs the Brandeis/Harvard Center to Improve the System Performance of Substance Use Disorder Treatment, funded by the National Institute on Drug Abuse. Under her leadership, the IBH recently launched the Opioid Policy Research Collaborative to tackle the opioid epidemic.
"It's such an incredible honor," says Horgan. "It has been really thrilling to help build the field of addiction health services research. When I started out there was very little research going on this area. Coming to Brandeis and having the opportunity and freedom and flexibility to do that and develop the field—it started out with just me and now there's a whole institute. It was truly special."
Horgan was introduced at APHA by Sean Haley, PhD'07, a former student of Horgan's and an assistant professor at the Graduate School of Public Health and Health Policy at the City University of New York. He noted her significant role in training the next generation of public health researchers across the country, including launching the careers of 80 students through a National Institute on Alcohol Abuse and Alcoholism training grant over the last 25 years.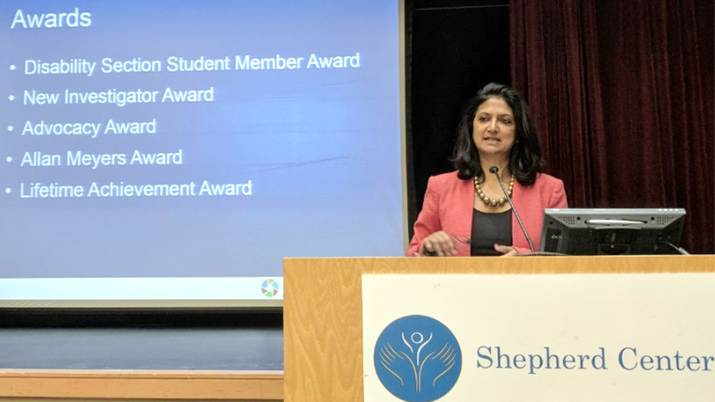 Mitra was recognized for her unique perspective on improving the health and quality of life of people with disabilities, combining ten years of experience in public health practice and policy with seven years of experience in academia, said the selection committee.
"I am deeply honored and humbled to receive this award from the American Public Health Association, Disability Section in memory of Dr. Allan Meyers," says Mitra. She noted that Meyers, a former professor at the Boston University School of Public Health, was a mentor to her. He was "one of the pioneers in this field of research. Much of the work that disability and health researchers do now, in terms of the inclusion of people with disabilities in public health research, policy, and practice were things he was already working on in the 1990s."
Her research examines the health care experiences and health outcomes of working-age adults with disabilities, with a particular focus on the perinatal health of women with disabilities. Mitra was recently awarded a five-year, $2.8 million grant from the National Institutes of Health to study pregnancy outcomes and experiences of women who are Deaf or hard of hearing.