The Hult Prize recently announced that the Heller School for Social Management has advanced to the regional finals of the 4th Annual Hult Prize.  The Hult Prize is the world's largest student competition and crowdsourcing platform for social good, recently named one of the top five ideas changing the world by President Bill Clinton and TIME Magazine.  In partnership with the Clinton Global Initiative, the innovative crowdsourcing platform identifies and launches social ventures that aim to solve the planet's most pressing challenges. Student teams compete in five cities around the world for a chance to secure $1 million in start-up funding to launch a sustainable social venture.   
The theme of the 2013 Hult Prize is global food security and will focus on how to get safe, sufficient, affordable and easily accessible food to the 200 million people who live in urban slums – a challenge personally selected by President Clinton. "We strive to find a comprehensive solution to the food crisis in Haiti that can then be replicated in other countries of the world," says Jean Cledanor Lindor, MA-SID '14, a group member from Haiti.
"The Hult Prize is thrilled that the Heller School for Social Policy and Management at Brandeis University has joined the initiative," said Dr. Stephen Hodges, President of the Hult International Business School. "This year's competition has received a record number of entries, bringing together some of the most talented students to help solve global food security which can benefit nearly a billion people."
Ahmad Ashkar, CEO and Founder of the Hult Prize, attributes the success of the competition to the global youth revolution and said, "We continue to be moved by the large number of students from around the world who are capitalizing on the opportunity to develop business models that target the bottom of the pyramid. We wish every team the best of luck and thank the Heller School for Social Policy and Management for supporting this initiative." 
Each team selected was chosen from more than 10,000 applications received, totaling over 350 colleges and universities and representing over 150 countries. The Hult Prize regional competitions will take place on March 1 and 2, 2013 on Hult International Business School's five campuses in Boston, San Francisco, London, Dubai and Shanghai. The Heller team will compete in Boston.
The Heller team members are Marta Baran, MA-SID/COEX '14 (Poland), Rachel Clarkson, MA-SID '14 (USA), Ema Kaminskaya, MA-SID '14 (Belarus), Jean Cledanor Lindor, MA-SID '14 (Haiti), and Sothea Phan, MA-SID '14 (Cambodia).
Following the regional finals, one winning team from each host city will move into a summer business incubator, where participants will receive mentorship, advisory and strategic planning as they create prototypes and set up to launch their new social business.  A final round of competition will be hosted by the Clinton Global Initiative at its annual meeting in September, where CGI delegates will select a winning team to be awarded the $1,000,000 Prize by President Bill Clinton.
"The Hult Prize is a wonderful example of the creative cooperation needed to build a world with shared opportunity, shared responsibility, and shared prosperity, and each year I look forward to seeing the many outstanding ideas the competition produces." – President Bill Clinton, Founder, William J. Clinton Foundation and 42nd President of the United States.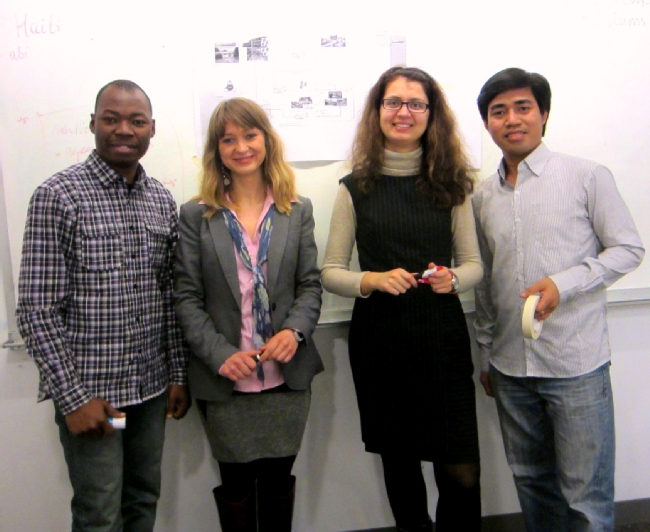 Left to right: Heller Hult Prize team members Jean Cledanor Lindor, MA-SID '14, Marta Baran, MA-SID/COEX '14, Ema Kaminskaya, MA-SID '14, and Sothea Phan, MA-SID '14. Not pictured: Rachel Clarkson, MA-SID '14.