As sunlight streamed through three stories of glass, the Irving Schneider and Family Building was officially dedicated during a crowded November 3 ribbon-cutting ceremony.
"This is a historic occasion in the history of Heller," said Tom Glynn, PhD '77, chairman of The Heller School for Social Policy and Management's Board of Overseers, as he stood in the Rhonda S. and Michael J. Zinner Forum, a public atrium space.
Glynn said the new building, which was designed by Kyu Sung Woo and Steve Lacker, captures Heller's pioneering spirit and sense of community, particularly in the Zinner Forum, which serves as a kind of "town square" for the school.
The facility, connected to the Heller-Brown Building, doubles the school's existing space with the addition of more than 34,000 square feet that includes classrooms, lecture areas, lounges, a café, and study space.
President Jehuda Reinharz, PhD '72, began his remarks by asking the audience of students, faculty, staff, and friends, many of whom peered down from three levels of balconies facing the forum, "What do you think of this building?" The audience responded with applause.
Calling Heller "one of the jewels in the crown of Brandeis," Reinharz went on to laud the worldwide impact of the school's 1,800 graduates.
"Without Irving Schneider, we wouldn't be standing here," Reinharz said. Schneider, a longtime philanthropist, Brandeis benefactor, and former trustee, donated $15 million for the building that bears his name.
"My father has his name on very few institutions and buildings in the world," said his daughter Lynn, before she and other family members, representing three generations of the Schneider family, cut the ribbon. "But he did choose to put his name on this building."
The Zinner Forum, made possible by a $3.5 million gift from the Zinner family, is designed for lectures, events, and faculty-student socializing.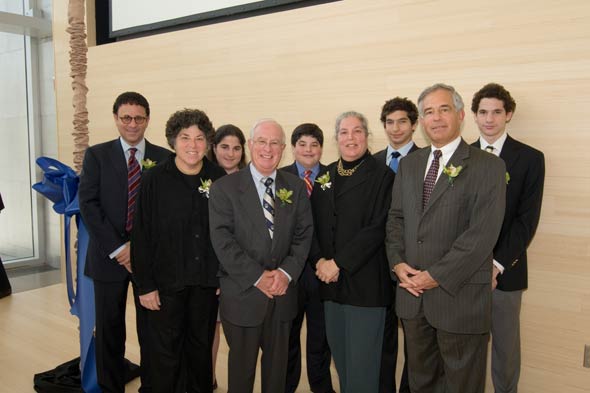 Other donors who were recognized for their important contributions to the construction of the building included Heller Overseer Susan Rothenberg and her husband, Danny; Brandeis Trustee Jack Connors; Heller Overseer Moses Feldman '62; Heller professor Larry Bailis and his late wife, Susan, a former Brandeis Trustee; Heller Overseer Paul Egerman and his wife, Joanne; Heller Dean Stuart Altman, the Sol C. Chaikin Professor of National Health Policy; Stan Wallack, the executive director of the Schneider Institutes for Health Policy, and his wife, Anya; Overseer Robert Danziger and his wife, Sara; longtime Brandeis supporters Sy and Gladys Ziv; and Overseer emeritus Muriel Pokross, whose husband, David, served as chair of the Overseers.