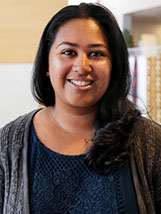 Zora Haque
Research Associate, Center for Youth and Communities
Zora Haque works with senior fellows and scientists to plan and implement extensive research and evaluations of various programs serving youth and young people.
She came to Brandeis from Boston Children's Hospital (BCH), where she managed a behavioral health research project in the emergency room at BCH as well as at nine other hospitals in the state of Massachusetts, in addition to having conducted program evaluation for clinical staff providing mental health services in Boston Public Schools. 
Prior to BCH, Zora served as a Research Assistant at the Harvard Business School (HBS) Social Psychology Lab of Intergroup Relations, in conducting research focused on evaluating issues of power and social hierarchy, ideology and inequality, stereotyping and prejudice, and identity and conflict. Her background is in both quantitative and qualitative methodology, research design and management, and social and educational psychology.
Zora holds a B.A. in Psychology with a dual concentration in Education and Communication and Culture from Clark University.