Thank you to our Segal Program Advisory Board Members

: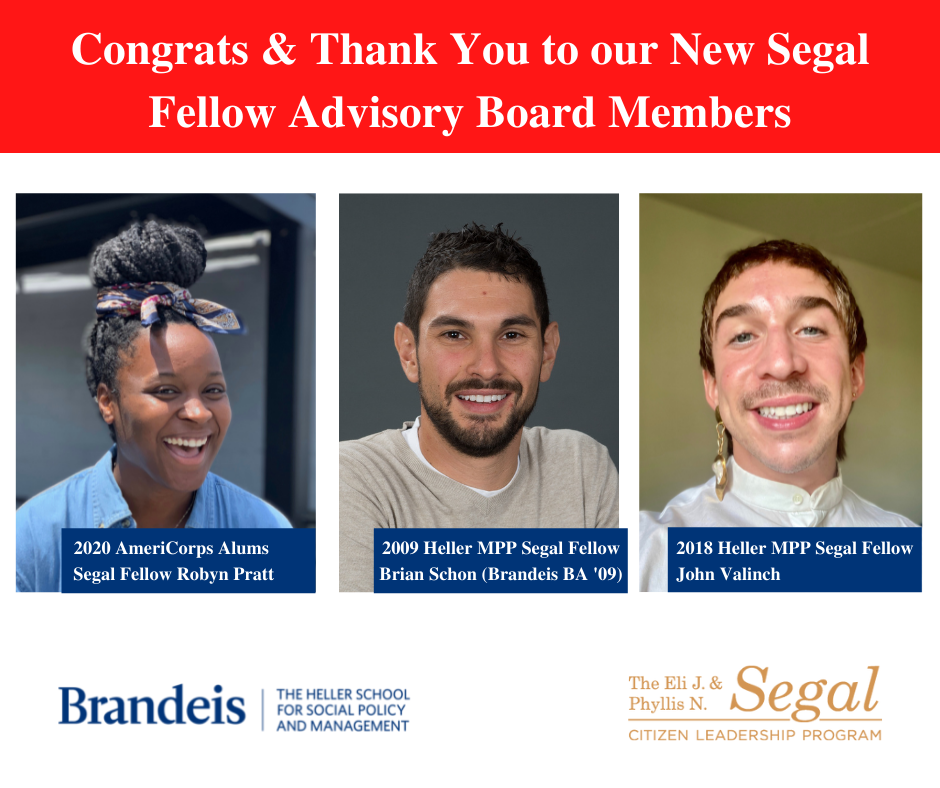 With special appreciation and congratulations to the 3 Segal Fellows elected by their peers to serve on the Segal Program Advisory Board

:
Robyn Pratt (2020 AmeriCorps Alums Segal Fellow). As Robyn shared in her candidate statement: "I believe that as an Advisory Board Member I would be able to share my perspective as a black woman engaging with the resources, curriculum and conversations/trainings offered, my overall fellowship journey and how this has shaped my leadership values. I believe that through my experience sharing, my antiracist knowledge and background, as well  as my ability to organize BIPOC voices, we can work together to transform parts of this work and create a more whole experience for Fellows...."
Brian Schon (2009 Heller Segal Fellow, and '06 BA Brandeis). As Brian shared in his candidate statement: "As a fellow from one of the first classes, I'd like to find a way to be a more valuable contributing member to the newer classes as it becomes more difficult to attend events and connect age-wise. I was fortunate to have a lot of access to founders, some of whom are no longer with us, and I benefited a great deal. I remember from my interview and early conversations that the goal was for us to someday "become the founders." I'd like to start taking a step toward that transition and be useful...."
John Valinch (2018 Heller Segal Fellow). As John shared in his candidate statement: "From the moment I entered the program, I consistently thought about and expressed opportunities to build the Segal network, expand mentorship opportunities, and deepen relationships with partners for summer fellowship placement. Since graduating from the Heller School in 2019, I've become the 2018 cohort's coordinator--convening quarterly calls with some of my favorite people.... I am committed to building and sustaining connections and growing opportunities for BIPOC, first generation, queer and other under-represented communities, as I move through my life and within this network....

 I look forward to collaborating with the Advisory Board and the greater Segal network to build a brighter future for all current & future Fellows.

"
We are grateful for the wisdom, energy and ideas they will share with Advisory Board Chair Mora Segal and the other board members as we work to make The Segal Program the best it can be and a lifelong Fellowship experience with meaning and engagement for all Fellows.
With Continued Thanks To Our Past Segal Program Advisory Board Members:
Lawrence (Larry) Bailis, Samuel (Sandy) Berger*, Deborah (Debbie) Berger Fox, Emily Bishop Runeari (Segal Fellow), Toni Burke, AnnMaura Connolly, Lisa Dawe, Laura Gassner Otting, Jason Gray (Segal Fellow), Gloria Johnson-Cusack, Arnold (Arnie) Kanter, James Lapenn, Stephen Larbi (Segal Fellow), Arnie Miller, Peter Murray (Segal Fellow), Susan Osnos, Jonathan (Jon) Segal, and Phyllis Segal.
* Denotes deceased member