The Segal Program is proud to offer regular events and trainings for our Fellows and the larger Segal Network. Each event is a way for Fellows to discuss and prepare to take action around important issues, as well as a chance to connect with each other and our Founders and partners, as they move forward on their citizen leadership journey. Check out our recent events, as well.
January Segal Fellow Hangout
Tuesday 1/31 8:15-9PM ET, 5:15-6pm PT 
Join us for an informal Segal Fellow Hangout on Tuesday 1/31 from 8:15-9pm ET, 5:15-6pm PT. No agenda, just a chance to connect with old friends and meet new ones. (Zoom login here, See Fellow calendar invite for passcode.)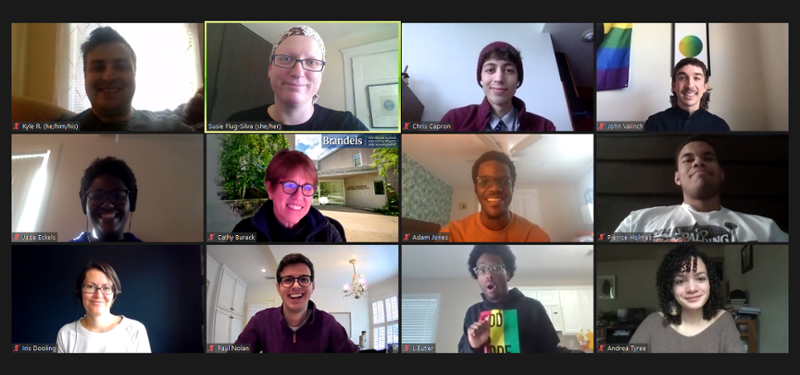 You've asked for more chances to just hang out and catch up, and now we're kicking off Virtual Segal Fellow Hangouts! Each quarter (~April, July, October of 2023), a Segal Fellow will "host" a Virtual Fellow Hangout by picking a time that works for them and connecting informally with any Fellows who are able to join them at that time. No agenda or planning required. This is just a chance for Fellows to chat and connect.
If you're interested in hosting a future Fellow Hangout, sign up here.
February: Black History Month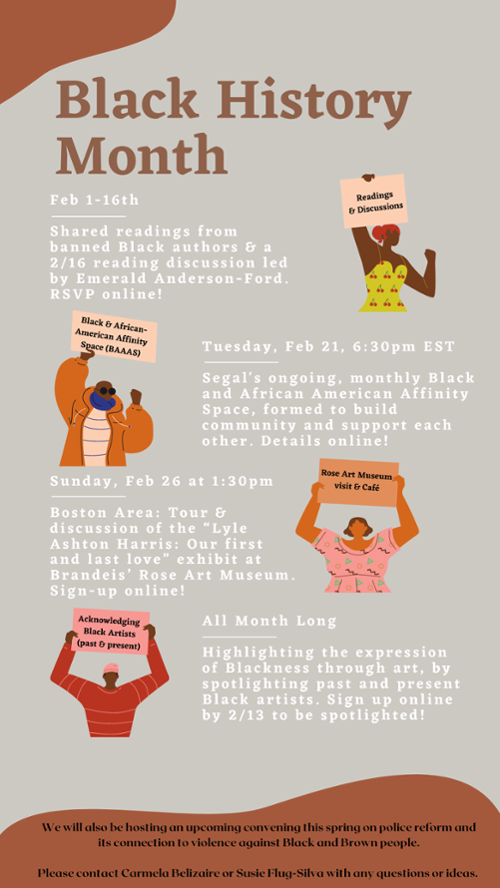 Over the course of Black History Month, we will offer: ongoing suggested readings with a 2/16 reading discussion session with Equity Consultant Emerald Anderson Ford; a 2/21 gathering of the ongoing, monthly Black and African American Affinity Space (6:30pm EST, more details below); spotlights of Black Artists that highlight Black history, present, and future; and a 2/26 afternoon event for Boston-Area Fellows at Brandeis' Rose Art Museum to visit the exhibit "Lyle Ashton Harris: Our first and last love."
Th 2/16 4-5pm EST: RSVP to join Segal Reading Discussion
SUN 2/26 AT 1:30PM: SIGN UP TO JOIN THE ROSE ART MUSEUM VISIT 
sign up to be spotlighted as a present Black Segal Fellow  artist
Reproductive Freedom: Legal Rights, Political Context, and Opportunities for Action with Attorney Julie F. Kay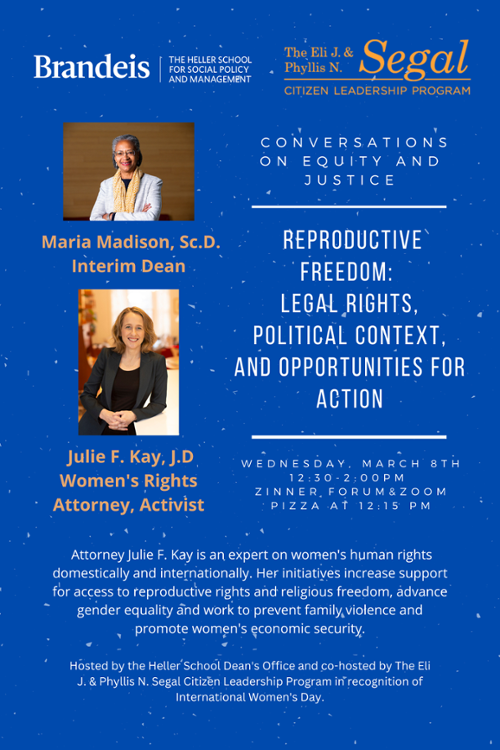 Join us at 12:30pm on Wednesday, March 8th - International Women's Day - for a discussion on reproductive freedom with women's rights attorney and activist, Julie F. Kay, in conversation with Interim Dean Maria Madison. This event will be held in-person at Zinner Forum and on Zoom.

Attorney Julie F. Kay is an expert on women's human rights domestically and internationally. Her initiatives increase support for access to reproductive rights and religious freedom, advance gender equality and work to prevent family violence and promote women's economic security. Ms. Kay comes to Heller and Segal as a friend and legal colleague of Segal Program Founder Phyllis Segal.

This event is co-sponsored by the Heller School Dean's Office and the Eli J. & Phyllis N. Segal Citizen Leadership Program.
---
Monthly RJAR LC Affinity/Caucus Group Gatherings
Black & African American Affinity Space: (meetings every third Tuesday of the month; contact Conveners Robyn Pratt or Le'Otis Boswell-Johnson, or Susie for more details)
"Robyn Pratt, a 2020 Segal Fellow, and Le'Otis Boswell Johnson, a 2018 Segal Fellow, co-lead the Segal Black and African American Affinity! As a member of the Black community, we welcome you to our Segal Fellowship Black and African American Affinity Space with open arms and hearts. This group was formed to build community, support each other, and discuss how our culture, background, and experiences can and should show up in our roles as well as inform and influence our work, in and out of the Segal Fellowship. We understand that some folks may be a part of the mixed race affinity space and we want to honor your black/aa identity, uplift your experience and background and invite you to join both this space and the mixed race space. You are welcome here."
White Caucus Group: (monthly meeting times vary; contact Conveners Lila Givens or Chris Capron, or Susie for more details)
If you're interested in helping convene another affinity group, please contact Susie. Affinity groups for our Latinx, APIDA, and Multiracial Fellows are still under development

---
Segal Program Racial Justice & Antiracism Learning Community