February: Black History Month
To celebrate and kick off a month of programming in honor of Black History Month, our thanks to our Equity Consultant Emerald Anderson-Ford, of CRED, for helping us envision and plan our BHM programming. A variety of Black History Month Programming throughout February includes: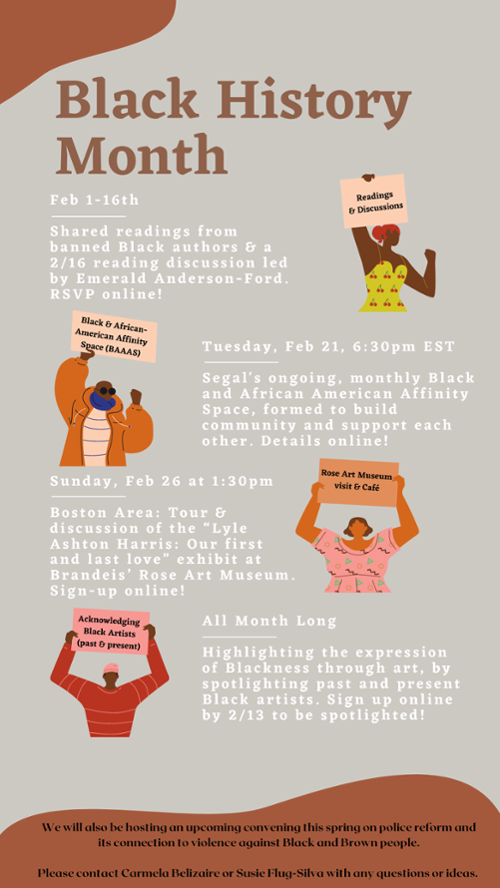 (On your own time)

 

Suggested readings

 

from the ACLU's list of banned Black authors, with an Asynchronous reflection space

 

on the suggested readings
Thursday

 

2/16 4-5pm EST/1-2pm PST: Discussion of readings

 

with our Equity Consultant Emerald Anderson-Ford (register

 

here)
Tuesday

 

2/21 6:30pm EST/3:30pm PST monthly gathering of the ongoing Black and African American Affinity Space (BAAAS)

 

(additional details

 

here)
A bridging of Black history, present and future, with a focus on Black Art, by spotlighting Segal Fellows who are artists

 

and how their Blackness is expressed in/intertwined with their art,

 

as well as spotlights of more historical Black artists

 

who have shaped those fields of art.
We will also highlight some other powerful pieces from Black artists throughout the museum.

We're thrilled to host our discussion and gathering afterwards at Karibu, a local, Black-owned restaurant in Waltham. Please join the Segal Program for snacks and good company post-museum (~3-4/4:30pm). Carpooling from campus available.

As you prepare for your visit to the Rose Art Museum, please note that some of the content may trigger/reference strong feelings and emotions. Some of the pieces include/reference: nudity, racial slurs, explicit referencing racial trauma past and present, historical references in regards to sexual and physical violence towards Black people in the US.

We recognize that some art pieces may trigger/bring up heavy emotions and lived experiences. We will offer additional resources that Fellows can engage with after the event, as well as a space for Fellows to connect and reflect immediately after the museum.
While friends and family are invited, you may want to tailor your exploration at the museum around the age of any children joining you. We can help guide you in this and are happy to answer any questions ahead of time as well.
Additional items to note:

 From BAAAS Conveners, Fellows Robyn Pratt and Le'Otis Boswell Johnson: "This group was formed to build community, support each other, and discuss how our culture, background, and experiences can and should show up in our roles as well as inform and influence our work, in and out of the Segal Fellowship. We understand that some folks may be a part of the mixed race affinity space and we want to honor your black/aa identity, uplift your experience and background and invite you to join both this space and the mixed race space. You are welcome here." 
We invite any Fellows who would like to be among our spotlighted Black Artists to sign up here by 2/13,

 

to share a piece of your work and how your Blackness is expressed in/intertwined with your chosen piece.
You can also explore

 

the National Gallery of Art's "Black Art and Artists in Our Collection"

 

for a larger array of "works from Black artists across centuries, mediums, and geographies."
Additional details and updates will be on our

 

website.
The Heller School also invites you to join "The Power of Civic Engagement: The History and Legacy of the Civil Rights Movement" With Brandeis alumnus Dr. Roy Deberry, on February 16, 12:30-2:15pm EST (at Heller or on Zoom).