The Segal Program is proud to offer regular events and trainings for our Fellows and the larger Segal Network. Each event is a way for Fellows to discuss and prepare to take action around important issues, as well as a chance to connect with each other and our Founders and partners, as they move forward on their citizen leadership journey. Check out our recent events, as well.
Check out how we celebrated Black History Month !
Thinking About Leadership for Uncertain Times
POSTPONED for Segal Fellows and their invited guest.
Please join for a leadership training session with Segal Founder, former State Representative, and Beacon Leadership Collaborative Founding President Jay Kaufman.
"Never let a good crisis go to waste." - Winston Churchill
If ever there were a time for better public sector leadership, this is that time. The challenges we face – and avoid facing – are many and consequential. We know that mobilizing people to confront tough problems, overcome difference, and move beyond the natural resistance to change requires uncommon courage and skill. How are we to understand the challenges and opportunities before us? What are the qualities of leadership required for these uncertain times? What's next for you on your path to more skillful and artful leadership?
What to expect?
We will explore the differences between leadership and authority, the distinction between technical and adaptive challenges, and the dynamics of individual and collective reaction to change.
You will be invited to identify a personal leadership challenge, what you need to address to help you move along on your leadership journey.
You are invited – indeed encouraged – to engage in this conversation in the company of others with whom you are in partnership at work. That way you'll be able to continue and deepen the conversation at home, and begin to have a more engaged and effective team as you tackle the important challenges that define your work.
Feel free to invite up to 5 of your co-workers to join you on the Zoom.  (If not attending from the same computer, each participant should register individually on Zoom.) Fellows should be able to invite others via calendar invite.
 Quarterly Segal Fellow Hangout
Next One: April 2023
Join us for an informal Segal Fellow Hangout. No agenda, just a chance to connect with old friends and meet new ones.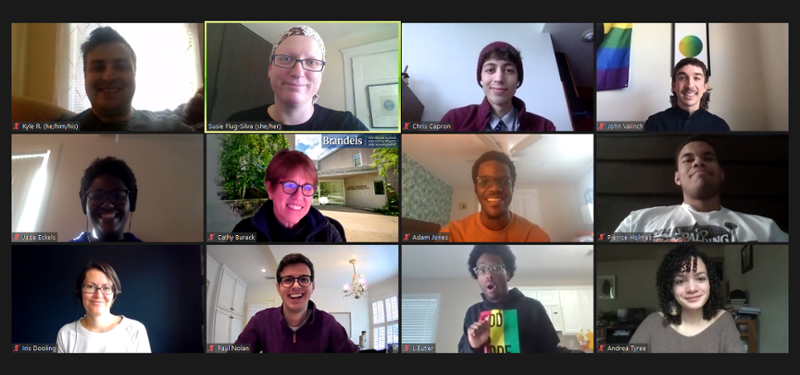 You've asked for more chances to just hang out and catch up, and now we're kicking off Virtual Segal Fellow Hangouts! Each quarter (~April, July, October of 2023), a Segal Fellow will "host" a Virtual Fellow Hangout by picking a time that works for them and connecting informally with any Fellows who are able to join them at that time. No agenda or planning required. This is just a chance for Fellows to chat and connect.
If you're interested in hosting a future Fellow Hangout, sign up here.
---
Monthly RJAR LC Affinity/Caucus Group Gatherings
Black & African American Affinity Space: (meetings every third Tuesday of the month; contact Conveners Robyn Pratt or Le'Otis Boswell-Johnson, or Susie for more details)
"Robyn Pratt, a 2020 Segal Fellow, and Le'Otis Boswell Johnson, a 2018 Segal Fellow, co-lead the Segal Black and African American Affinity! As a member of the Black community, we welcome you to our Segal Fellowship Black and African American Affinity Space with open arms and hearts. This group was formed to build community, support each other, and discuss how our culture, background, and experiences can and should show up in our roles as well as inform and influence our work, in and out of the Segal Fellowship. We understand that some folks may be a part of the mixed race affinity space and we want to honor your black/aa identity, uplift your experience and background and invite you to join both this space and the mixed race space. You are welcome here."
White Caucus Group: (monthly meeting times vary; contact Conveners Lila Givens or Chris Capron, or Susie for more details)
If you're interested in helping convene another affinity group, please contact Susie. Affinity groups for our Latinx, APIDA, and Multiracial Fellows are still under development

---
Segal Program Racial Justice & Antiracism Learning Community