The Segal Program is proud to offer regular events and trainings for our Fellows and the larger Segal Network. Each event is a way for Fellows to discuss and prepare to take action around important issues, as well as a chance to connect with each other and our Founders and partners, as they move forward on their citizen leadership journey. Check out our recent events, as well.
August: Quarterly Segal Racial Justice & Antiracism Learning Community Session: "

Can we just talk? Talking about race and racism with students during the COVID-19 pandemic"
Monday, August 8, 4-5pm ET online
Join us for a quarterly session, as a part of our ongoing Segal Racial Justice and Antiracism Learning Community.

The COVID-19 pandemic has occurred alongside the "twin" pandemic of societal structures reaching what could be considered a breaking point in race-based discrimination and violence in the United States. A study of two Brandeis undergrad courses conducted throughout this period of time points to the importance of teaching college students how to talk about race and racism in the classroom, and emphasizes the significance of centering these discussions in higher education.


Hear from Segal Staff Member and Heller Research Associate Zora Haque about the findings of the journal article and her role as co-author, and take part in group discussions that will connect her research to your own teaching and/or work with youth and your own ongoing conversations surrounding race and racism.
You can read the journal article "Can we just talk? Exploring discourses on race and racism among U.S. undergraduates during the COVID-19 pandemic" here.
Please register in advance online.
---
July Segal Convening on Reproductive Rights
Thank you to those who joined us on July 8. As we process and move forward from The Supreme Court's decision to overturn Roe v Wade, we heard from Segal Fellows and partners working across the reproductive rights field for an informal session to learn about their efforts and how folks can be a part of the movement at all levels. Speakers included Segal Fellows Emily Bishop (formerly of Planned Parenthood and Supermajority) and Audrey Etlinger Cohen (Director Of Nursing and Clinical Services at Women's Health Services). We were honored that Julie F. Kay, legal titan and author of Controlling Women: What We Must Do Now to Save Reproductive Freedom, also joined us to share some informal remarks and and calls to action.
Watch and share the video: https://youtu.be/_IW3zLZtQWU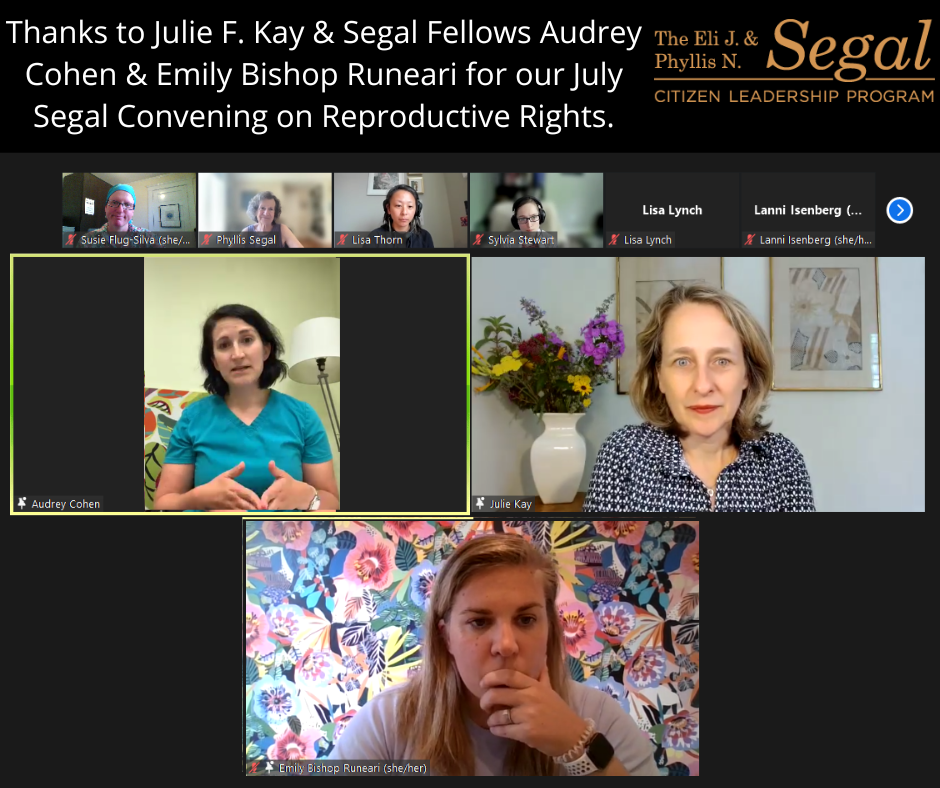 ---
Monthly RJAR LC Affinity/Caucus Group Gatherings
Black & African American Affinity Space: (meetings every third Wednesday of the month; contact Conveners Robyn Pratt or Le'Otis Boswell-Johnson, or Susie for more details)
"Robyn Pratt, a 2020 Segal Fellow, and Le'Otis Boswell Johnson, a 2018 Segal Fellow, co-lead the Segal Black and African American Affinity! As a member of the Black community, we welcome you to our Segal Fellowship Black and African American Affinity Space with open arms and hearts. This group was formed to build community, support each other, and discuss how our culture, background, and experiences can and should show up in our roles as well as inform and influence our work, in and out of the Segal Fellowship. We understand that some folks may be a part of the mixed race affinity space and we want to honor your black/aa identity, uplift your experience and background and invite you to join both this space and the mixed race space. You are welcome here."
White Caucus Group: (monthly meeting times vary; contact Conveners Lila Givens or Chris Capron, or Susie for more details)
If you're interested in helping convene another affinity group, please contact Susie. Affinity groups for our Latinx, APIDA, and Multiracial Fellows are still under development

---
Segal Program Racial Justice & Antiracism Learning Community