The Segal Program is proud to offer regular events and trainings for our Fellows and the larger Segal Network. Each event is a way for Fellows to discuss and prepare to take action around important issues, as well as a chance to connect with each other and our Founders and partners, as they move forward on their citizen leadership journey. Check out our recent events, as well.
Informational Sessions for Brandeis Undergrad/Heller MPP Segal Fellow Application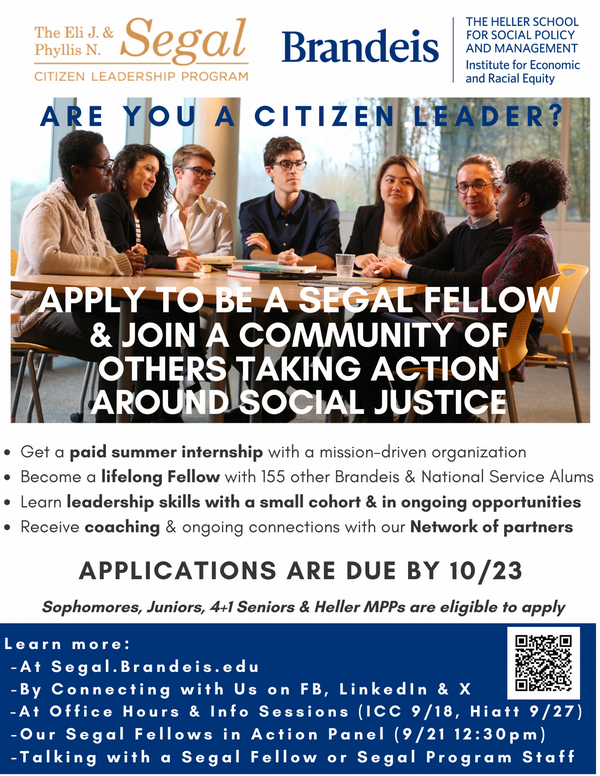 Informational Session: Wednesday, September 27th from 12:30-1:30pm at the Hiatt Career Center, Hiatt conference room (register here)
October Office Hours: Details to come
If you're not able to attend any of these sessions, please complete this interest form for more information. 
Fellows in Action Panel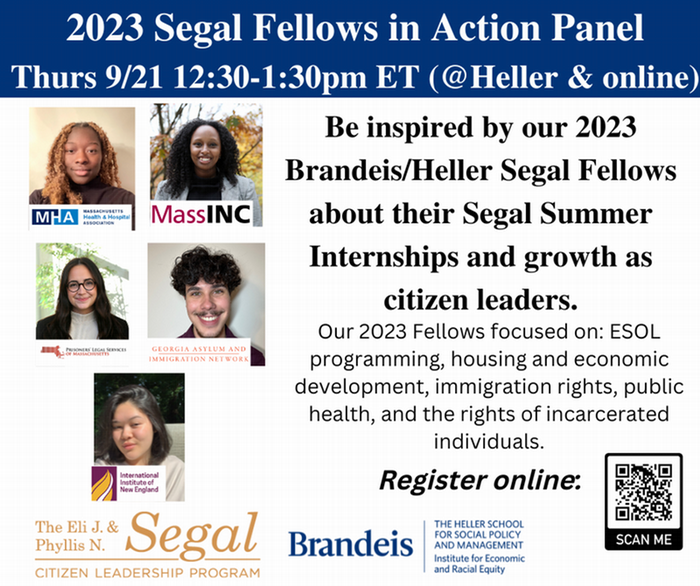 Thanks to our 2023 Brandeis Undergrad/Heller MPP Segal Fellows (Jovita Bell, Saynab Maalin, Katherine Nace, Anthony Ruiz, & Amelia Trahan) for sharing about their 2023 Segal Summer Internships and their growth as a part of the lifelong Segal Citizen Leadership Program. Our 2023 Segal Internships focused on: ESOL programming, housing and economic development, immigration rights, public health, and the rights of incarcerated individuals.

We're grateful to our internship partners: Georgia Asylum and Immigration Network, International Institute of New England, Massachusetts Health & Hospital Association, MassINC, and Prisoners' Legal Services of MA for hosting these Segal Fellows.

Video from the event to come in October.
Quarterly Segal Fellow Hangouts
Join us for an informal Segal Fellow Hangout. No agenda, just a chance to connect with old friends and meet new ones.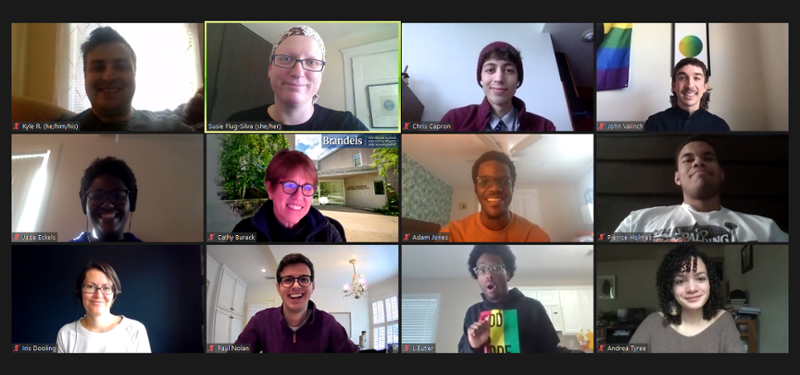 You've asked for more chances to just hang out and catch up, and now we're kicking off Virtual Segal Fellow Hangouts! Each quarter (next one is 10/18 at 8pm Eastern/5pm Pacific), a Segal Fellow will "host" a Virtual Fellow Hangout by picking a time that works for them and connecting informally with any Fellows who are able to join them at that time. No agenda or planning required. This is just a chance for Fellows to chat and connect. Fellows can see their calendar invite or contact staff for the Zoom link.
If you're interested in hosting a future Fellow Hangout, sign up here.
2023 Segal Fellow Retreat (Fellows Only)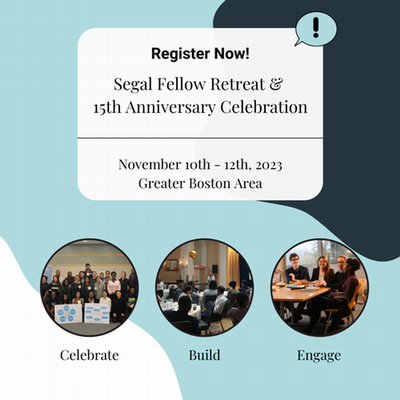 Segal Fellows, join us for the 2023 Segal Fellow Retreat (and Segal's 15th Anniversary), November 10-12 in Greater Boston! 
Segal Fellows are encouraged to register no later than 8/31. If you can't attend in-person, note your virtual attendance preferences in the registration form. Acccess more details online. 
Please reach out to Carmela Belizaire (carmelajmb@brandeis.edu) or Susanna Flug-Silva (flugsilva@brandeis.edu) with any questions.
---
Monthly RJAR LC Affinity/Caucus Group Gatherings
Black & African American Affinity Space: (meetings every third Tuesday of the month; contact Conveners Robyn Pratt or Le'Otis Boswell-Johnson, or Susie for more details)
"Robyn Pratt, a 2020 Segal Fellow, and Le'Otis Boswell Johnson, a 2018 Segal Fellow, co-lead the Segal Black and African American Affinity! As a member of the Black community, we welcome you to our Segal Fellowship Black and African American Affinity Space with open arms and hearts. This group was formed to build community, support each other, and discuss how our culture, background, and experiences can and should show up in our roles as well as inform and influence our work, in and out of the Segal Fellowship. We understand that some folks may be a part of the mixed race affinity space and we want to honor your black/aa identity, uplift your experience and background and invite you to join both this space and the mixed race space. You are welcome here."
White Caucus Group: (monthly meeting times vary; contact Conveners Lila Givens or Chris Capron, or Susie for more details)
If you're interested in helping convene another affinity group, please contact Susie. Affinity groups for our Latinx, APIDA, and Multiracial Fellows are still under development

---
Segal Program Racial Justice & Antiracism Learning Community