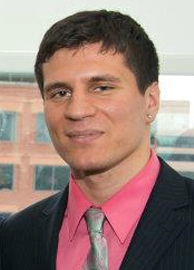 Paul Vancea
2012 Brandeis Undergraduate Segal Fellow
Paul Vancea, Brandeis class of 2014, majored in business, economics, and film studies. Paul moved to the United States from Romania with his family when he was 14. He is now Founder and CEO of WXYD Capital, which helps cannibis businesses get capital funding, and he is CFO of Kosmik Brands, a cannibis edibles producer.

His business roots started with his work in his family business and then, as a Brandeis student, Paul and a roommate initiated a student health and fitness club. In their first event, the club hosted a panel of experts to discuss various aspects of healthy lifestyles, i.e., fitness, nutrition, sleep and stress management. In addition, Paul and another roommate started an international media production company.
Paul completed his Segal summer internship with Albright Stonebridge Group in Washington, D.C. He spearheaded the creation of the Eli J. Segal pilot documentary.