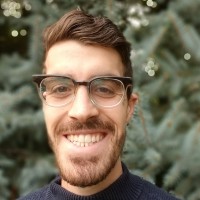 Gabriel Fontes
2018 Brandeis Undergraduate Segal Fellow
Gabriel Fontes 
teaches 10th grade English at Leaders High School in Brooklyn. Gabriel earned his BA in African & African-American Studies (AAAS) and English from Brandeis University in 2019 and MEd in secondary English Education from UMass Amherst in 2021.
Gabriel's Segal Fellow Summer Internship in 2019 was with the Fight for 15 in Atlanta, and he remains active in the labor movement through his involvement with MORE (Movement of Rank and File Educators) in New York City. 
Gabriel draws on his experience in intimate partner violence prevention and community organizing to pursue best outcomes for students and families.