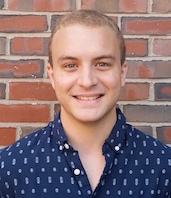 Marcelo Brociner
2017 Brandeis Undergraduate Segal Fellow
Marcelo

 

Brociner 
is an educator and artist who was born and raised in Somerville, Massachusetts. He proudly calls himself a "Juban," as he is of both Jewish and Cuban descent. He graduated from Brandeis in May 2018 with a double major in Anthropology and International and Global Studies and a minor in Creativity, the Arts, and Social Transformation (CAST). As a 2016 Sorensen Fellow, 

Marcelo

 worked at Work Room Four, an art studio in Hanoi helping to empower contemporary Vietnamese artists. He returned to Hanoi in May 2017 to organize and host an exhibition of his grandfather Rene Mederos' anti-war posters which are based on what he witnessed while traveling throughout Vietnam (often under U.S. bombing) during the late 1960s and early 1970s. 
As a 2017 Segal Fellow, 
Marcelo
 supported the Engagement and Community Center at Larkin Street Youth Services in the Tenderloin District of San Francisco. There he facilitated a hip-hop group once a week and worked in other ways with homeless youth seeking drop-in support at the Center. 
As an avid rapper, photographer, and event producer/promoter, Marcelo deeply believes in the power of the arts to create positive change in the world. Marcelo graduated from Boston University in August 2019 with a Masters Degree in Teaching & Curriculum while working as a fourth grade teaching fellow at Prospect Hill Academy Charter School in Somerville, where he was a student for three years. Marcelo is now the media teacher at Somerville High School, which he graduated from in 2014, as well as Somerville cable television's play by play announcer for Somerville High School's soccer teams.