Quarterly Segal Racial Justice & Antiracism Learning
Community Sessions
Spring 2023: Racial Justice And Technology
In June, we will be meeting and talking about systemic racism and technology with Ezra Tefera, Director of The Racial Justice x Tech Program at Heller's Institute for Economic and Racial Equity, and with Segal Fellow Gabby Zilkha, Senior Product Manager for Learning @ SAP SuccessFactors. More details to come.
Winter 2022/23: Black History Month Programming
As a part of our BHM programming, we offered suggested readings from banned Black Authors, a 2/16 reading discussion with Emerald Anderson-Ford, and asynchronous ways to share your reflections on these readings, including: What stood out to you from these readings, in general, and as something to highlight and celebrate as we honor Black history and culture? and Why do you think these books/authors have been targeted for censorship/why it is so important to read and share these works?

Fall 2022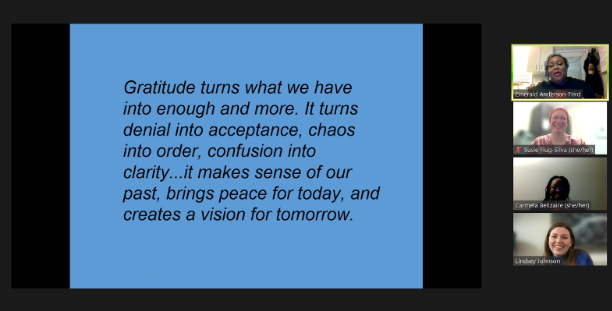 Honoring the time of the year, Segal Fellows gathered to reflect on the meaning of gratitude and give grace to themselves, others, and the journey towards anti-racism and equity. Led by our CRED Consultant, Emerald Anderson-Ford, she shared "gratitude turns what we have into enough and more. It turns denial into acceptance, chaos into order, confusion into clarity…it makes sense of our past, brings peace for today, and creates a vision for tomorrow." Not only sharing appreciation, Segal Fellows also reflected on the challenges, approaches, and internal navigation made throughout the journey towards anti-racism and equity. Resources to support and challenge the anti-racism journey were shared and made accessible in our shared RJAR LC folder.
Summer 2022

: Monday, August 8 "Can we just talk? Talking about race and racism with students during the COVID-19 pandemic"
The COVID-19 pandemic has occurred alongside the "twin" pandemic of societal structures reaching what could be considered a breaking point in race-based discrimination and violence in the United States. A study of two Brandeis undergrad courses conducted throughout this period of time points to the importance of teaching college students how to talk about race and racism in the classroom, and emphasizes the significance of centering these discussions in higher education.

Segal Fellows heard from Segal Staff Member and Heller Research Associate Zora Haque about the findings of the journal article and her role as co-author, and took part in group discussions that connected her research to their own teaching and/or work with youth and your own ongoing conversations surrounding race and racism.
You can read the journal article "Can we just talk? Exploring discourses on race and racism among U.S. undergraduates during the COVID-19 pandemic" here.
Video from the event is available here. 
Spring 2022

: Anti-Racist Action Planning Session: Moving from Theory to Action
See more here about our spring sessions.
Hear from CRED Consultant Emerald Anderson-Ford, on avoiding racial equity detours, and staying engaged in racial justice and antiracism work.
Learning Community Fireside Chat:
 In November 2021, Emerald Anderson-Ford, of CRED, hosted a
fireside
chat
around measures of individual and daily accountability as we move along our journey of anti-racism. While there are no definitive answers on how to do the work of manti-racism, it is important for us to be intentional about our actions and choices on a daily basis. Check out our
online RJAR LC resources
for more details about what Emerald and Fellows shared during the session.
Fall 2021 Antiracism Workshops (Great Resource for New LC Members Whenever You Join)
October-December: Fall Antiracism Workshops with Mikel Brand Oliver of Mpact Consulting 
Pursuing Antiracism Within Myself (October 2021)
Pursuing Antiracism with Others (work/community/beyond) (November 2021)
Pursuing Antiracism Systemically (December 2021)
Handouts, slides, and videos are available on our shared RJAR folder
Wish to join, but need to know how to engage?
We estimate that active LC participation will take at least 1.5 hours per month. While not all Fellows will be able to participate in all offerings, the group expects that Fellows in the LC will have at least one active participation per quarter (whether in all-LC sessions, affinity/caucus groups, workshops, or asynchronous experiences). You can join us in the LC at any time that you're ready to start, and there are welcome materials that you can review at your own pace.
If you'd like to join us, you can
register here for the learning community
 and 
can still watch the video or see the discussion notes
 from August's Kick Off sessions (contact Susie or Carmela for Fellow access)
. We also invite you to read/watch/reflect on the on-your-own time RJAR LC learning and reflection opportunities for August/September, which are available here. They include a brief (14-minute) required welcome/frameworks video from our Equity Consultant Emerald Anderson-Ford.
The fall is about building this LC community. If you'd like to join us, please:
Let us know which affinity/caucus groups you would like to join when you register for the LC. Our Affinity/Caucus Group Conveners are reaching out to Fellows in their groups.
Review the welcome/frameworks materials.

Join our g

eneral RJAR LC Slack Channel for communications/sharing across all LC members and/or request access to our shared RJAR LC folder, where you can access materials from past events, resources, and asynchronous reflection spaces.
Encourage other Segal Fellows to join this RJAR LC.