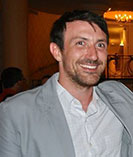 Will Chrysanthos
2011 CNCS Segal Fellow
Will Chrysanthos served four years as an AmeriCorps member with the Breakthrough Collaborative, Teach for America, and Hands On Mississippi.  He considers these years to be the most positive and transformative of his life and hopes that one day, all Americans who choose to, can serve their country through AmeriCorps.
Will's Corporation for National and Community Service (CNCS) Eli J. Segal Fellow award led him to Washington, D.C., where he served at the CNCS as a Special Assistant to the Director of AmeriCorps.  He served as the New York Section Chief for AmeriCorps operations in the hurricane Sandy response, and FEMA mission assignment administrator on eleven other federally declared disasters.  Prior to his work in D.C., Will served four years in the hurricane Katrina recovery effort in Mississippi, during which he was named to the Mississippi Commission on Volunteer Service to manage the state's largest AmeriCorps VISTA program. 
Will received his BA in history from Tufts University, and currently serves on the Board of Directors for the Massachusetts Service Alliance.