Advisory Board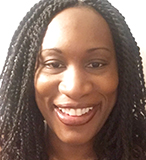 Morénike Giwa-Onaiwu
Morénike Giwa-Onaiwu possesses vast executive experience which includes board membership on a number of national disability, advocacy, and family service organizations, including serving as chairperson of both a large HRSA-funded local planning body and an international NIH-funded community research network. She is the founder of Advocacy Without Borders, a grassroots education, community advocacy, and self-empowerment initiative.  American-born to immigrant parents Morénike is a community advocate and social justice activist living in Texas. Her wonderful children -- biological, foster, and adopted -- who range in age from 5 to 15 years old, are her greatest accomplishment.  As a Black Autistic woman in a multicultural, neurodiverse, sero-different family of color, Morénike is a firm supporter of human rights and involved in a myriad of social justice activism endeavors including HIV-related advocacy, disability rights, learning via technology, research, refugee and minority youth outreach, gender and racial justice, and inclusion promotion.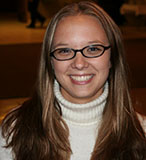 Melinda Haus
Melinda Haus is a queer disabled feminist mother of a 5-year-old boy named Drayden.  She is the Founder and Director of Justice Moves and a Program Manager at Michigan Disability Rights Coalition.  Melinda holds a Masters degree in Social Work with an emphasis on organizational and community practice, and is currently training to become a Certified Peer Support Specialist in the state of Michigan.  Melinda's passion is looking at the intersectionality of identities and creating movements that are inclusive of all people.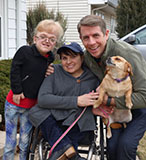 Kevin Irvine
Kevin Irvine is a disability rights advocate, trainer, and Chicago Transit Authority Board member.  Kevin was born with Hemophilia B and has also had HIV and Hepatitis C for the majority of his life. Kevin and his wife, who was also born with a disability and uses a wheelchair, adopted their daughter through a domestic adoption when she was five months old. Their daughter has multiple disabilities, including Apert Syndrome, scoliosis, mild hearing impairment, and ADHD.  As a disabled dad, Kevin is excited to work on this cross-disability, inclusive project.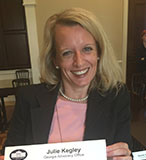 Julie Kegley
Julie Kegley works as a staff attorney and a program director with the Georgia Advocacy Office, the federally-funded, private non-profit organization designated by the Governor of Georgia to protect and advocate on behalf of people with disabilities. As a mother with severe-to-profound hearing loss who wears behind the ear hearing aids, Julie has encountered stigma and inaccessibility and works hard to fight discrimination against people with all different types of disabilities.
Nicole Lomerson
Coming soon.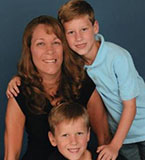 Julie Petty
Julie Petty is a self-advocate who was born with cerebral palsy and has been a leader in the self-advocacy movement both in Arkansas and nationally for several years.  Julie currently works at Partners for Inclusive Communities within the Arkansas University Center on Excellence for Disabilities and was the former Chairwoman of the President's Committee for People with Intellectual Disabilities.  Julie met her husband Brian while attending the University of Arkansas.  Their first son Logan was born in 2003 and their second son Warren was born in 2005.  Julie is excited about contributing to this national, cross-disability project where parents with varying disabilities have different but also similar needs.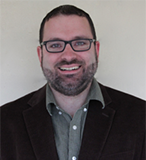 John Pirone
John Pirone is a American Sign Language (ASL) Lecturer/Coordinator at the University of Vermont.  He is Deaf and a native ASL speaker.  John was previously the Director of ASL and Deaf Studies program at College of the Holy Cross and is an active advocate for the Deaf community in Massachusetts and serves on various boards, such as Deaf Youth Outdoor Leadership. John recently completed his doctorate in Higher Education Administration from Northeastern University and his dissertation was about the lived experiences of Deaf college students with American Sign Language interpreters during their academic and social participations.  John and his wife currently live in South Burlington, VT, with their 3-year-old daughter, Acadia.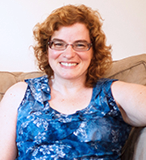 Tammy Rayess
Tammy Rayess, OTR/L, is a licensed Occupational Therapist who is a wife and mother of two teenagers. She also has cerebral palsy. She has been active in her local community where she founded a MOMS Club and organized a power soccer team. She is currently serving as her church's Cancer Care Team Leader and as a volunteer in a hospital Neonatal Intensive Care Unit (NICU). Drawing on her unique combination of clinical insight, life experience and focus on overall health and well-being, she has spoken to a wide variety of audiences on the topics of health care, living with cerebral palsy and raising a family with a focus on empowerment.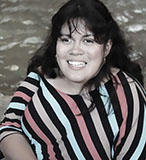 Jennifer Senda
Jennifer Senda is a Mexican-American mother and college student who has cerebral palsy and uses a wheelchair.  Fluent in both Spanish and English, Jennifer is a strong advocate for parents with disabilities and a blogger for the Disabled Parenting Project. Jennifer lives in Kansas City, Kansas with her 9-year-old son who has ADHD and anxiety and makes every day an adventure.  Jennifer believes the biggest issue facing parents with disabilities and their families is society's stigma and she is pleased that the Center for Parents will dedicate attention to the needs and experiences of parents with disabilities from marginalized communities.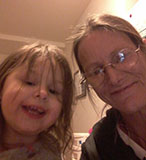 Denise Simon
Denise Simon is a mother of two children, including one who has disabilities.  Denise, who has physical and cognitive disabilities herself, wants to help make people aware that people with disabilities can be great parents.  Having had the experience of not being listened to due to her own disabilities, Denise advocates for equality and better supports for parents with disabilities.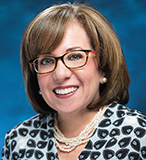 Laura Stout
Laura Stout is the Director of Contract Operations at Blue Cross Blue Shield of Massachusetts, President of the Empowering Abilities Employee Resource Group at Blue Cross and is actively involved in the Work Without Limits Disability Executive and Business Advisory Board, a statewide network of engaged employers and innovative, collaborative partners that aims to increase employment among individuals with disabilities.  Laura was appointed by Massachusetts Governor Charlie Baker to the Advisory Board of the Massachusetts Commission Against Discrimination and is also a member of Attorney General Maura Healey's Disability Rights Advisory Committee.  Laura is an active member of Little People of America and is a little person who has two daughters with her husband Therin who is also a little person.  Their oldest daughter, who is 13-years-old, is a little person like Laura, and their youngest daughter is 11-years-old and an average size person.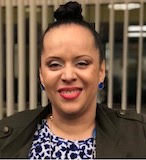 Heather Watkins
Heather Watkins is a disabled Black woman living in Boston, Massachusetts, who was born with Muscular Dystrophy and is a cane-user and occasional wheelchair-user. Heather is the mother of a young adult daughter and was guardian for her nephew, through a Department of Children and Family Services kinship placement, who has an intellectual disability and has since aged out of system. As a disability advocate Heather serves on a number of disability-related boards and served as Chairperson for Boston Disability Commission Advisory Board. Heather also writes/blogs as an extension of her advocacy; her blog is Slow Walkers See More. Heather is also a co-founder of Divas with Disabilities Project, a group aimed at showcasing the diversity and normalcy of women of color with the goal of impacting and transcending the definition of what disability
looks like from group members' own perspectives.