July is #DisabilityPrideMonth!
Throughout the month, the Lurie Institute is highlighting milestones within disability history and other moments and experiences of disability pride along with the disability pride stories of several of our team members.
This page grew over the month with the addition of new spotlights on historical moments in disability pride as well as on Lurie staff member's own disability-pride experiences. Our disability pride events culminated (a little later than July!) with the webinar Disability Identity and Pride in Equity Research, hosted by our Community Living Equity Center.
Current Spotlights
Teresa Nguyen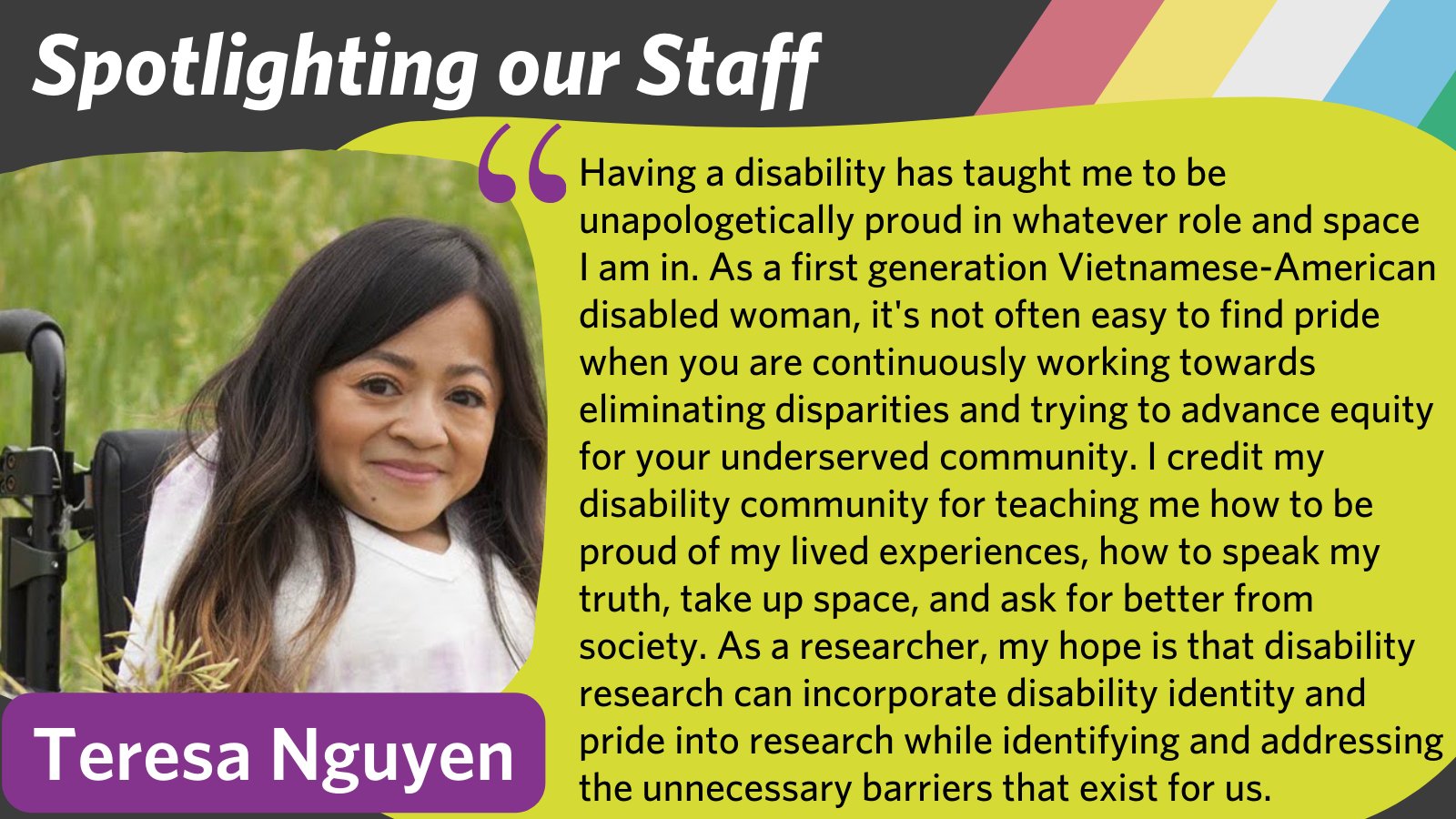 "Having a disability has taught me to be unapologetically proud in whatever role and space I am in. As a first generation Vietnamese-American disabled woman, it's not often easy to find pride when you are continuously working towards eliminating disparities and trying to advance equity for your underserved community. I credit my disability community for teaching me how to be proud of my lived experiences, how to speak my truth, take up space, and ask for better from society. As a researcher, my hope is that disability research can incorporate disability identity and pride into research while identifying and addressing the unnecessary barriers that exist for us."
Learn more about Teresa.
Aggie Hu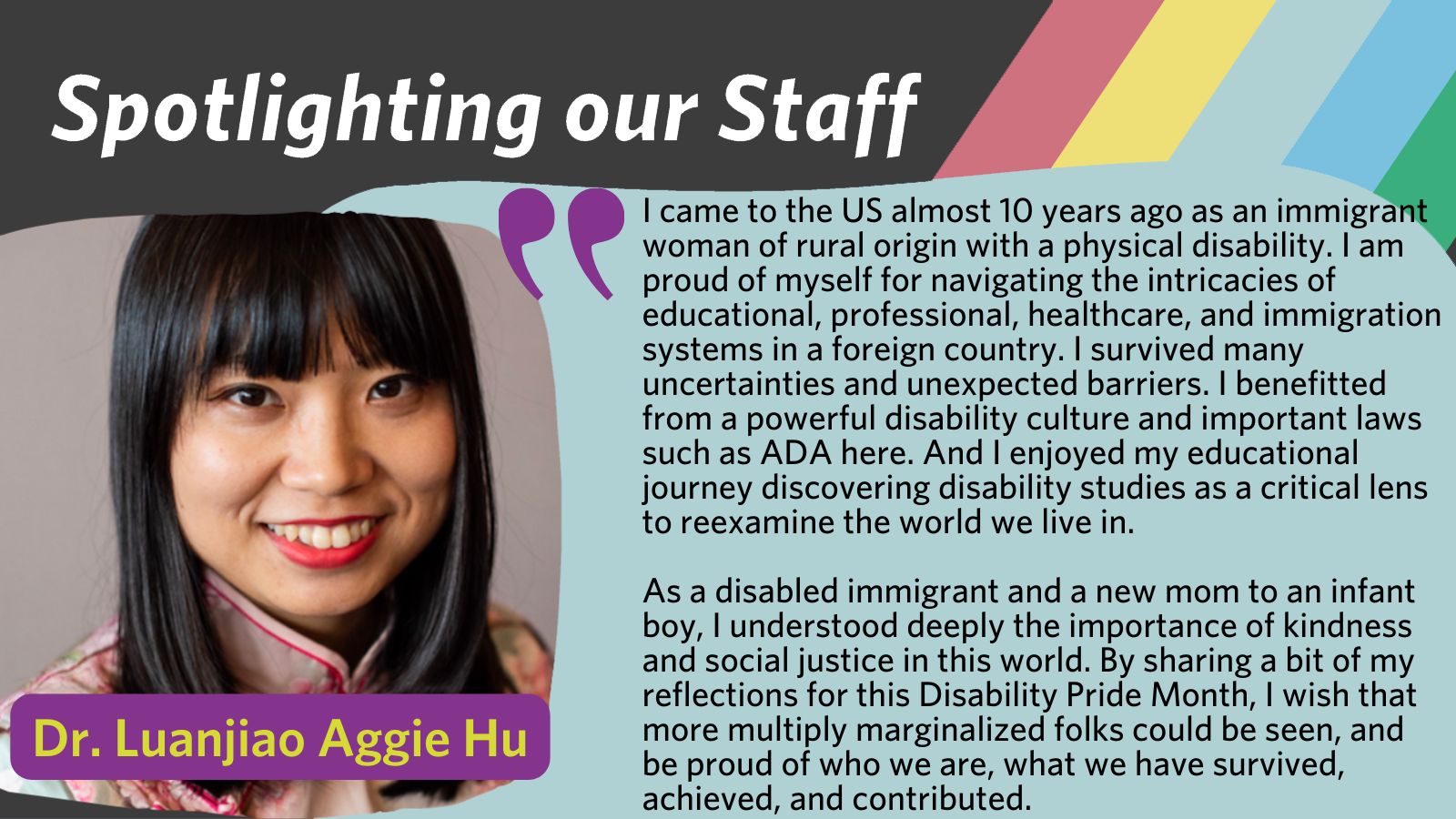 "I came to the US almost 10 years ago as an immigrant woman of rural origin with a physical disability. I am proud of myself for navigating the intricacies of educational, professional, healthcare, and immigration systems in a foreign country. I survived many uncertainties and unexpected barriers. I benefitted from a powerful disability culture and important laws such as ADA here. And I enjoyed my educational journey discovering disability studies as a critical lens to reexamine the world we live in.
"As a disabled immigrant and a new mom to an infant boy, I understood deeply the importance of kindness and social justice in this world. By sharing a bit of my reflections for this Disability Pride Month, I wish that more multiply marginalized folks could be seen, and be proud of who we are, what we have survived, achieved, and contributed."
Aggie's blog post, "My Experience as an Immigrant and Expectant Mother with a Physical Disability."
Learn more about Aggie.
Access Aggie's TEDx Talk, "What Does Freedom Mean to Me?"
Featured Moments of Disability Pride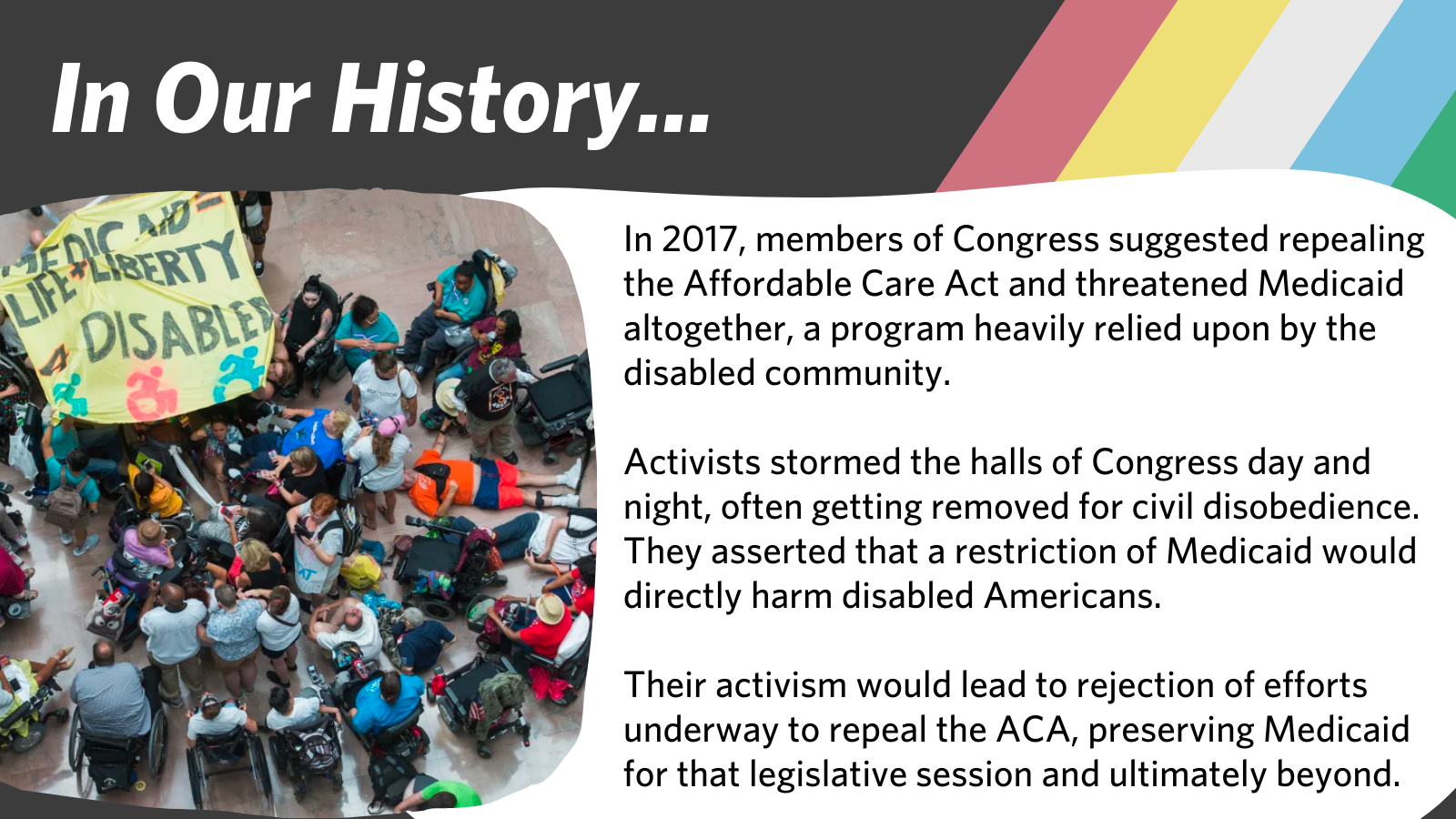 In Our History... In 2017, members of Congress suggested repealing the Affordable Care Act and threatened Medicaid altogether, a program heavily relied upon by the disabled community.
Activists stormed the halls of Congress day and night, often getting removed for civil disobedience. They asserted that a restriction of Medicaid would directly harm disabled Americans.
Their activism would lead to rejection of efforts underway to repeal the ACA, preserving Medicaid for that legislative session and ultimately beyond.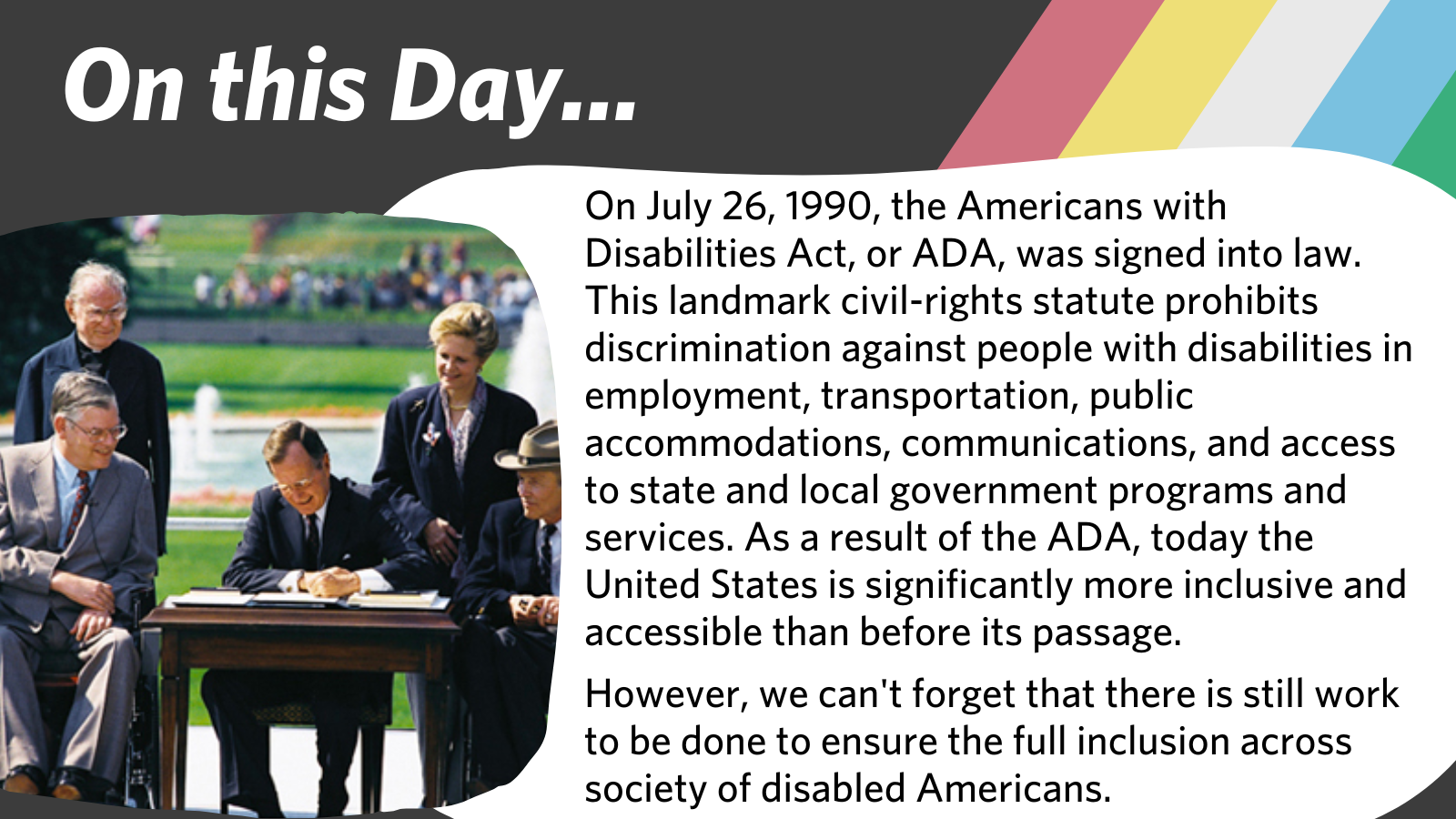 Happy Anniversary to the Americans with Disabilities Act! Signed into law on this date in 1990, the ADA is a landmark piece of civil rights law, ensuring rights to disabled people in many spheres of life. The work continues, but today we honor all that the ADA has made possible.
On This Day... On July 26, 1990, the Americans with Disabilities Act, or ADA, was signed into law. This landmark civil-rights statute prohibits discrimination against people with disabilities in employment, transportation, public accommodations, communications, and access to state and local government programs and services. As a result of the ADA, today the United States is significantly more inclusive and accessible than before its passage.
However, we can't forget that there is still work to be done to ensure the full inclusion across society of disabled Americans.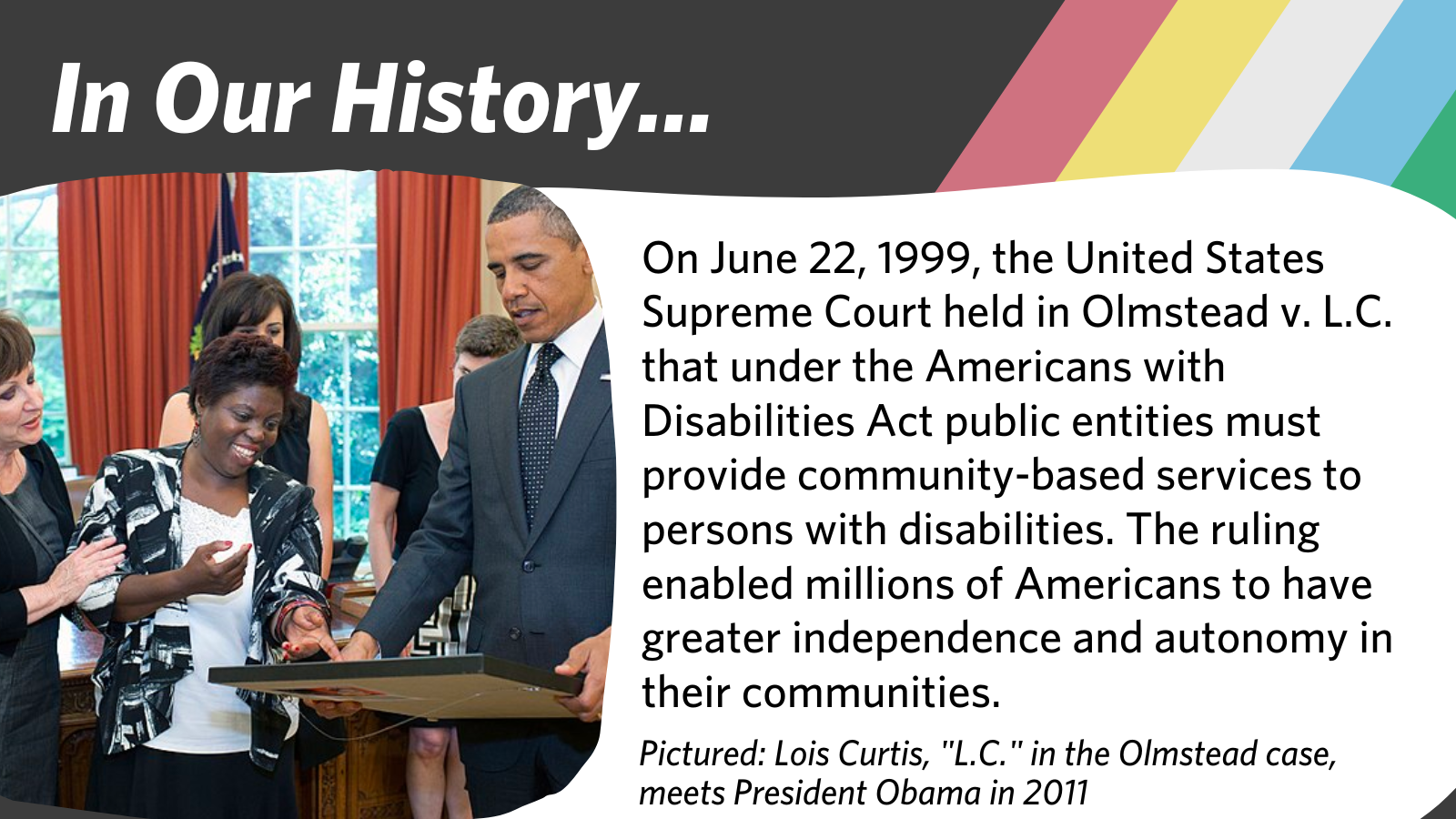 In Our History... On June 22, 1999, the United States Supreme Court held in Olmstead v. L.C. that under the Americans with Disabilities Act public entities must provide community-based services to persons with disabilities. The ruling enabled millions of Americans to have greater independence and autonomy in their communities.
Pictured: Lois Curtis, "L.C." in the Olmstead case, meets President Obama in 2011.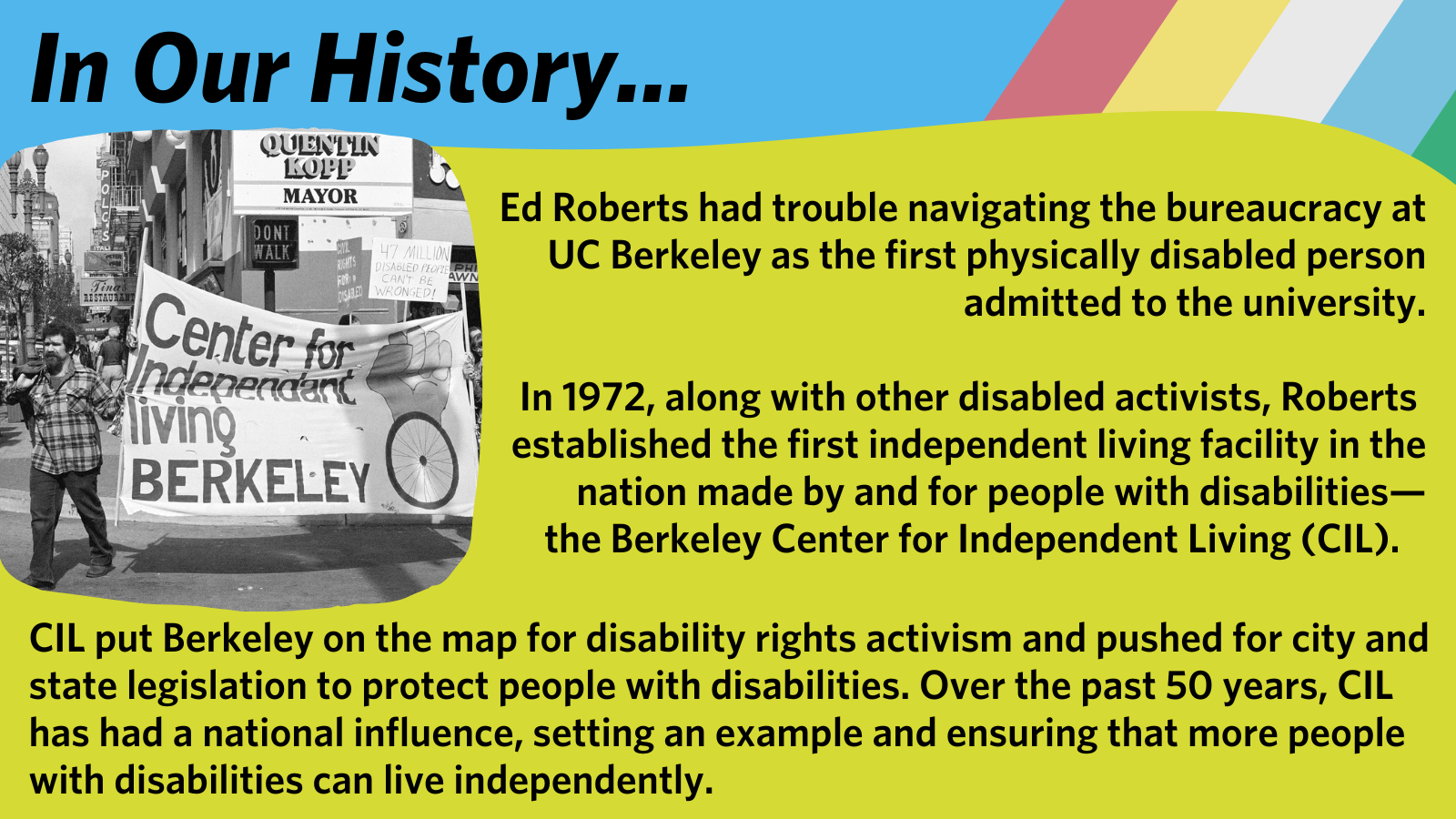 In Our History... Ed Roberts had trouble navigating the bureaucracy at UC Berkeley as the first physically disabled person admitted to the university.
In 1972, along with other disabled activists, Roberts established the first independent living facility in the nation made by and for people with disabilities—the Berkeley Center for Independent Living (CIL).
CIL put Berkeley on the map for disability rights activism and pushed for city and state legislation to protect people with disabilities. Over the past 50 years, CIL has had a national influence, setting an example and ensuring that more people with disabilities can live independently.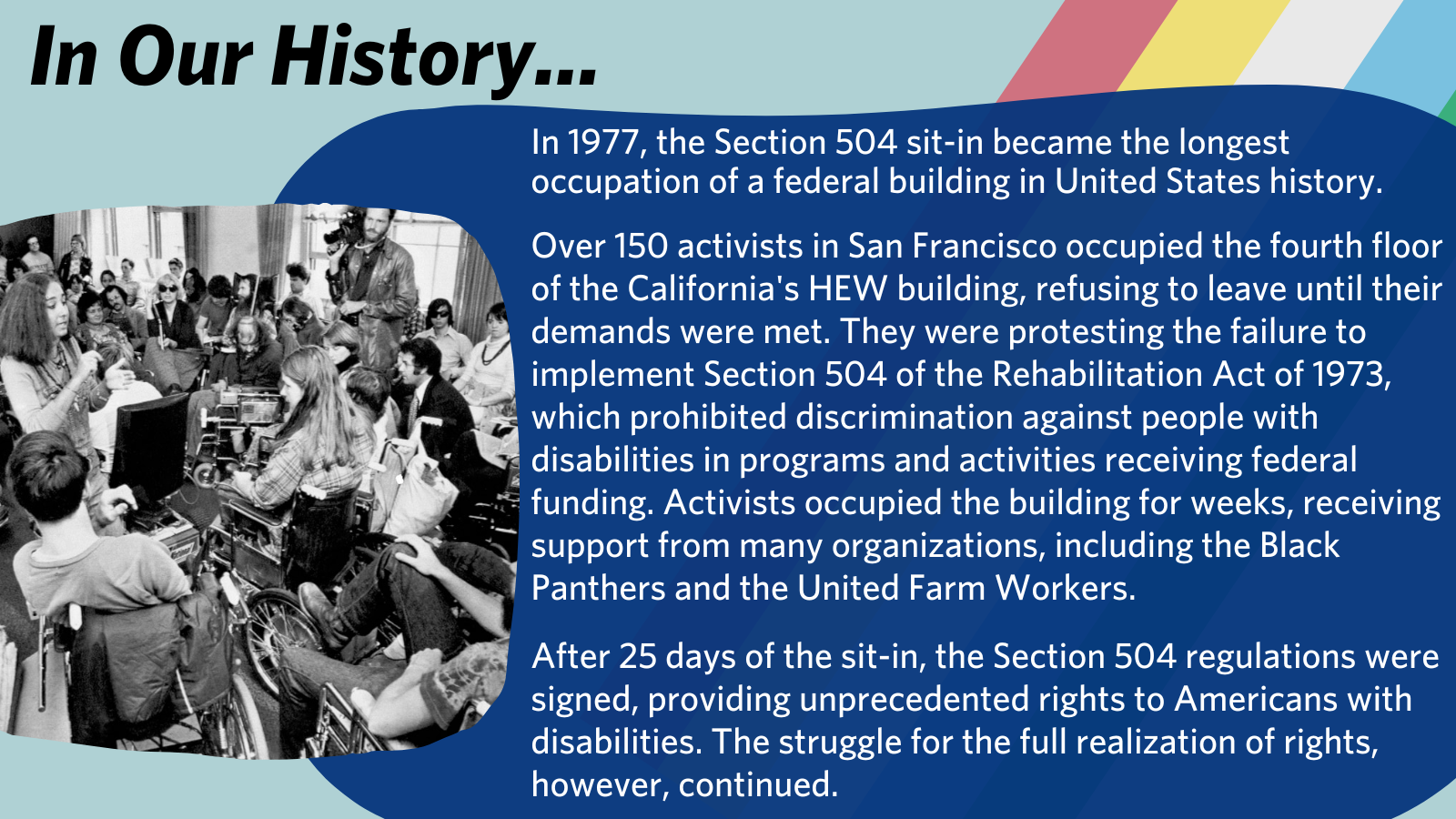 In Our History... In 1977, the Section 504 sit-in became the longest occupation of a federal building in United States history.
Over 150 activists in San Francisco occupied the fourth floor of the California's HEW building, refusing to leave until their demands were met. They were protesting the failure to implement Section 504 of the Rehabilitation Act of 1973, which prohibited discrimination against people with disabilities in programs and activities receiving federal funding. Activists occupied the building for weeks, receiving support from many organizations, including the Black Panthers and the United Farm Workers.
After 25 days of the sit-in, the Section 504 regulations were signed, providing unprecedented rights to Americans with disabilities. The struggle for the full realization of rights, however, continued.
The Section 504 sit-in was highlighted in the Academy-Award-nominated film Crip Camp. Learn more about the Section 504 sit-in with this collection of resources.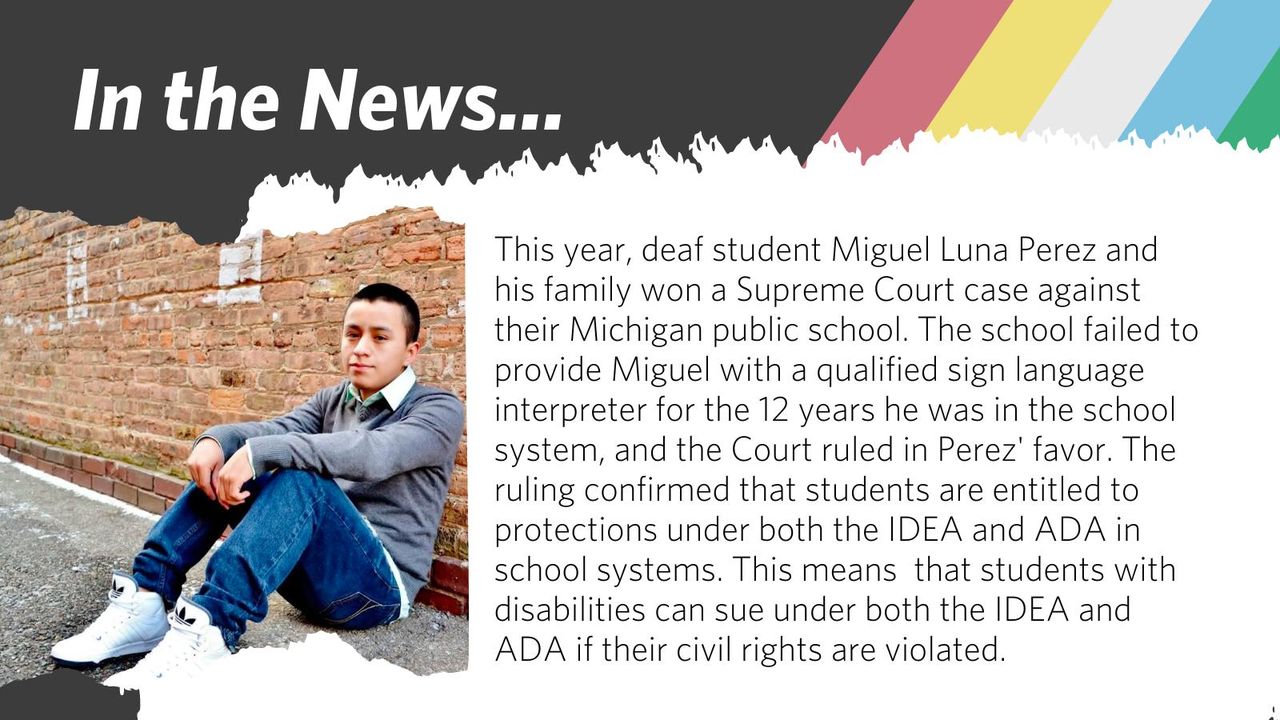 In the News...This year, deaf student Miguel Luna Perez and his family won a Supreme Court case against their Michigan public school. The school failed to provide Miguel with a qualified sign language interpreter for the 12 years he was in the school system, and the Court ruled in Perez's favor. The ruling confirmed that students are entitled to protections under both the IDEA and ADA in school systems. This means that students with disabilities can sue under both the IDEA and ADA if their civil rights are violated.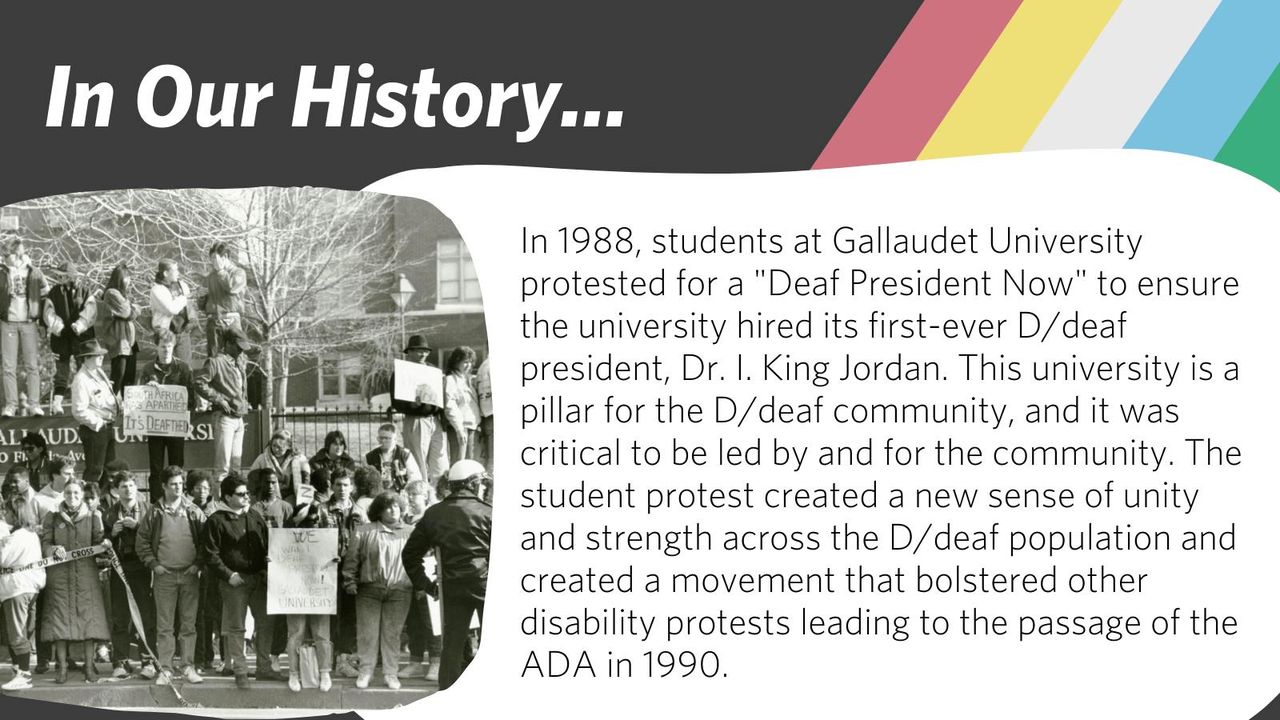 In Our History... In 1988, students at Gallaudet University protested for a "Deaf President Now" to ensure the University hired its first-ever Deaf president, Dr. I. King Jordan. This University is a pillar for the D/deaf community, and it was critical that it be led by and for the community. The student protest created a new sense of unity and strength across the deaf population and created a movement that bolstered other disability protests. This movement lead to the passage of the ADA in 1990.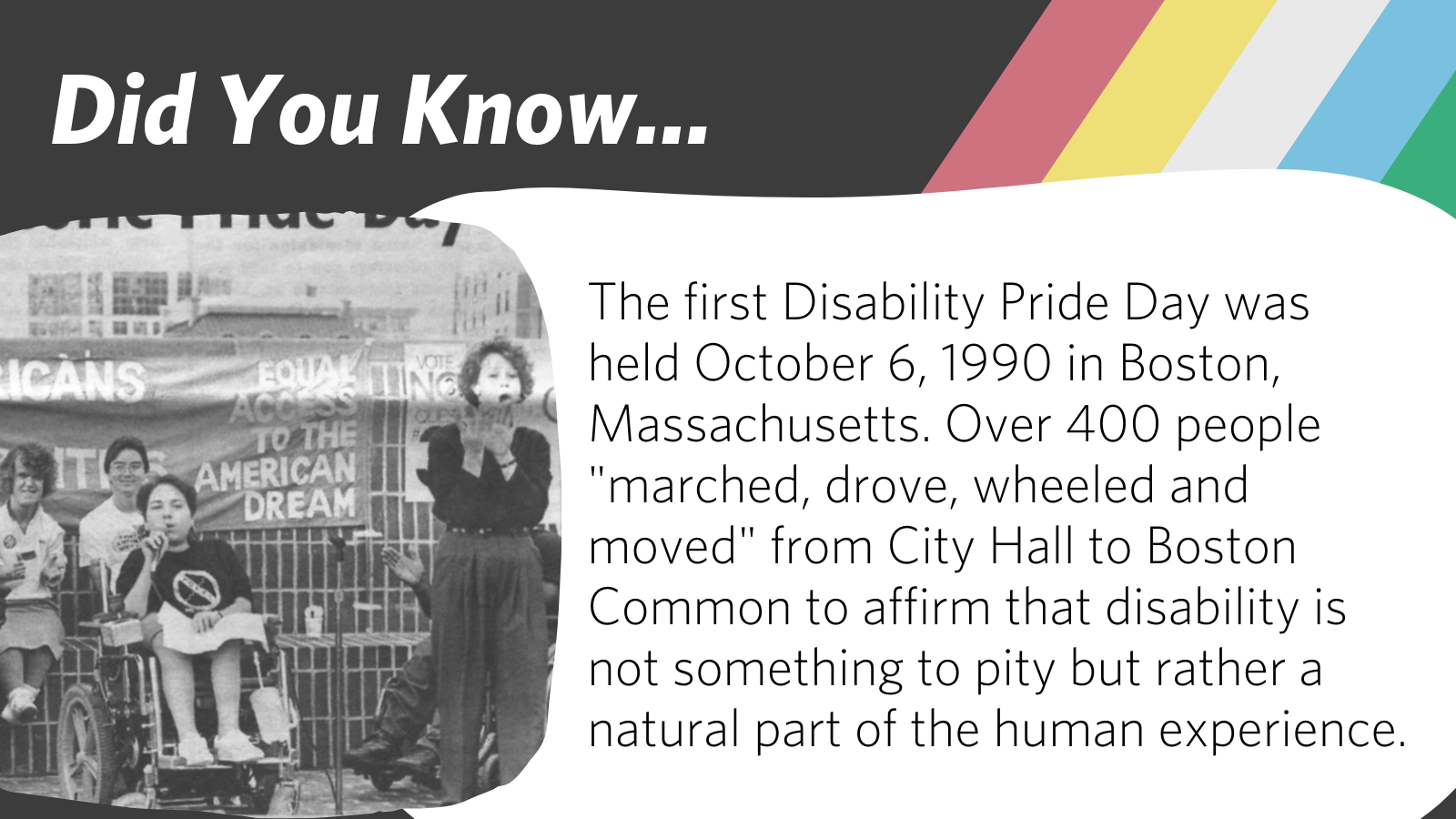 Did You Know... The first Disability Pride Day was held October 6th, 1990 in Boston, Massachusetts. Over 400 people "marched, drove, wheeled, and moved" from City Hall to Boston Common to affirm that disability is not something to pity but rather a natural part of the human experience.
Thank you to all who followed as this page grew over the month with ever more Disability Pride!