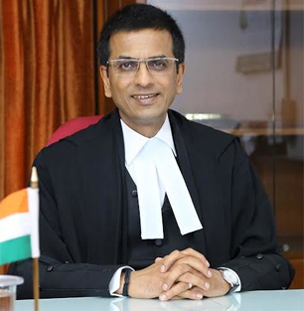 GDS announces the Sixth International Conference on the Unfinished Legacy of Dr. B. R. Ambedkar. Friday, October 20 through Sunday, October 22, 2023 at Brandeis University, Waltham, Massachusetts, USA. Keynote Address by The Hon'ble Dr Justice Dhananjaya Y Chandrachud, The Chief Justice of India.
See Sixth International Caste Conference website for:
Full program updates
Visa Letters
Travel and Accommodations information
Contact information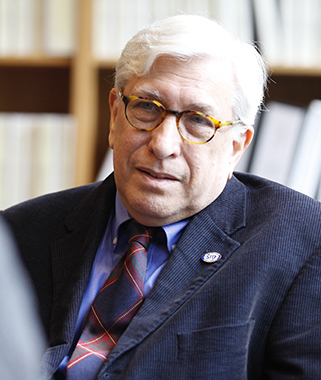 Laurence Simon delivers two invited Ambedkar Memorial Lectures in India
Professor
Laurence Simon
, GDS Director, gave the first lecture on April 14, 2023, hosted by the Vice-Chancellor of Nagpur University. The lecture was the annual Dr Nitin Raut International Lecture on Teachings of Lord Buddha. Two days later in New Delhi, Dr Simon delivered the second annual lecture at Jawaharlal Nehru University as part of the Twentieth Anniversary Celebration of the Indian Institute of Dalit Studies. Both lectures were entitled:
Ambedkarite Buddhism and the Anti-Caste Movement in American Higher Education
.
Professor Emerita
Marion Howard
, GDS Center researcher and coordinator of the GDS work with the Raizal people of the Seaflower Marine Protected Area off the coast of Colombia, organized a "side event" to the 22nd session of the UN Permanent Forum on Indigenous Issues (UNPFII) held from 17-28 April 2023. GDS sponsored representatives of the Raizal people presented testimony at the GDS forum held April 25 at the Ford Foundation Center for Social Justice.
Amnesty International recruits Associate Professor Rajesh Sampath
GDS' Lead Investigator of Social Exclusion, Associate Professor
Rajesh Sampath
, has been contracted by Amnesty International to conduct research on various forms of structural and societal racism, particularly in postcolonial Global South and Eastern contexts. The aim is to compare and contrast Global South and Eastern contexts today with the history of racism in the West from slavery and colonialism to the present.
Laurence Simon visits GDS Re-envisioning Social Protection Policy project in Sri Lanka
Dr. Simon, GDS Director
, consulted with
Vinya Ariyaratne, MD, MPH
and his civil society research team in Sri Lanka in April. The project was urged by The International Monetary Fund and The World Bank and is reviewing the structural and financial deficiencies that caused the collapse of social protection programs during the economic crisis of the last year. The project will make recommendations to the Government of Sri Lanka and funding agencies based on extensive research and consultation within the country, and drawing on the experience of social protection policies in other developing nations.
Rajesh Sampath lectures at Harvard Kennedy School
Lead Investigator of Social Exclusion, Associate Professor
Rajesh Sampath
, was recently invited to give a lecture on Race and Caste in Indian Democracy for the Edward S. Mason MPA seminar at the Harvard Kennedy School. He also served on a panel with Kennedy School faculty on anti-caste discrimination policy in the U.S. Higher Education landscape.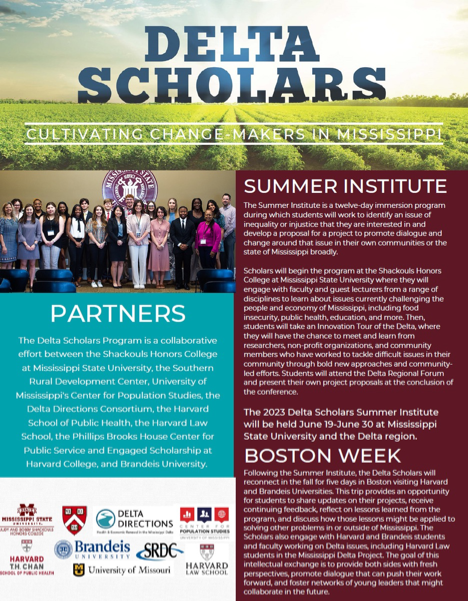 GDS awards 2023 Mississippi Delta Scholar Fellowship
Elisha Gordan, an undergraduate at Brandeis majoring in Near Eastern and Judaic Studies, has been chosen for this year's Delta Fellowship. Elisha will participate in the Delta Scholars Summer Institute which is a twelve-day immersion program during which students will work to identify an issue of inequality or injustice that they are interested in and develop a proposal for a project to promote dialogue and change around that issue in their own communities or the state of Mississippi broadly.
Scholars begin the program at the Shackouls Honors College at Mississippi State University (MSU) where they engage with faculty and guest lecturers from a range of disciplines to learn about issues currently challenging the people and economy of Mississippi, including food insecurity, public health, education, and more. Then, students will take an Innovation Tour of the Delta, where they will have the chance to meet and learn from researchers, non-profit organizations, and community members who have worked to tackle difficult issues in their community through bold new approaches and community-led efforts. Students will attend the Delta Regional Forum and present their own project proposals at the conclusion of the conference. The Delta Scholars Program is a collaboration with MSU, Harvard, Brandeis and other universities.
GDS accredited by DESA
GDS has been accredited by the United Nations Department for Economic and Social Affairs (DESA) as an academic organization for Civil Society participation at UN Permanent Forum on Indigenous Issues (UNPFII).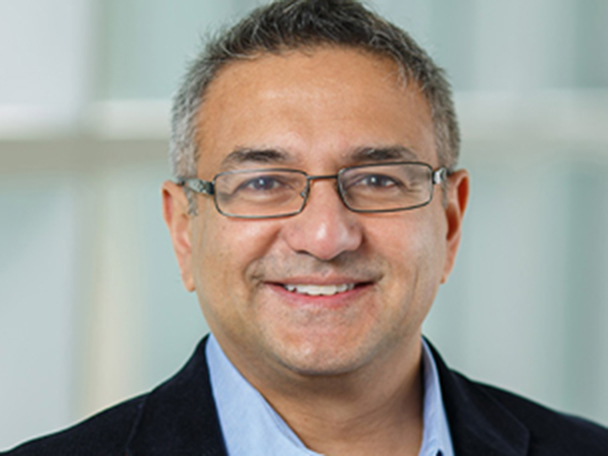 Rajesh Sampath to join Springer Editorial Advisory Board
Professor Rajesh Sampath
, GDS Center's Lead Investigator for Social Exclusion has been invited to join the Editorial Advisory Board of the Springer Series in Social Work and Social Change & Springer Briefs in Social Work and Social Change. Both book series are published by Springer Nature, United States.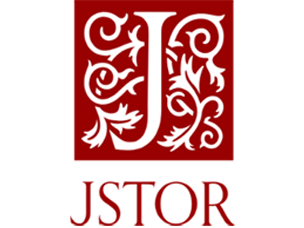 JSTOR, an academic research platform and one of the major sources of scholarly content for over 9,000 universities and libraries, has invited Brandeis' first peer-reviewed academic journal,
CASTE: A Global Journal on Social Exclusion
, to join its archive.