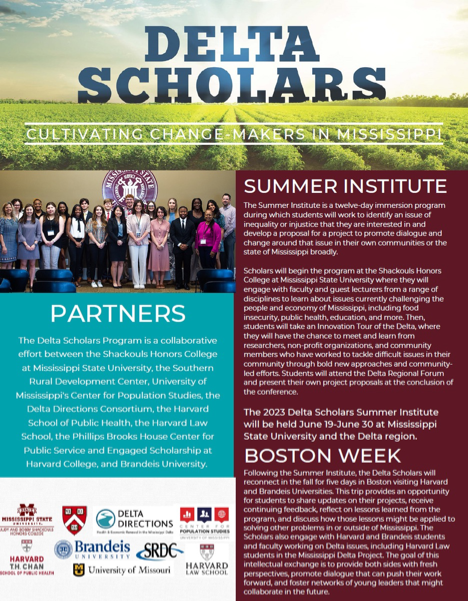 Funded by the GDS Center, Brandeis is a partner university for the Delta Scholars Program. The Summer Institute is an exciting immersion into Mississippi for undergraduate students.

The Delta Scholars Program is a two-part academic and community engagement program for talented and socially conscious college students interested in moving Mississippi and the Delta region towards a brighter, more just tomorrow. Delta Scholars are selected for their academic achievements and commitment to public service to participate in a twelve-day Summer Institute in Mississippi followed by a five-day trip to Boston and Harvard and Brandeis Universities in the fall. Both experiences form a cohort of young leaders thinking critically about systemic injustices in the Mississippi Delta, with each Scholar developing a project that will produce positive social change in their communities. This is a nationally competitive program aimed at sophomores and above, from Mississippi or simply committed to social issues there. Open to all majors, there will be special research opportunities for students interested in public health.
BrandeisNOW: The Delta Scholars Program: A lifechanging trip to the Mississippi Delta
For more information, contact Prof. Laurence Simon at simon@brandeis.edu.