Community Living Policy Center State of the Science 2023
This virtual event consisted of three webinars that brought together researchers, advocates, and other disability community stakeholders.
We discussed current research, gaps in knowledge, needs of the community, and opportunities to advance community living policy.
These discussions will help inform our work and the work of other researchers and research funders to help shape access to equitable and person-centered home and community-based services in the future.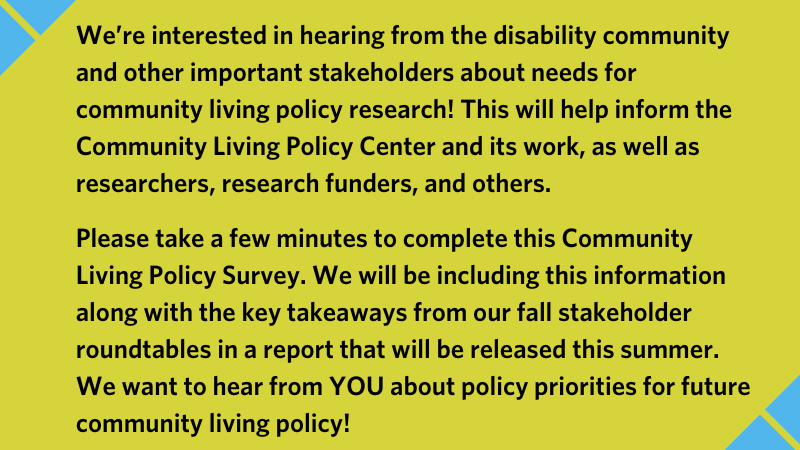 Webinar 1: A Reflection on Community Living Policy and Equity
Date: Monday, June 12Time: 1 pm – 2:15 pm ETPresenters: Joe Caldwell and Teresa Nguyen
This session focuses on the Community Living Policy Center's work and accomplishments in the last four years. Audiences also learn about the new Community Living Equity Center and the work that is being done around equity for disabled people of color who need and/or use HCBS.
Access the Recording of A Reflection on Community Living Policy and Equity
Access the slides for A Reflection on Community Living Policy and Equity
Webinar 2: Community Living Research: What Do We Know and What Do We Need to Learn?
Date: Friday, June 23
Time: 11 am – 12:15 pm ET
Presenters: John Tschida, Silvia Yee, Amy Hewitt, Ari Ne'eman, and Natalie Kean
Our panel of researchers shared what they have learned in the realm of community living research for disabled people over the last five years. The panelists also discussed the continued gaps in research and knowledge that still need to be addressed in this field.
Access the Recording of Community Living Research
Access the slides for Community Living Research
Webinar 3: Community Living Priorities and Issues: Feedback from Stakeholders
Tuesday, June 27
2 pm – 3:15 pm ET
Presenters: Henry Claypool, Alison Barkoff, Kim The, and Ruby Siegel
This last session in the CLPC State of the Science shared feedback from stakeholders, advocates, and community members about the priorities and issues that should be focused on in community living research.
Access the recording of Community Living Priorities & Issues
Access the slides for Community Living Priorities and Issues