Upcoming on December 6, the CLPC is co-hosting a webinar on Looking at HCBS Equity at a State Level. Registration information is below.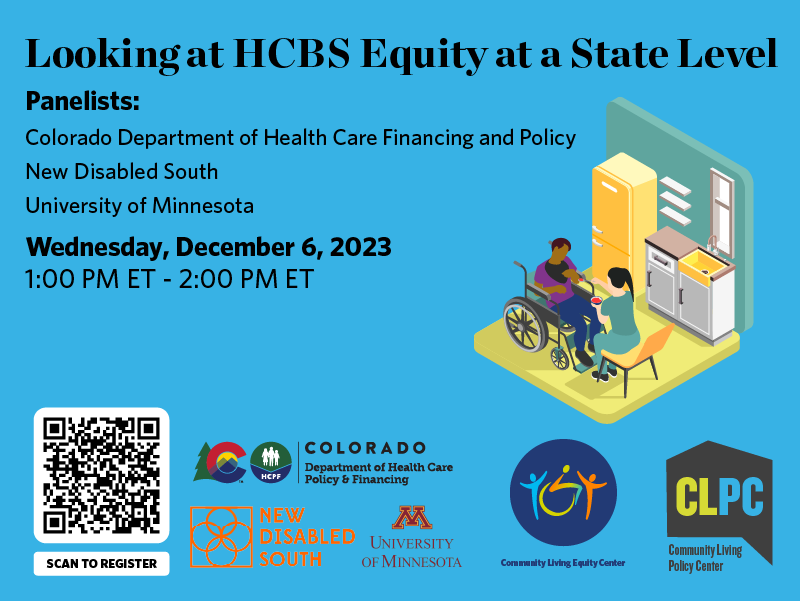 Home- and community-based services (HCBS) are essential for individuals with disabilities to live and participate in their homes and community. However, little is known about how HCBS impacts disabled people of color.
The Community Living Equity Center is thrilled to feature three states and organizations that are beginning to examine equity within their HCBS systems. Attendees will hear from our CLEC stakeholders—New Disabled South, Colorado Department of Healthcare Financing and Policy, and the University of Minnesota—about how each of them got started on identifying HCBS inequities within their state, which data sources were used, and what themes have emerged from their work. The webinar is co-hosted by the Community Living Policy Center.
Learn more about the panelists.
REGISTER FOR LOOKING AT HCBS EQUITY AT A STATE LEVEL
---
Join our mailing list for CLPC updates.
Please email us at clpolicy@brandeis.edu if you have any questions or would like to learn more about our webinars.
To search all Lurie publications and webinars, you may use the search tool below: