Massachusetts Governor Deval Patrick, key legislators, state officials, providers and consumer advocates gathered at the John F. Kennedy Library to celebrate the anniversary of Massachusetts health care reform. Michael Doonan, Director of the Heller-based Mass Health Policy Forum, one of three conference sponsors, noted how gratifying it was to be one year down the line and already see dramatic results. One-third more Massachusetts citizens (122,000 people) who were not previously covered by health insurance are now enrolled in health care plans due to the law passed one year ago.
Governor Patrick told the group of 350 that health care insurance was important, and access to health care even more important, but the real goal is to have healthy Massachusetts citizens.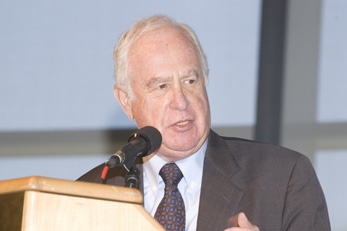 Dean Stuart Altman
Massachusetts speaker of the House Sal DiMasi and Senate president Therese Murray were on hand to give kudos to the local "rock stars" of health care, many of whom were present to help detail past successes and present the challenging future goals of full coverage and cost containment. Commitment across a vast range of groups as well as the transparency in the process were credited repeatedly as the driving elements that sustained the health reform effort through its rough spots on the way to implementation.
Stuart Altman, Dean of the Heller School, noted that health care reform in Massachusetts inspires both fear and love, mirroring the reaction people outside of Massachusetts have towards the Red Sox. Observers either cheer behind the scenes hoping the Massachusetts plan will succeed or skeptics await what they consider the inevitable failure of the plan.
The perspective of other states watching the Massachusetts experience was made clear in a panel of leaders from California, New York, and Vermont, who had a chance to share what is coming down the road in their states.
Few models of successful state health reform exist in other states, so Massachusetts had to step out in front to show that it is possible to provide healthcare coverage to all its citizens. A key component of the Massachusetts plan is the requirement that all citizens must purchase healthcare coverage. Only Switzerland and Holland offer universal coverage using such an "individual mandate."
Both at the conference and in interviews with the Boston Globe and New England Cable News, Altman noted that the Achilles' heel of health care is the rising double digit costs. "Affordability is a major element in the equation that could tip efforts in one direction or the other, " he said. Altman urged the large audience to tackle the tough affordability question, by asking whether we need all the care we are receiving. Currently, Altman indicated, it is really impossible for patients and physicians to know what level of care is appropriate because information is lacking about the comparative effectiveness of different medical interventions.