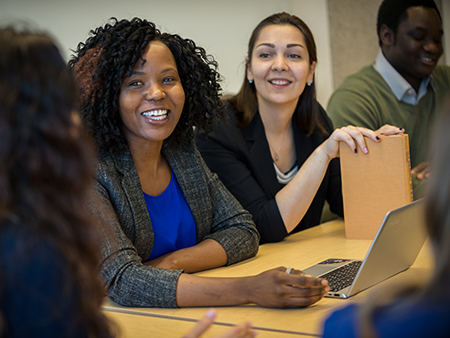 Today, our faculty, staff, students and alumni are making a difference on critical social issues, ranging from: health; mental health; substance abuse; children, youth, and families; aging; international and community development; developmental disabilities; philanthropy; and work and inequalities.
We are dedicated researchers, applying social, economic and political science to solve pressing domestic and global problems. We are also steadfast idealists, working toward a better world through the knowledge we generate, the leaders we educate and the communities we engage with globally. As Heller Dean David Weil explains, our motto, "Knowledge Advancing Social Justice," is more than words: we believe it's imperative to move our evidence-based ideas into action.
Mission
The Heller School drives positive social change through research, education and public engagement that inform policies and programs designed to address disparities in well-being and social inclusion in a sustainable way.
By the Numbers
Enrolled Students (Fall 2017)
7 core academic programs (1 PhD, 6 masters)
Total students: 457
Countries represented: 57
International students: 34 percent
Alumni
There are more than 4,300 Heller alumni, with 81 percent living in the United States and 19 percent living abroad. Heller alumni hold positions in social policy and management all over the world, making a significant difference in their communities.
Faculty and Research Staff
47 Faculty Members
25 Visiting Scholars
27 Scientists and Fellows
15 Professors Emeriti
Research Centers and Institutes (FY 2017)
90 active grants as of June 2017
$18.5 million of sponsored research from corporations, foundations, and agencies such as the Agency for Healthcare Research and Quality, Centers for Medicare and Medicaid Services, Department of Justice, the National Institutes of Health and the World Bank.
Financial Profile (FY 2017)
Total revenues: $34.2 million
Total expenses: $32.6 million