At a ceremony held in April, Boston Mayor Thomas Menino presented the "First Annual Mayor's Green Awards" to seventeen city residents and businesses, selected from more than 70 nominations, who are leading Boston to become more sustainable. Sajed Kamal, an adjunct lecturer at the Heller School for Social Policy and Management at Brandeis University, received an award for "Community Leadership in Energy and Climate Protection."
In announcing the awards Menino said, "We are very impressed with the range of actions residents and businesses are taking to mitigate climate change. From solar power to recycling to green design, you are demonstrating that we can all do our part to make Boston more sustainable. I hope that all the residents and businesses will follow all your leads. Climate change is a global problem, and we all can do our part to combat this effect. So I thank you for your efforts and dedication to improve the city."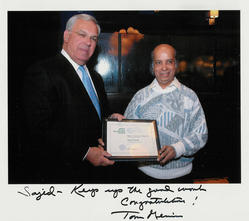 Boston Mayor Thomas Menino with Sajed Kamal
Kamal, an internationally recognized educator on sustainable energy and an adjunct lecturer in the Sustainable International Development program at the Heller School, has been involved with renewable energy education and initiatives for more than twenty-five years. He has been a lecturer and consultant on renewable energy internationally, setting up pilot projects in the United States, Bangladesh, Sri Lanka, Armenia and El Salvador.
In 1999, Kamal initiated Solar Boston, a partnership of renewable energy experts, community organizations and businesses committed to promoting solar technologies throughout Greater Boston. The following year Solar Boston became a partner of the U.S. Department of Energy's Million Solar Roofs Initiative. In 2002 Kamal also initiated "Solar Fenway," a committee of volunteer Fenway residents and the Fenway Community Development Corporation. Solar Fenway has installed two grid-connected photovoltaic systems in the Fenway.
Kamal is also a poet, artist, translator, educational consultant, psychotherapist and a published author of many articles and a dozen books on a range of subjects including poetry, art, photography, Bengali literature in translation, education, conservation and photovoltaic technology. His forthcoming books include Renewable Solutions: How We Can Fight Global Warming, Prevent Energy Wars and Transition to a Sustainable Future.
"Transitioning to the renewable energy path is necessary for our survival—physically, economically, environmentally, politically and no less, morally," says Kamal.