Inclusive economies are built on policy packages, community norms, and institutional arrangements that enable families to build wealth through diverse channels. In the experience of most Americans, work continues to be a primary source of income and identity. Yet increasingly, families and communities are aware that work and wealth pathways that functioned for many in the past have shifted. Our research highlights specific patterns of exclusion and policies that shape opportunities for low-income families and communities of color to access quality jobs and build wealth. Our research focuses on understanding the factors that break down the work and wealth pathways in our economy, as well as investigating policies, practices, and multi-stakeholder relations that strengthen career and opportunity pathways. 
IERE research in Work and Opportunity Pathways addresses many areas, including: workforce diversity, equity, and inclusion; career advancement and quality jobs; children's savings accounts and access to higher education; the role of credit in accessing opportunity; the role of work in protecting housing stability; and occupational segregation.
Career Pathways and Advancement in Healthcare
For the last decade, IERE has been researching the opportunities and barriers to career advancement in healthcare for low-income diverse populations. Through our Administration for Children and Families (ACF) funded projects, we have been identifying problems and identified solutions to foster a more equitable healthcare workforce development system and healthcare workplace

Equitable career advancement requires a complex and intertwined set of institutionalized partnerships and commitments between employees and job seekers, employers, workforce development practitioners, educators, and public infrastructures. Together they are able to create a framework that enables workforce advancement and economic security. Our research reveals and directs solutions based on three dominant challenges. First, in a highly credentialed sector, such as healthcare, facilitating advancement is all the more important because the large jumps between professions require extra education, training, clinical experience and exams, making advancement difficult for individual employees. Second, occupational segregation whether by direct discrimination or closed networks limits opportunities for advancement, mentoring, and funding for diverse populations within the workplace. Third, lower-skilled care work is essential work in the health care field, put is not financially compensated due to federal and state reimbursement levels which requires a focus on policy change and advocacy

You can learn more about our projects on the Career Pathways page, but continue below for some excerpts from our work.
Significant findings in the area of Work and Opportunity Pathways include:
Rethinking Career Pathways and Advancement in Health Care
The Study of Career Advancement and Quality Jobs in Health Care is reconceptualizing the idea of career advancement. Findings challenge workforce systems, training providers, and employers to think beyond linear career pathways. The study suggests that any improvement in job quality could be considered advancement if it improves the worker's well-being in some way.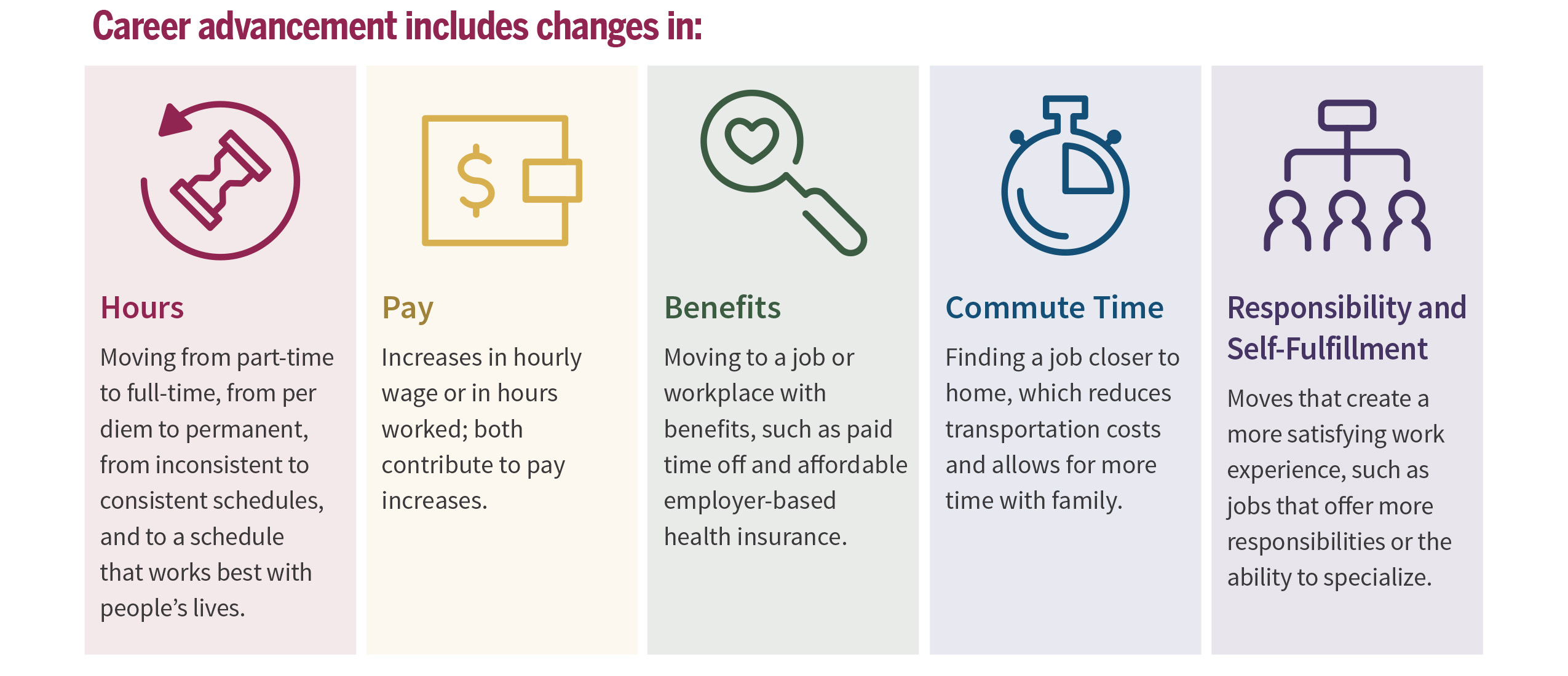 New Hampshire healthcare workers of color are excluded from higher quality jobs.
Through a multi-year partnership research study with the NH Office of Health Equity, IERE research on diversity in the healthcare workforce found that although people of color are employed in the state's healthcare industries, they are concentrated in nursing and residential facilities, which primarily employ entry-level workers in low-wage jobs, and "missing out," or excluded from the higher-quality and higher-skill jobs available in hospital settings. Thus, workforce development initiatives that focus on workforce diversity should prioritize advancement over entry.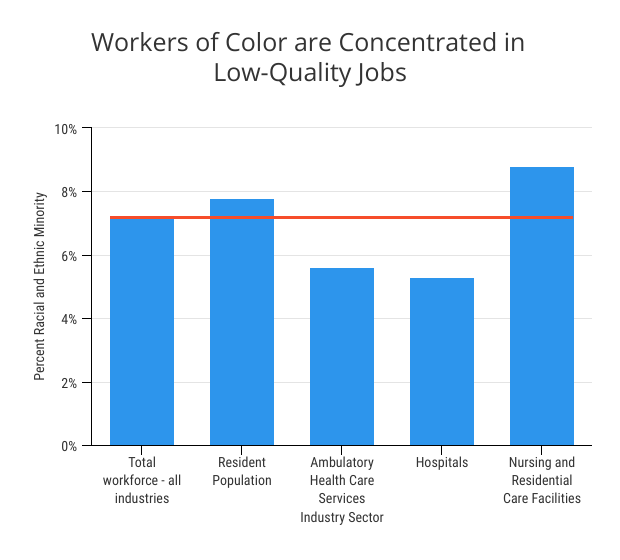 (Accessible description of workers of color graph)
---
Employers struggle to understand how to develop and maintain a diverse workforce. 
Our work on supporting workplace diversity among healthcare employers in New Hampshire shows that employers, workers, career specialists and job developers interviewed recognized that racial, ethnic, and linguistic minorities may face unique challenges in the job search process due to underlying employer preferences, biases, or stagnant work norms. The sentiment expressed by many is that it will take some time to build knowledge within the employer community of the broad benefits of diversity.
"I think that there are many New Hampshire employers who have insufficient experience at managing a diverse workforce... They may be uncertain about what to expect... There has to be kind of a way to talk about what people bring in addition to their language skills that may be beneficial to your institution, because there is a lot."
—New Hampshire Community Health Center Director
---
Some employment-based resources beyond income promote wealth building, but access to these resources varies by industry sector. 
Analysis from the Leveraging Mobility study names the employment-based resources and job characteristics beyond income that enable families to build and preserve wealth "employment capital." These resources provide more than simply non-wage compensation—they actually build and protect wealth. We identify three types of employment capital: (1) job benefits; (2) job flexibility; and (3) consistent work. These resources vary by sector, and we see accompanying variation in workers' wealth trajectories over time.
Employment-Based Resources Support Wealth Accumulation in Certain Industry Sectors
| | | | | |
| --- | --- | --- | --- | --- |
| Head of Household Occupation | N | Change in Median Income | Change in Median NFA | Change in Median NW |
| All | 137 | $4,820 | $16,149 | $32,554 |
| Management, Professional, and Related | 74 | $13,000 | $82,070 | $162,228 |
| Service | 6 | $27,840 | $16,816 | $5,891 |
| Sales and Office | 25 | $7,160 | $10,400 | $3,300 |
| Natural Resource Resources, Construction, and Maintenance | 2 | $5,518 | $(12,270) | $15,120 |
| Production, Transportation and Material Moving | 1 | $(13,314) | $(12,800) | $(23,840) |
Source: Leveraging Mobility Study