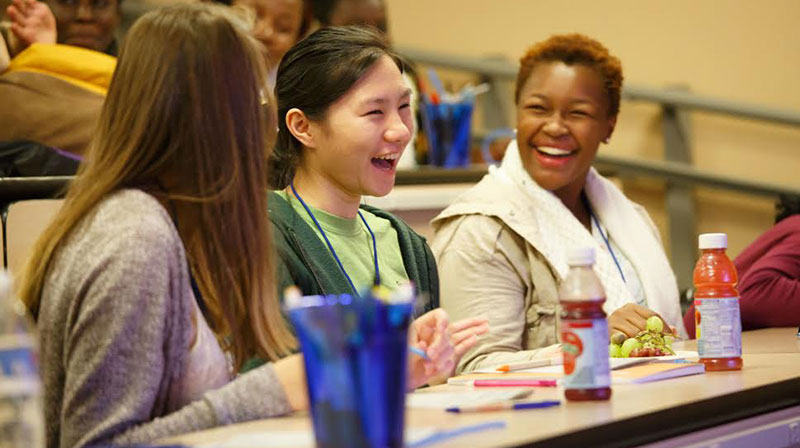 Broadly defined, youth philanthropy is the giving of time, talent, treasure and ties, by youth, for social good and social change. The Sillerman Center is committed to engaging both youth and adult constituents in youth philanthropy. We aim to do this through publications, events, and presentations.
Brief: Our Social Justice Funder Opportunity Brief, "From Beneficiary to Active Agent: How Youth-Led Grantmaking Benefits Young People, Their Communities, and the Philanthropic Sector," has been released! In this brief, we explore Youth Philanthropy as a model with the potential to make grantmaking more democratic, inclusive, and responsive to the needs of underserved communities. It is also a model that, if more widely supported and expanded, could contribute significantly to the preparation of sophisticated future grantmakers who share social justice values. This brief explores the landscape of youth philanthropy in the United States, providing concrete examples of best practices in youth philanthropy, particularly for teenagers. We review youth philanthropy's potential benefits for both communities and for young grantmakers themselves. We also offer recommendations to funders for how to best support youth philanthropy or how to expand and deepen their support for this growing practice. 
Resource Guide: This resource guide is geared towards those looking to start or revamp youth philanthropy programs. Topics range from questions to ask when starting a youth philanthropy program to resources on liability and accounting policies. 
Event:  2017 Northeast Youth Philanthropy Gathering
On October 22, 2017, The Sillerman Center, Youth Philanthropy Connect, and an amazing group of partners held our 3rd annual Youth Philanthropy Conference at Tufts University's Fletcher School in partnership with the Tisch College of Civic Life. Thank you to everyone who attended!  Some key takeaways from this year's event are that networking, collaboration, and increased learning on social and racial justice and philanthropy are more important than ever. To see photos from the event click here!
Article/s: Sheryl Seller recently wrote blog posts for Foundation Center's YouthGiving.org as well as the National Center for Family Philanthropy. The post for YouthGiving.org, titled "Youth Philanthropy, Trust Building, and Power Sharing," expresses the importance of including youth voice and collective decision making in philanthropy, as well as the need to dismantle power imbalances in the field. The blog for NCFP, "How to Start a Youth Philanthropy Program," serves as a guide for questions to ask if you are looking to start a youth philanthropy program that is truly democratic, diverse and inclusive. Sheryl also wrote a blog post about democratic youth philanthropy practices which was published by Indiana Philanthropy Alliance. The blog focuses on the power of youth voice at the decision making table in the philanthropic landscape.
Presentations: Most recently, Sheryl Seller spoke on a webinar, along with experts in the youth philanthropy field, titled, "Discovering and Engaging Diverse Philanthropic Youth." This webinar was hosted by Indiana Philanthropy Alliance, Youth Philanthropy Connect, and the Youth Philanthropy Initiative of Indiana. To access a recording of this webinar, please follow this link.
Project Team
Sheryl Seller, '11, MA'13, Project Director