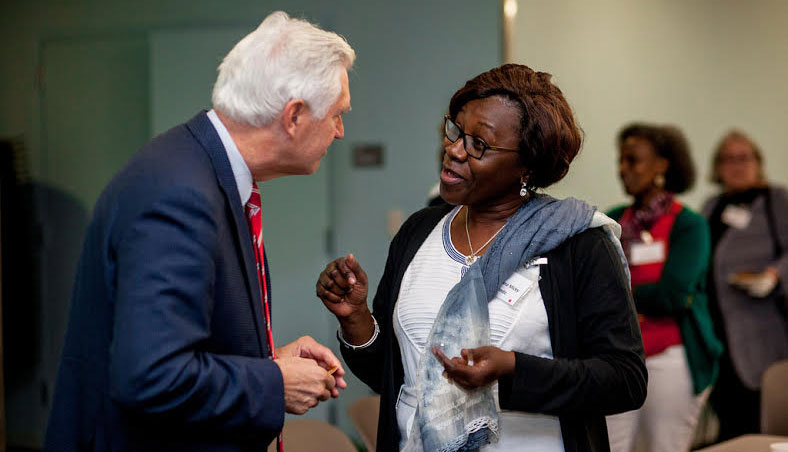 The Sillerman Center designs, coordinates and hosts a variety of events, both here at the Heller School and beyond. Our events range from lectures and panel discussions that feature practitioners of social justice philanthropy to convenings of social justice practitioners and philanthropists to smaller briefings where grantmakers learn from subject-matter experts, from community-based leaders and from each other. We also co-sponsor and collaborate on events organized and hosted by nonprofit organizations and grantmakers across the country. If you are seeking co-sponsorship for a philanthropy-related event, please write to Stacey Campbell, Sillerman Center Department Coordinator.
University Based Philanthropy Centers Gathering
The Ford Foundation Center for Social Justice
320 East 43rd Street, New York City
On August 16, 2019, we partnered with United Philanthropy Forum to host a gathering of 15 university-based philanthropy serving organizations from across the United States. We learned about each other's ongoing and future work and identified areas for collaboration as we explored the most pressing challenges facing philanthropy today. 
Fun and Frustration of Nonprofit Work with Vu Le
On April 9, 2019, the Sillerman Center hosted nonprofit leader, social justice trainer, social critic and writer, Vu Le, who delivers pointed, courageous observations of the nonprofit and philanthropic sectors — with a sense of humor. In his talk at Heller, Vu explored tensions between the two sectors and offered insights about how funders and nonprofits can build respectful, powerful relationships in service of social justice. Vu's talk was followed by a discussion facilitated by Alex McCray, Senior Director of Programs at Philanthropy Massachusetts.
Additional information on Vu Le's nonprofit Rainier Valley Corps, his blog NonprofitAF, and his recent book Unicorns Unite.