Relating Across Differences (RAD): An Improvement Process for Clinical Units
Overview
Despite the benefits of increasing workforce diversity, if left unmanaged, it can weaken the relationships that are needed for care delivery due to biases, misunderstandings and subgroup formations. The improvement process offered here helps clinical units to create a work and learning environment characterized by relationships of shared goals, shared knowledge and mutual respect, supported by high quality communication across professional, gender, racial, ethnic and other differences.  As a result, clinical units are better able to leverage the rich information offered by diversity to achieve better outcomes for patients, students, and staff.  
Concepts and Frameworks
Relational coordination is communicating and relating for the purpose of task integration, based on shared goals, shared knowledge and mutual respect between diverse roles.  Relational coordination is about identifying shared goals as a common starting point for identifying differences between people or ideas.   For example, we may identify a shared goal to take good care of our patients and each other, but have different interpretations of what that requires. 
Relational coordination is also about building shared knowledge of others' lived experiences, expertise and perspectives.  Inquiry, listening, personal narratives and conversations of interdependence are tools for building shared knowledge.  Shared knowledge enables clinical units to use their diversity as a resource to integrate multiple perspectives into the process, thereby improving the quality of decision-making and enhancing performance. New perspectives may also help us recognize disparities in the care we provide. 
Most importantly, relational coordination is about building mutual respect.  Mutual respect is built by developing shared goals, and by recognizing how each participant contributes to achieving those shared goals.  Furthermore, mutual respect is built through shared knowledge of others' lived experiences and the value they bring to patient care.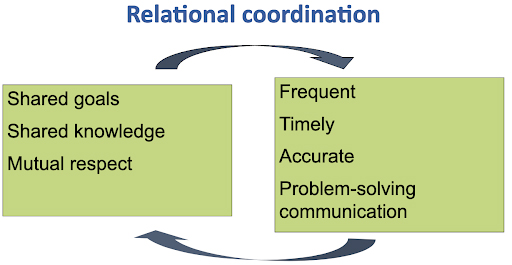 Relational mapping is a method to assess situations and notice bias.  Relational mapping enables participants to see the team as whole, to identify the roles on the team including roles that tend to be less visible, and to identify the social identities represented in those roles.  Participants can then assess the strength of relational coordination between professional and social identities using the seven dimensions of relational coordination -  shared goals, shared knowledge and mutual respect, supported by frequent, timely, accurate, and problem-solving communication.  Which of these dimensions are relevant in your context?  Which are currently strong?  Weak?  Between which roles?  From whose perspective? How do differences in professional and social identities influence each of the seven dimensions?
Psychological safety is another key concept in this curriculum. Facilitators will create a relational space by asking students to leave titles at the door, by role modeling appreciative and humble inquiry, by role modeling empathy and respect, and by role modeling relational responsibility and behavioral accountability.  People who are empathized with and respected are more likely to empathize with and respect others, and more likely to  contribute their unique perspectives.  Facilitators will therefore role model an empathetic rather than confrontational stance.  Though facilitators will not seek out conflict, they will role model how to address it as it arises.
The Relational Model of Organizational Change is a systematic approach to improvement that brings together all of the above concepts to improve outcomes for multiple stakeholders.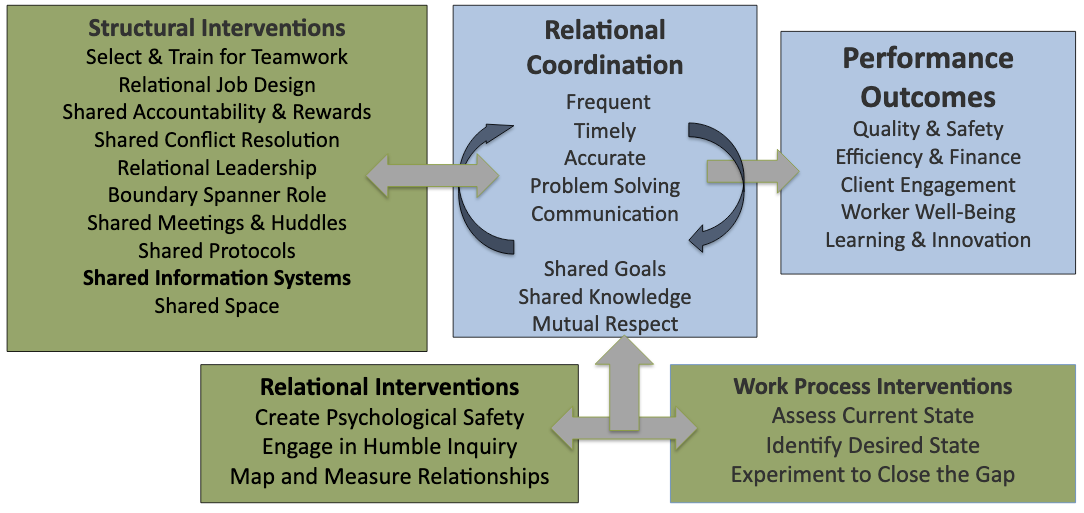 Finally, the Six Stages of Change enable clinical units to put this model into practice, based on the work of lead RC practitioner Dr. Tony Suchman.