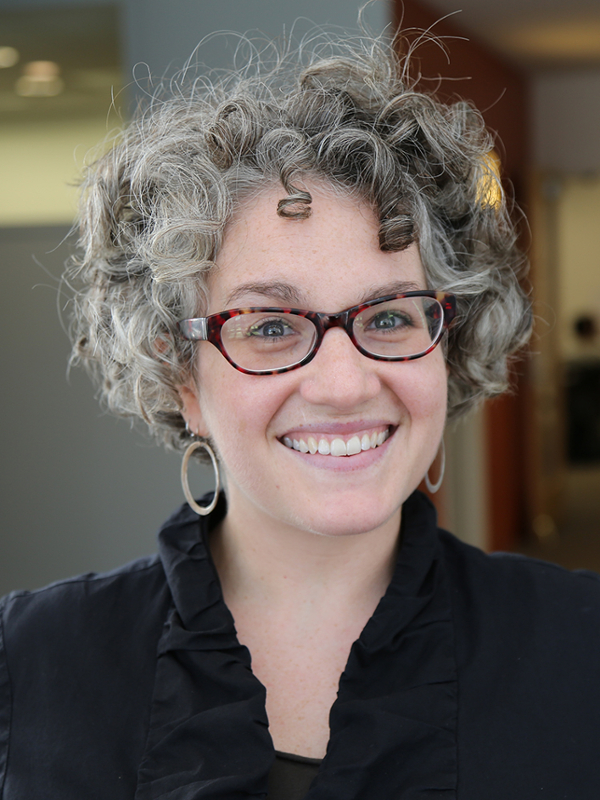 While Sasha Albert, PhD'20, graduated from Heller in 2020, she's been immersed in health policy research for more than a decade. From the Robert Wood Johnson Foundation to the Massachusetts Health Connector to the Lurie Institute for Disability Policy, Albert has already left her mark in the policy world, studying and publishing on policy advocacy, reproductive health, access to care, and parents with disabilities, to name just a few areas of interest.
Now, as a senior researcher with the Massachusetts Health Policy Commission, Albert brings her years of experience to vital large-scale studies across the state. 
"We work almost entirely with administrative data—insurance claims and hospital discharges—which gives us a really good bird's-eye view of health care spending and utilization in the Commonwealth," says Albert, whose work leans heavily into developing and leading research projects on cost, affordability, access and quality of health care in Massachusetts. And while Albert spends much of her time behind the scenes, developing methodology, conducting analyses and drafting research products, she's often the public face of the commission's efforts, presenting findings at public meetings, conducting stakeholder meetings and talking with providers, advocates and patient groups.
That's the part of the job that Albert finds especially rewarding, as she gets to dig into questions "with real relevance to the residents of Massachusetts," she says. 
Once mainly a qualitative researcher, after enrolling at the Heller School for Social Policy and Management, Albert found herself inhabiting the interconnected worlds of building content expertise and quantitative research skills. She was drawn to Heller's balanced mix of conducting research and taking her findings out into the world, attending conferences and spending a summer as a Rappaport Fellow, where she learned about working in state government.
"I also had the opportunity to teach other grad students and undergrads," she says. "It was a fantastic way to learn about the very messy and complicated way we provide and pay for health care."
Albert credits time spent under the mentorship of Professor Jody Hoffer Gittell, whom she calls "a wonderful advisor and dissertation chair," with her rewarding Heller experience and says, "I feel especially grateful to have had the opportunity to work as a graduate research assistant for Heller's Lurie institute for Disability Policy." There, she says, "I learned so much about the research process and got really great hands-on experience working with [Senior Research Associate] Robyn Powell, PhD'20, and [Lurie Institute Director] Monika Mitra." 
Looking back, Albert says those research opportunities helped define her Heller experience.
"I knew as soon as I had finished [my master's] that what I really wanted was to do research that could be used to help make the world a better place," she says, noting that she was interested in the interdisciplinarity of the program and its emphasis on research with real-world applications for policymakers and practitioners. "I also knew, after working for a few years, that I had gone about as far as my previous expertise and training could take me; if I was going to commit to a research career, I needed more training, and Heller was the right place to get it."