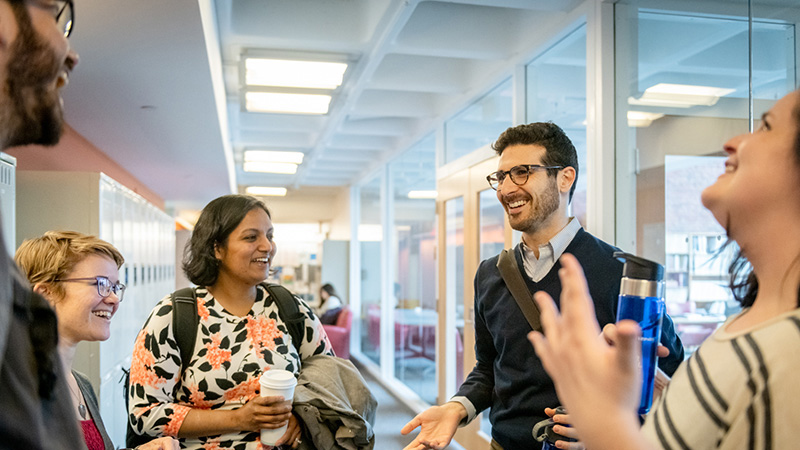 MPP students enjoy a tight-knit community at Heller, where connections with faculty and classmates – including students in other graduate programs across Heller – are supported in myriad ways.
Before students even decide to come to the program, faculty members, current students, and alumni contact them to give them a first-hand account of what it's really like being at Heller. And once new students arrive, they bond over social events and orientation activities. Each incoming student is also paired with a second-year "buddy" based on mutual policy interests. The buddy program creates connections between the cohorts and helps students adjust to Brandeis and the Heller School both socially and academically.
Student Governance, Working Groups, and Affinity Spaces
There's also the MPP Student Association (MPPSA), a student governance group that provides a variety of leadership roles, including a chair who collaborates with faculty on issues of program governance, a writing chair, a curriculum chair, and a social chair – all of whom listen to student ideas and create opportunities for students to engage in the program.
The MPPSA regularly hosts social events, including movie nights, karaoke, board games, apple picking, and more.
MPP students are also encouraged to participate in Heller and Brandeis-wide student groups, such as the Heller Student Association (HSA) , which connects students from across programs, and student working groups, in which students with overlapping interests from across programs come together to host events, create initiatives, and more. Some working groups include:
Asset Builders and Financial Assistance Working Group
Brandeis University Africa Forum
Disability Working Group
Gender Working Group
Impact Investing and ESG Working Group
Net Impact – Heller Chapter
Promoting Accountable Technology (PAccT)
Racial Equity Working Group
The MPP program also offers affinity groups and spaces for students of historically marginalized groups, including students of color and LGBTQ+ students, to connect regularly with support from faculty.
MPP students are often instrumental in planning the Racial Equity Action Challenge at Heller (REACH), in which students create innovate solutions to racial equity issues at Heller and compete for implementation funding.  One successful REACH Initiative was the Heller Mentorship Program, which connects current students with other students, alumni, faculty and staff for a variety of culturally competent supports, focused on  academic, professional, personal, and social advancement and well-being..