Post-secondary education—like trade school, college, or graduate school—can make a huge difference in children's future earning potential and act as leverage for upward mobility. Yet, nearly half of Americans do not have even $400 in savings for emergencies, let alone enough savings to support their children's education past high school. High tuition costs can discourage families and dampen children's educational ambitions from an early age. Parents' and children's educational expectations are an important predictor of children's later academic achievement, and Children's Savings Accounts (CSAs) can help families to see higher education as an achievable goal. CSAs are programs that provide children with savings and/or investment accounts, which are intended for post-secondary education (or other asset-building) and which provide direct, monetary incentives for savings.
Beyond educational expectations, savings for post-secondary education are also associated with improved child cognitive development, math and reading skills, and a greater likelihood of attending and completing college. Because investing in these programs reaps a wide and rich return of benefits for parents and children, CSAs are gaining traction as a promising policy tool to expand educational and economic opportunities for children from low- and moderate-income families. Numerous states, cities, localities, and organizations across the United States have begun sponsoring CSAs in recent years. CSAs designed to fully include low- and moderate-income families can also help narrow the racial wealth gap by facilitating access to financial and educational opportunities for those who have historically been excluded.
With support and partnership from the Charles Stewart Mott Foundation and Asset Funders Network, IERE rigorously studies several aspects of CSAs, including:
The Growth of CSA Programs Over Time
In 1997, Louisiana began offering matching grants to families who opened dedicated postsecondary education savings accounts (529 plans). Over the last 25 years, states, cities, localities, and non-profit organizations have implemented CSA programs to expand educational opportunity, boost the education level of the workforce, and address poverty in their communities. Recent years have seen exponential growth.  From 2016 to 2021, the field has grown from 292,000 accounts to over 1.2 million.  As of 2021, 129 CSA programs were operating in 38 states, plus the District of Columbia.
Equity in CSA Outreach and Operation
By letting children know from a young age that they have assets in their name saved for education after high school, CSA programs aim to help children see themselves as college-bound.  Indeed, CSAs are a key part of advancing equity in educational access. Children's Savings Accounts: A Core Part of the Equity Agenda briefly outlines how CSAs fit with other efforts to boost access to postsecondary education for those who have historically been left out.
The day-to-day choices CSAs make in operations and outreach greatly impact how their programs are experienced by children and families. Seeds of Equity: Fostering Inclusivity in Children's Savings Account Programs shares insights from the staff of 14 CSA programs on what barriers to inclusion families may face in CSA programs and how they can be addressed, spanning topics like:
How might a CSA program respond when community members are suspicious of "free money"? 
In the face of the COVID-19 pandemic and reduced in-person contact, how are programs reaching families affected by the digital divide?
How can messaging about the value of higher education be tailored to the specific values of different communities?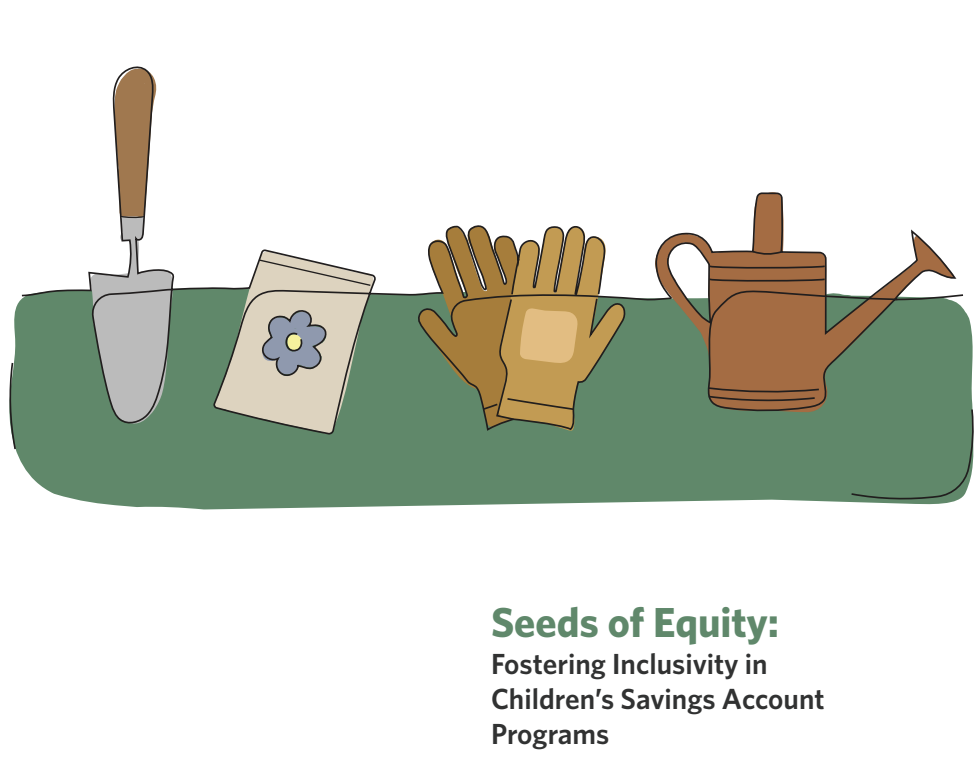 How Do CSAs Grow and Spread?
As a region, New England is home to rapid growth and innovation in CSA policy and practice. This case study tells the story of New England's collaborative, regional approach to CSA development and innovation. Under the leadership of the Federal Reserve Bank of Boston's Regional and Community Outreach Department, key stakeholders across New England formed a Consortium in 2014, through which they work together to learn about, develop, and advance CSA policy. Today, all six New England states have taken steps toward adopting large-scale CSA programs. This type of rapid policy growth is impressive, given the wide range of programmatic models, the complex and multi-sector nature of CSA design and implementation, and the long-term public and private investments required. This report explores the lessons learned from New England's regional approach to developing, implementing, and innovating CSAs. New England's notable progress on CSAs has been facilitated by: creating a space for policy makers and program administrators to continuously learn from each other, the support of effective leaders, and advocates seizing opportunities for policy progress.
View the report here: Cultivating CSAs: The Growth and Spread of Children's Savings Account in New England.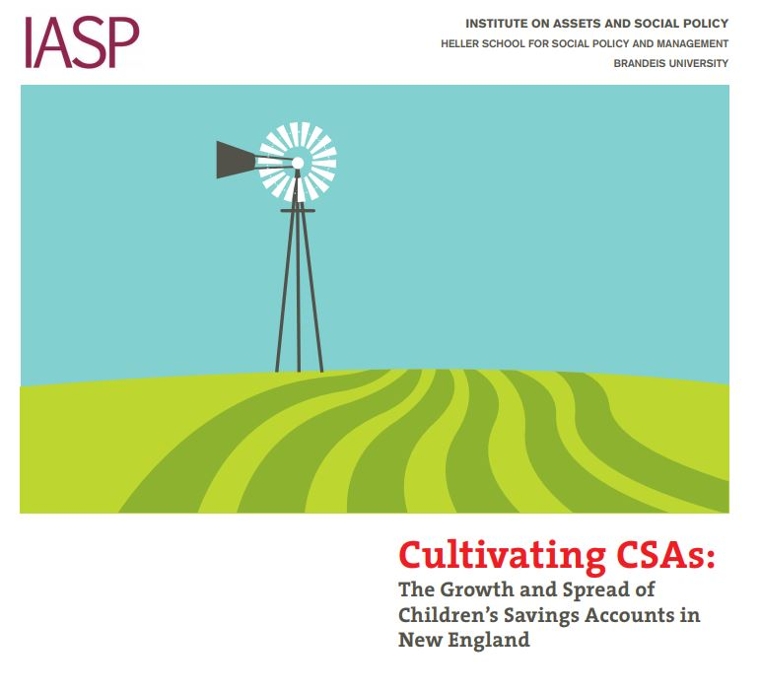 What Makes a CSA Successful?
Across the U.S. CSAs vary in program design and structure, ranging from a limited savings match on deposits to a privately owned account, to a universal seeded program. CSAs can be universal or targeted (or a hybrid design); they can be opt-in or automatic; and they can provide seeds, matches, and other incentives. Because CSAs are relatively new in implementation, no consensus has yet been reached on the optimal structure for CSA programs. And indeed, there may be no single optimal CSA design; instead, local goals and resources will help to shape each community's CSA. To build an understanding of what components are important to CSA success, IERE conducted a literature review to identify features of CSA programs that are associated with high levels of uptake and engagement by low- to moderate-income families, as well as features that contribute to the long-term sustainability of CSAs. Read more in IERE's literature review of CSAs - Levers for Success: Key Features and Outcomes of Children's Savings Account Programs.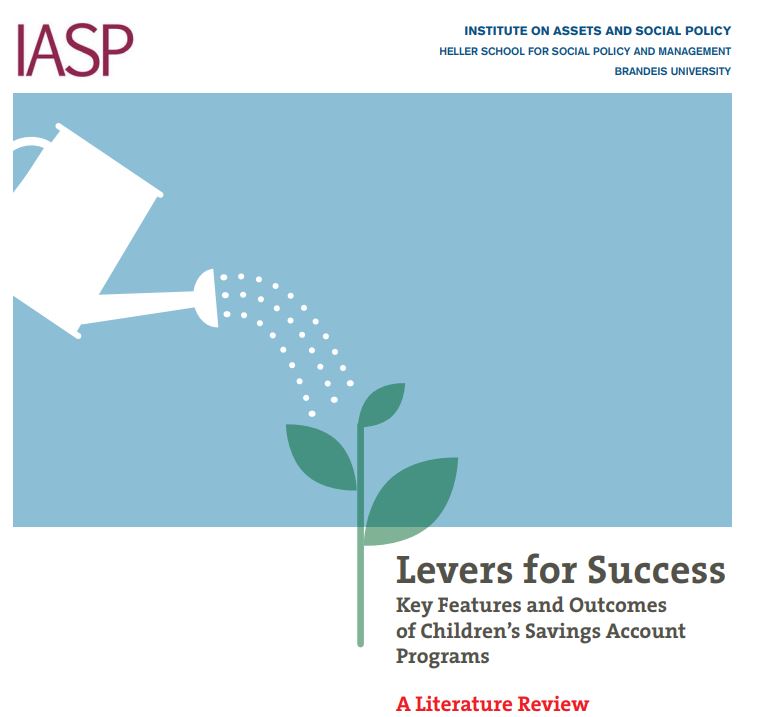 Public and Private Funding Sources for CSAs
CSAs' funding structures vary, with both public and private funds providing essential support for the growing number of programs across the U.S. In partnership with Asset Funders Network (AFN), IERE has been studying the sources of funding and in-kind support for CSAs:

---
Overview of Research on CSAs
The evidence base supporting CSAs has grown tremendously in recent years, with promising findings on interim and long-term outcomes related to education, health, equity, and economic mobility. This guide, completed in partnership with Prosperity Now, summarizes current research on CSAs' effects and outcomes in these domains, offering a quick reference to the types of research backing each finding. The guide also summarizes research on how CSA program design features affect participation, savings, and account accumulation. See the guide here: Quick Guide to CSA Research.