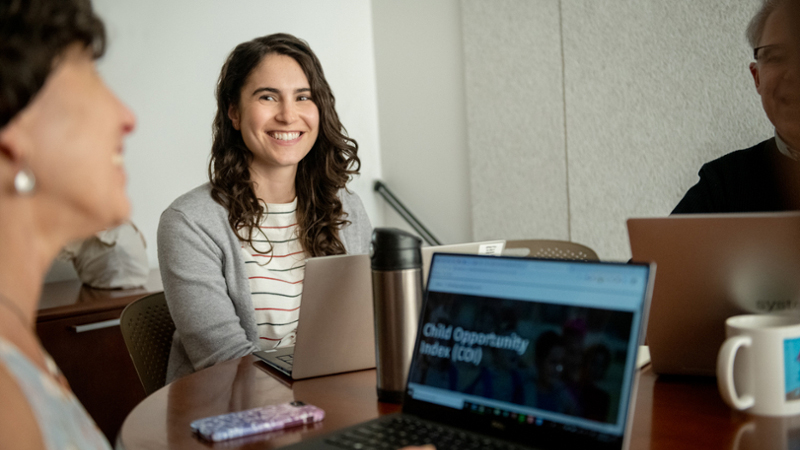 ICYFP is home to the PhD concentration in Children, Youth and Families (CYF), chaired by Professor and ICYFP Director, Dolores Acevedo-Garcia. Visit the CYF concentration page on the PhD program website for additional information on training fellowships, sample dissertations and more.  
PhD students in the CYF concentration develop skills and methods to influence social policy issues that are critical to the health, educational, and economic well-being of children and families. The curriculum includes coursework in both quantitative and qualitative research methods, and is characterized by an interdisciplinary perspective that borrows from epidemiology, sociology, and economics.
Student mentoring at ICYFP
Mentoring is at the heart of relationships between PhD students and the multi-disciplinary faculty, lecturers and researchers at ICYFP. We believe in building strong relationships and offering high-quality, practical research experiences.
In recent years ICYFP faculty have collaborated with students to write successful research proposals, conduct research and co-present findings at conferences. PhD students serve as teaching and research assistants and work closely with faculty to craft their programs of study, develop dissertation projects, and pursue outside funding.
"Dolores [Acevedo-Garcia] connected me to other researchers at the Institute for Child, Youth and Family Policy, and other institutions, like Tufts and MIT. Such connections often led to research opportunities that exposed me to different topics and different types of studies. Dolores also supported me every time I applied for a fellowship. I have no doubt that her feedback on fellowship applications, and her own recommendation letters (of which she wrote many!) helped me be successful in receiving countless fellowships while at the Heller School. She also encouraged me to take risks when it came to choosing a dissertation topic."
Diana Serrano, PhD'19
"Mentoring is creative problem-solving...be it strategizing about how to best learn a new skill, tackle an interview or present a research idea."
Lindsay Rosenfeld, ICYFP scientist and lecturer