Pesticide-free storage of durable grains
The post-harvest sector in agriculture aims to maximize the availability of food to consumers and viable seed to farmers through effective storage, transport and processing with minimum loss of quantity, quality and monetary value. While small farmers in developing nations traditionally stored durable grains on farm or homestead, or in collective village grain banks, traditional storage methods began to fail with green revolution varieties. With rising post-harvest losses, farmers throughout developing nations began to use pesticides, often engineered for field applications and not storage environments, which they would buy in local markets. Without training or knowledge of the health hazards, farmers and their families continue today to expose themselves to highly toxic substances.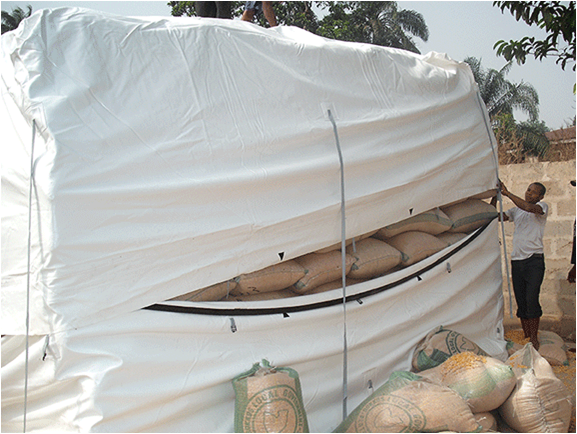 Post-harvest losses occur when grain is exposed to moisture, insects, birds and rodents. Poor storage often results in fungal contamination and the growth of dangerous mycotoxins. Storage losses account for significant losses to food security and farmer household income. They account for massive losses at national buffer stocks in some countries and loss of life when emergency food relief is lost for lack of storage.
With the phasing out of methyl bromide, a major fumigant in grain storage, mandated by the Montreal Protocol of 1987, Prof. Simon began the search for innovative technologies for environmentally safe and affordable grain storage. In association with Israeli food storage scientists Shlomo Navarro and Jonathan Donahaye, the first trials in the developing world of hermetic storage were conducted under the supervision of the UN World Food Program in the 1980s. Today, these technologies and other simple methods are answering the call of governments, NGOs and farmer cooperatives. Our Applied Knowledge and Intervention Network (AKIN) partner, the Horn of Africa Regional Environment Centre and Network, together with the GDS Center, are exploring the establishment of the Horn of Africa's first post-harvest research and training facility. Laurence Simon and Joseph Assan, in cooperation with Shlomo Navarro, are the Principal Investigators.