at Heller
Wednesday, March 5, 2014
10:15 - 10:45 am
Community Coffee with the Dean
Zinner Forum, Irving Schneider and Family Building
Join Dean Lynch for Coffee with the Dean. Have a coffee and spend a few minutes catching up with faculty, staff, and students from across the school. As always...don't forget your coffee mug!! This is a bring-your-own cup coffee break.  
Friday, March 14, 2014
6:00 - 11:00 pm
Latin American and Caribbean Culture Night
Zinner Forum, Irving Schneider and Family Building
Come join the Heller community for a celebration of Latin American and Caribbean culture with traditional food, dancing and games!
Something to sell, give away, or rent? Email Alexandra Rubington to place your free ad.
Table and Chairs For Sale, $250 or Best Offer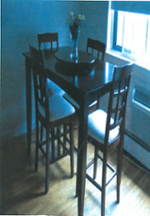 FOR SALE: popular 'high top' style table and 4 chairs, cherry tone. The table normally seats 4, but when the leaf is placed in it, up to 8 may be seated.  The set comes with 4 high-top upholstered chairs.  Can be transported fairly easily since the legs of the table screw off. Email hanley@brandeis.edu to arrange to see it (near the Waltham-Belmont line), or learn more. $250 or best offer.
HP Printer Available
Professor Janet Giele would like to donate her 2007 all-in-one HP printer to a Heller student. The printer is in working condition and is perfectly good for printing and copying. If you are interested, please contact Professor Giele at giele1@brandeis.edu. First come first served.
Career Development Center
CAREER ADVISING APPOINTMENTS
Students and alumni can make Career Advising Appointments in Heller Career Connect by clicking on "Request An Appointment" in the Career Tools and Advising Shortcut Button.
Linnea Löf, MSF '01, Assistant Dean, Career Development
(Room 100) 781-736-3362; llof@brandeis.edu
Adam Motenko, Assistant Director, Career Development
(Room 103) 781-736-3938; amotenko@brandeis.edu
Nancy Pratt, Assistant Director, Career Development
(Room 146) 781-736-3789; npratt@brandeis.edu