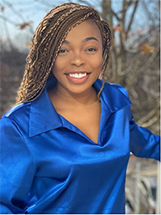 Victoria Fils-Aime
Mady Chalk Research & Management Associate & Graduate Student
Victoria Fils-Aime is a Mady Chalk Research and Management Associate at the Center for Youth and Communities at the Heller School for Social Policy and Management at Brandeis University. Victoria is working with the Eli J. & Phyllis N. Segal Citizen Leadership Program to design and implement a civic-engagement-focused community of practice with and for Segal Fellows during the 2019-2020 academic year.
Fils-Aime is a student at The Heller School getting her Masters in Global Health Policy and Management and an undergraduate alum from Brandeis University, where she got her BA in Health Science, Society, and Policy, while also getting a double minor in Legal Studies and Social Justice and Policy. During her junior year at Brandeis, she served with the Massachusetts Service Alliance (MSA) as a Commonwealth Corps member. Fils-Aime wanted to give back to her community of Waltham and decided to focus her year of service at Waltham Partnership for Youth. There, she was able to identify gaps in current services and continue to develop relationships with potential providers, including charitable organizations, schools and government agencies in her community.
Fils-Aime then became a Research Assistant for Heller's Associate Dean for Equity, Inclusion, and Diversity, Dr. Maria Madison, helping bridge relationships between the local stakeholders in the Waltham community and Brandeis University. Through Dr. Madison's project, part of CHANA17 (Community Health Network Area 17), focused pilot groups were created with the youth and non-youth around understanding self-care and mental illness. They also discussed challenges faced by educators, administration and other youth workers looking to bring equitable and inclusive resources to marginalized youth.